Brazilian Butt Lift Before & Afters
Gallery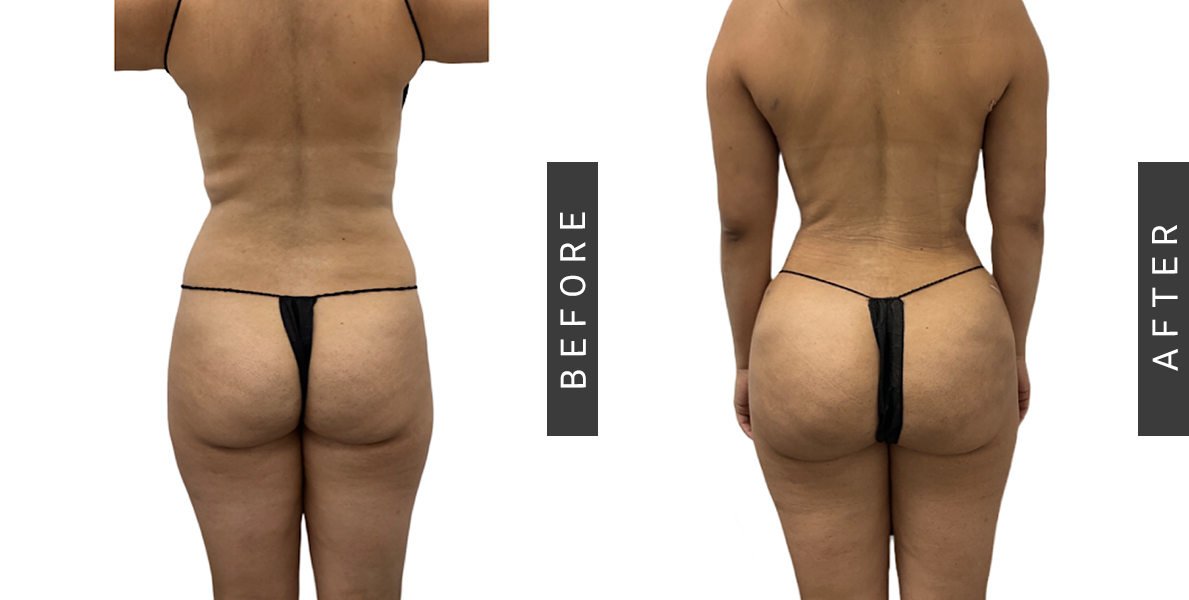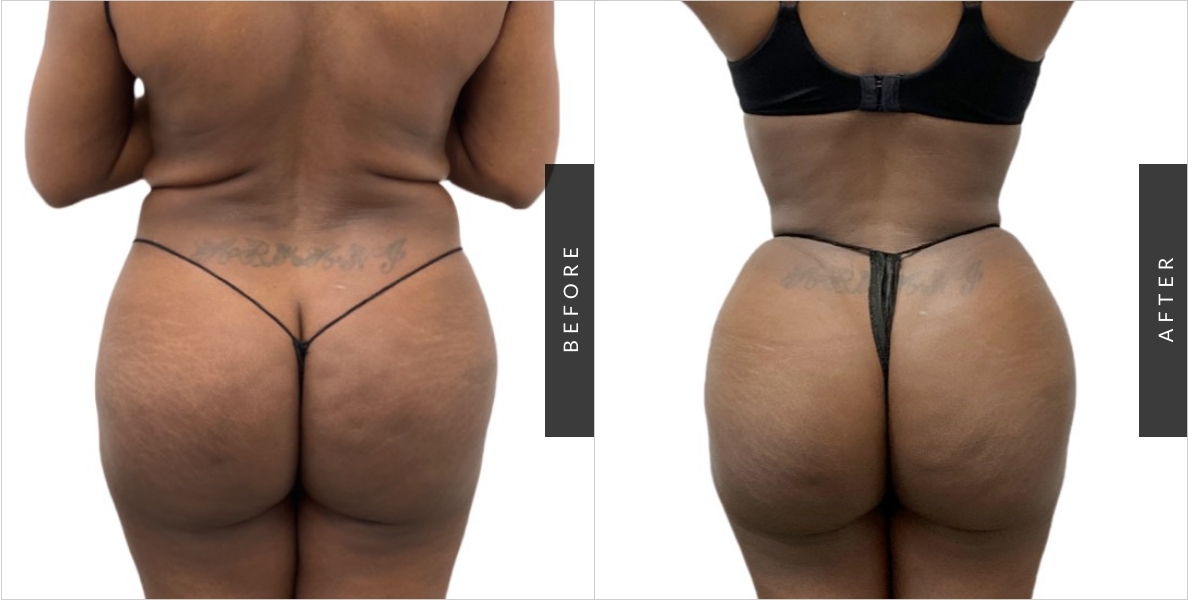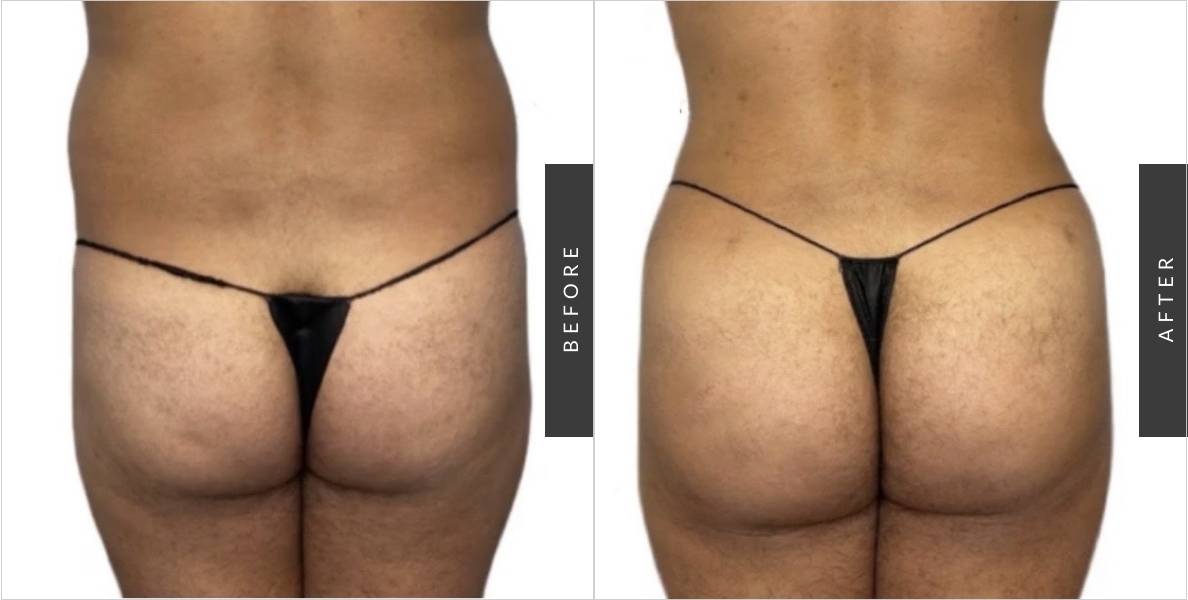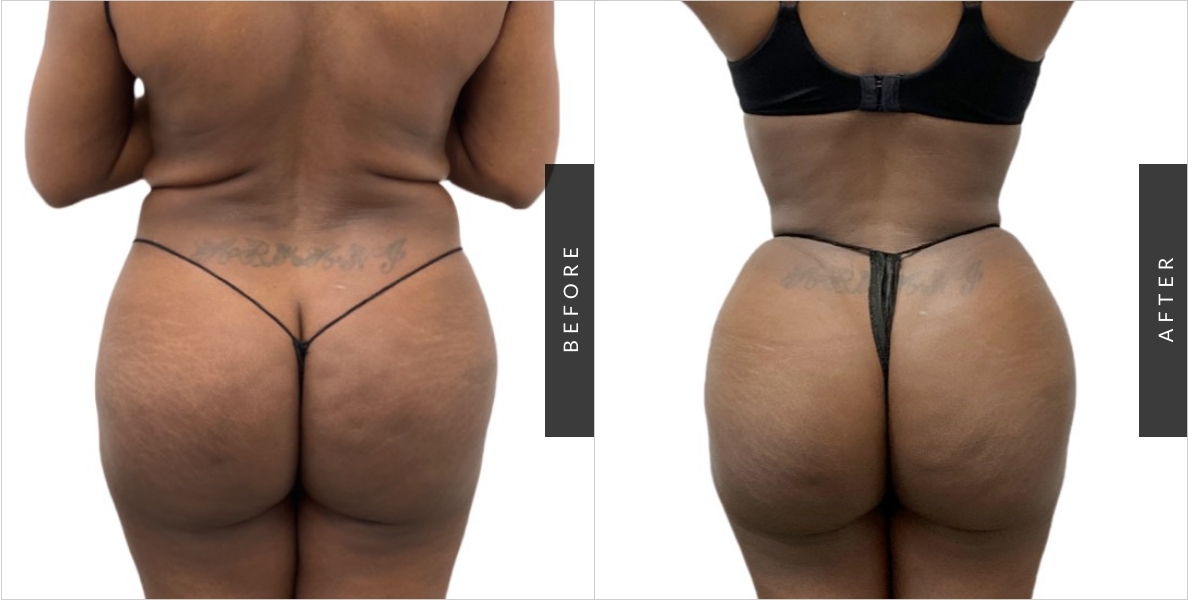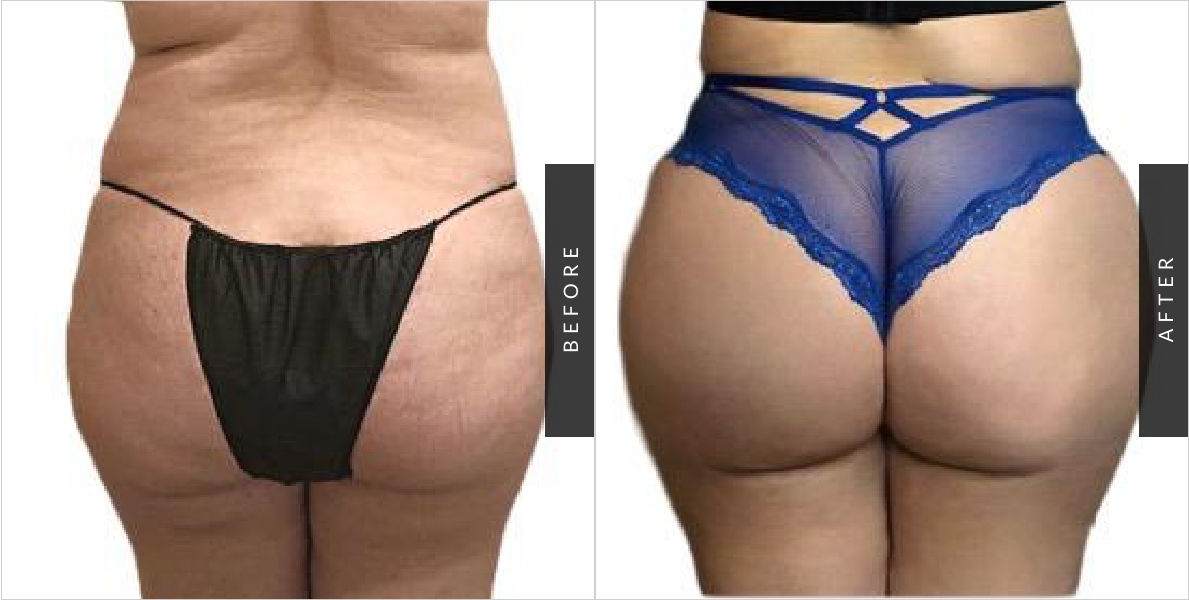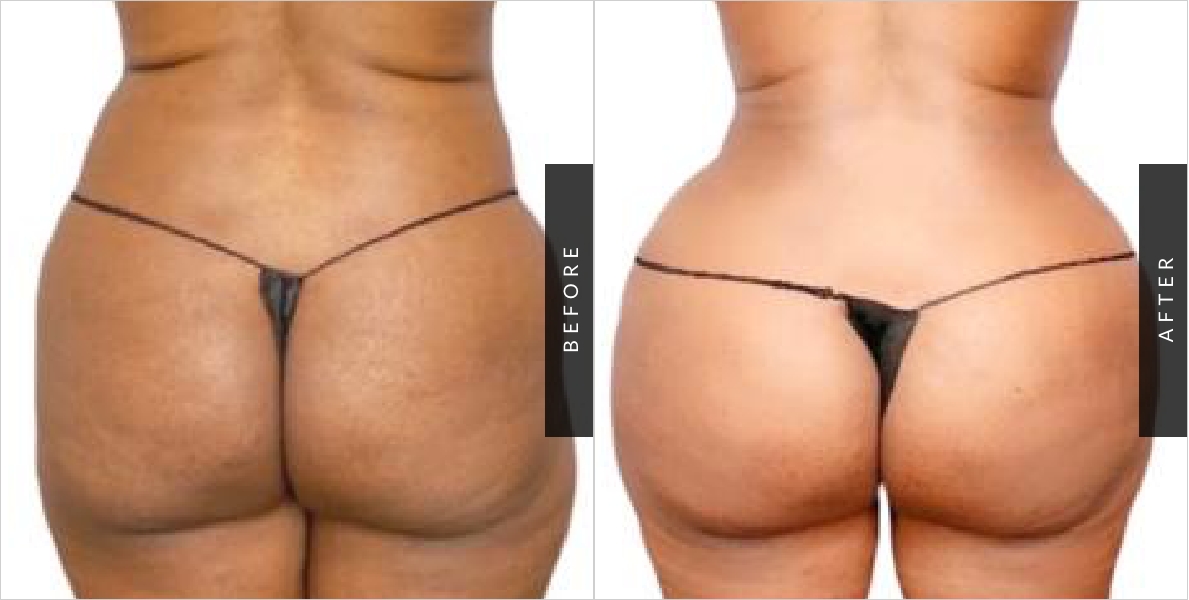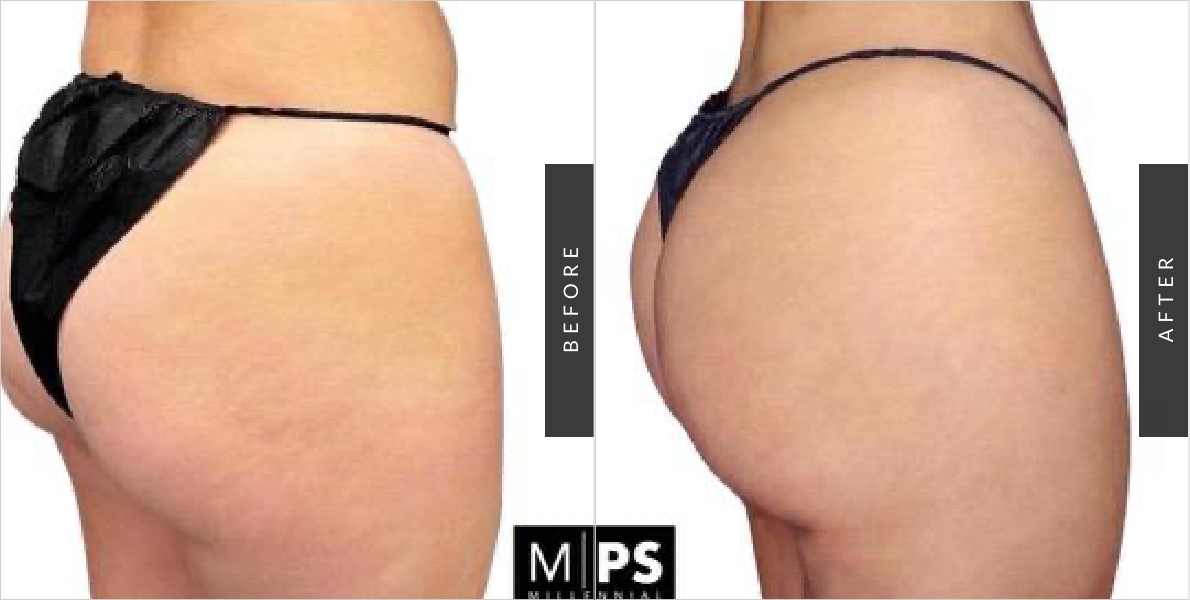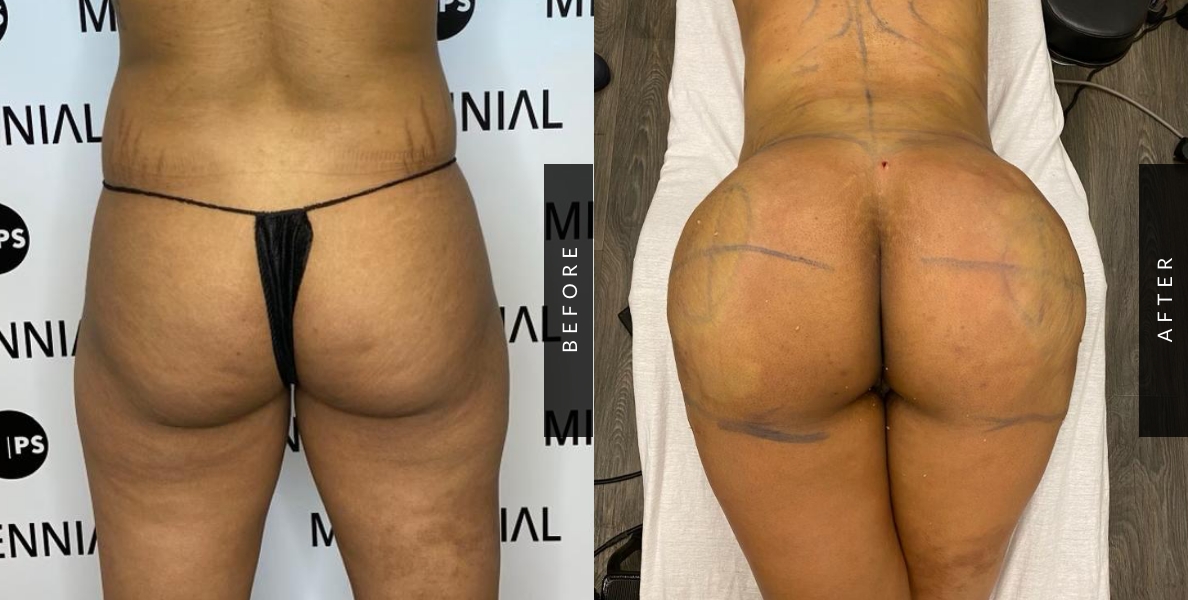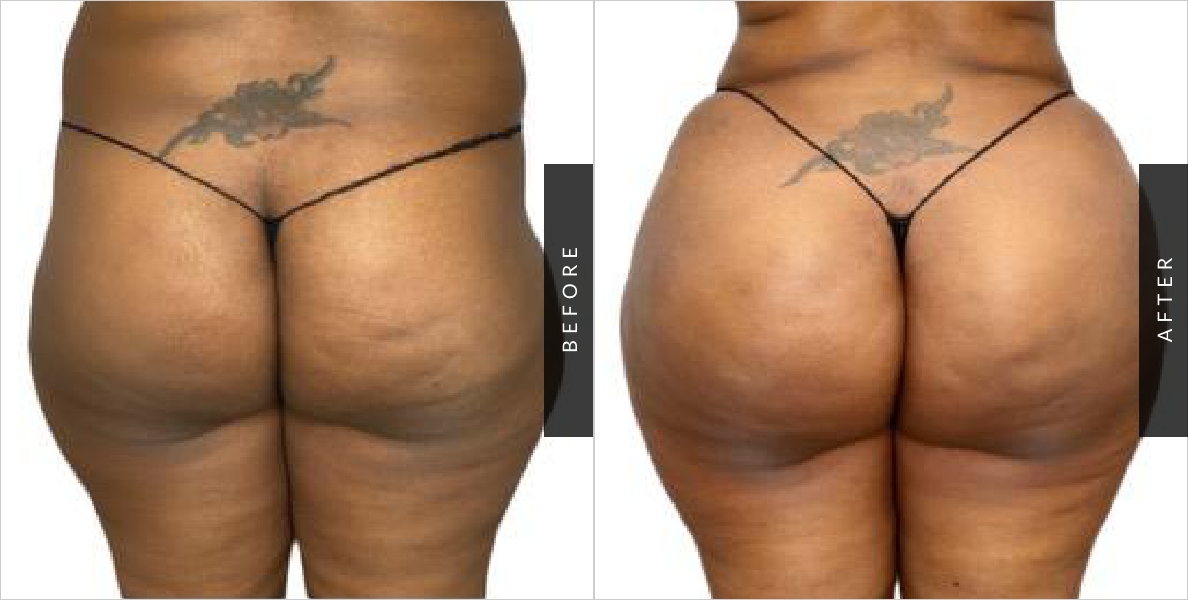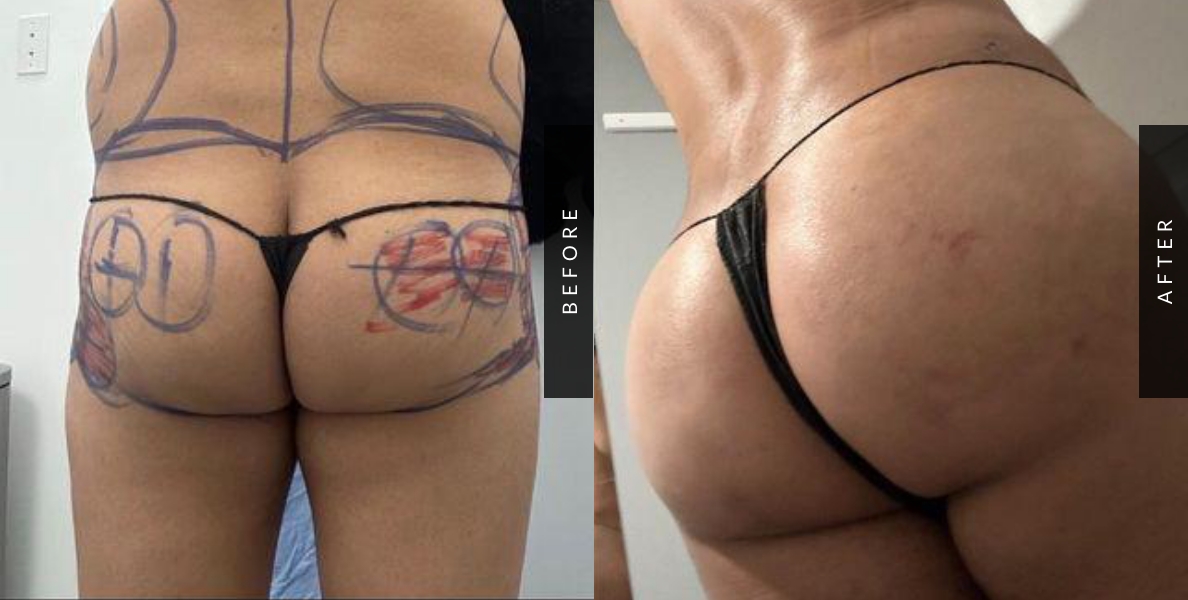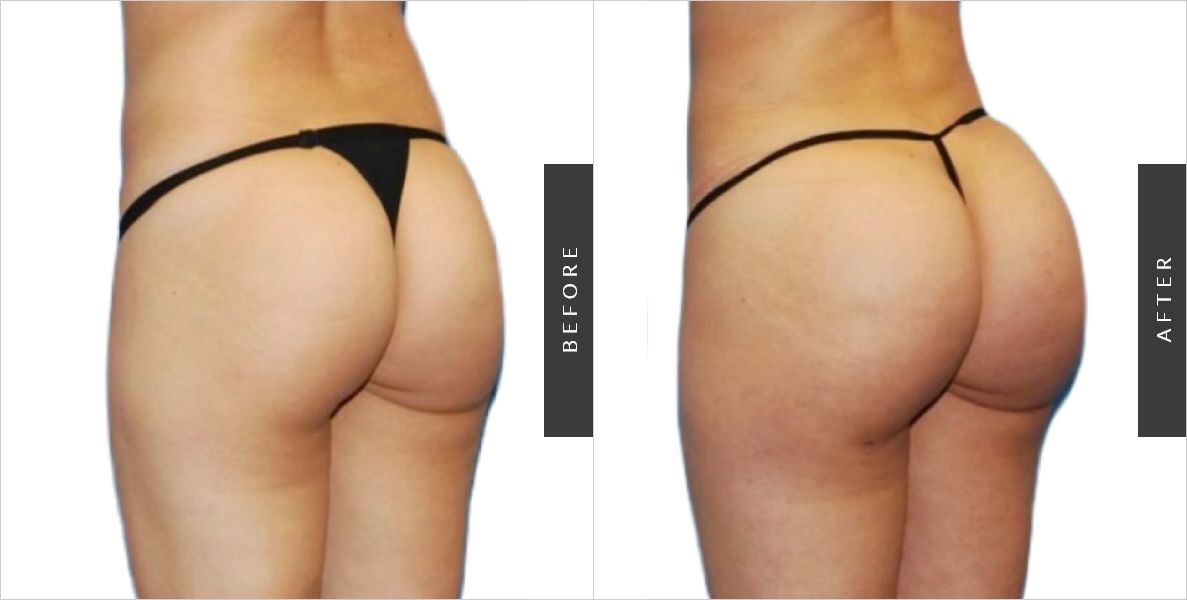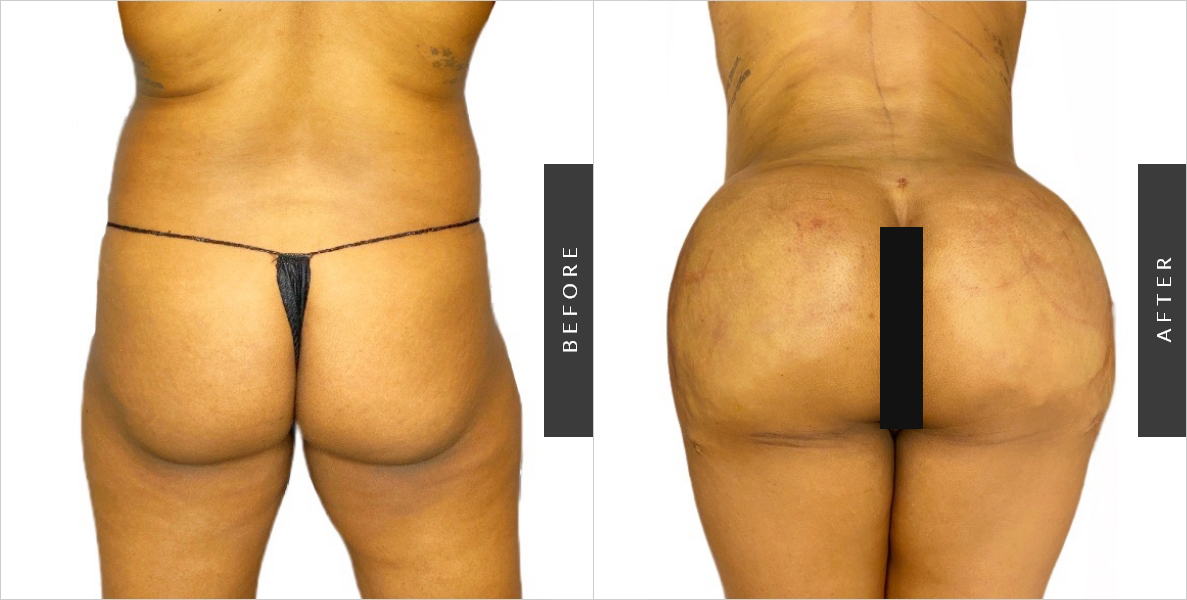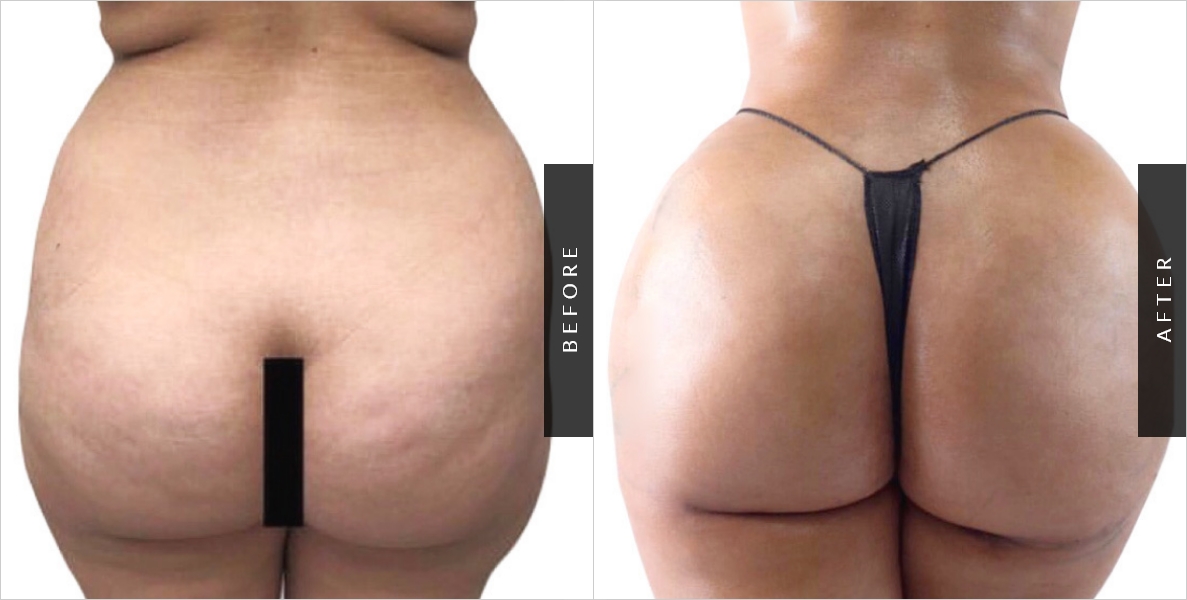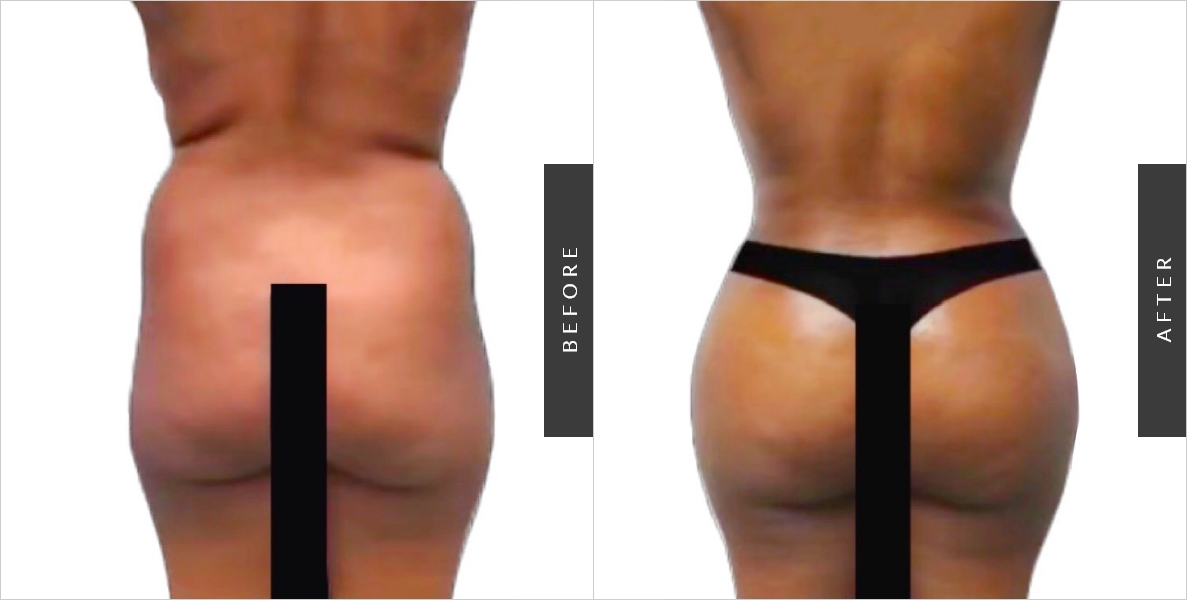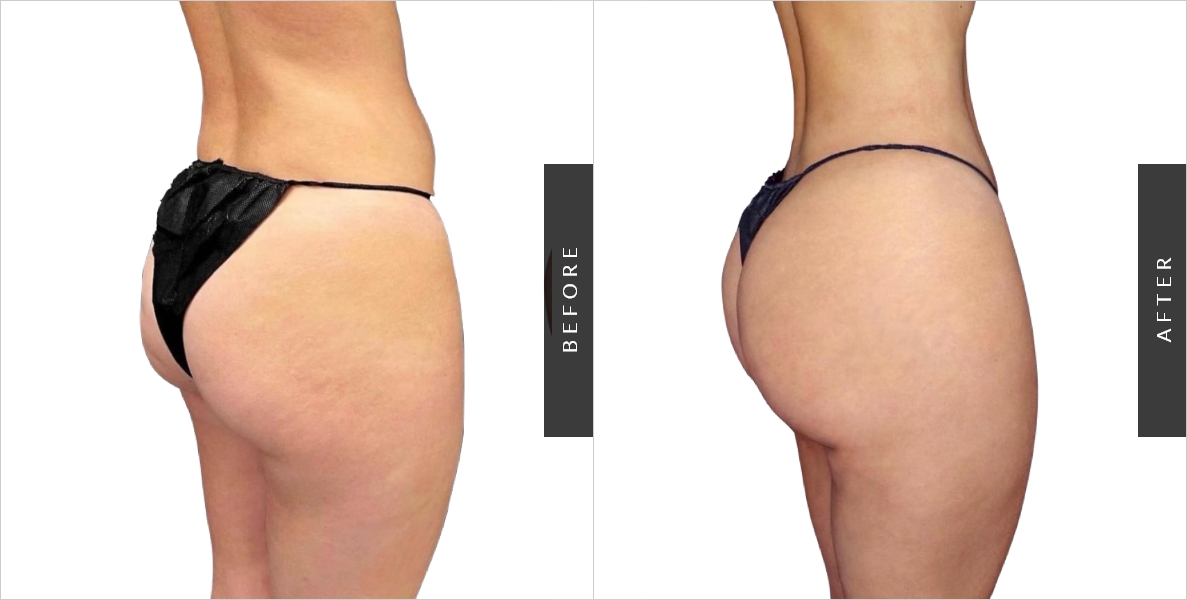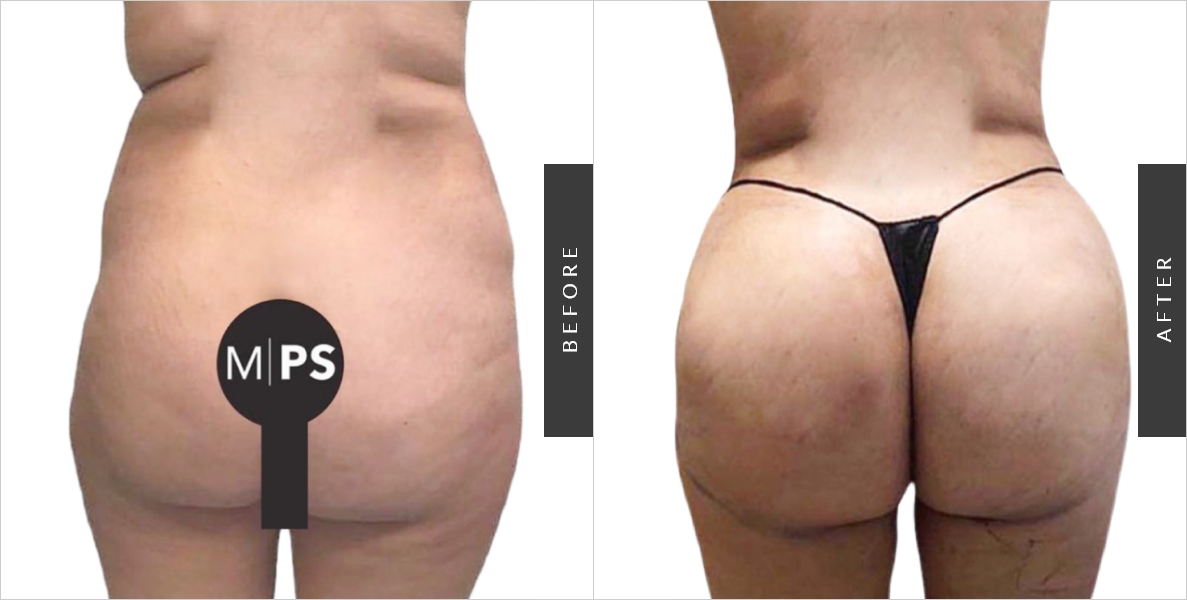 The personal care and consideration I received is exceptional.
Why should I get a Brazilian butt lift?
A Brazilian butt lift, also referred to by some as a BBL — or if you want to get technical, gluteal fat grafting — is a cosmetic fat transfer surgical procedure that gives you a larger, shapelier bottom. A BBL and awake BBL solves two problems at once, taking unwanted fat from other parts of your body and repurposing it to create a fuller butt. Whether you're preparing for a wedding, want to look good in your vacation pics or want to up your Instagram game, a BBL gives you a bigger bottom to get you noticed.
Dr. David Shokrian is Manhattan's premiere Brazilian butt lift specialist. He works with you to craft a custom awake BBL that's designed to accentuate your assets and keep your booty in line with the rest of your body. New York City chooses Millennial Plastic Surgery for the best BBL treatment. If you know, you know.
Read more: What Is a Brazilian Butt Lift & How Long Does It Last?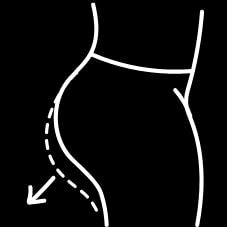 We can't wait to meet you! We offer comprehensive consultations with Dr. Shokrian, and his team both virtually and in person.
212-421-7123
How Does a Brazilian Butt Lift Work?
Despite its name, a Brazilian butt lift is not technically a butt lift surgery, which instead treats saggy skin around the buttocks. A Brazilian butt lift surgery takes fat from other parts of your body and relocates it to your buttocks. The parts of your body that provide the source of the added fat depends on your desired figure, as well as where you have fat to spare. A Brazilian butt lift surgery is a two-step process involving:
Liposuction procedure. First, Dr. Shokrian performs liposuction to take excess fat from different parts of your body. The most common areas for BBL fat removal are your love handles, upper and lower abdomen, thighs, hips or back.
Fat grafting. Once enough fat has been removed via liposuction, Dr. Shokrian transfers the fat to your buttocks through injections. Your fat is injected into several points in your bum to build up volume. The exact injection points are specially chosen to best amplify the size, shape and symmetry of your desired bottom.
After the injections, your NYC plastic surgeon sutures the small liposuction incisions shut and wraps you in compression garments designed to suppress swelling. While the average BBL takes two to three hours to complete, the duration of your Brazilian butt lift surgery may vary. After a BBL or awake BBL, you relax and unwind for a time in a comfortable recovery room.
Read more: What You Should Know About Butt Injections
Complications from Brazilian butt lifts are rare. When the surgery was first introduced, some patients experienced fat embolism — because the fat was accidentally injected into the bloodstream, where it clogged major blood vessels. Since then, the medical community has developed new techniques that greatly decreased the risk of fat embolism. There's now even a BBL Task Force in place specifically to keep you safe.
Read more: Butt Implants in NYC
The personal care and consideration I received is exceptional.
What Does Brazilian Butt Lift Recovery Look Like?
Millennial Plastic Surgery prioritizes your comfort at every step of your Brazilian butt lift surgery. While the procedure itself is painless thanks to anesthesia, mild pain and swelling may persist after plastic surgery for buttocks. Any temporary side effects are easily manageable. During awake BBL or traditional BBL recovery, you can expect to:
Get your beauty sleep and drink fluids.
For the first 24 hours after your BBL, focus on getting plenty of rest. Sleep in the position that you find most comfortable. Avoid dehydration by drinking plenty of water and other fluids.
Take medication as needed.
Some soreness is normal after a BBL. For relief, take prescription pain medication or acetaminophen as directed by your doctor.
Keep ice packs handy.
If you feel swelling, use ice packs for relief, but only during the first 24 hours after your procedure.
Enjoy a post-operative massage
Practice basic first aid.
You may need to change out the bandages covering your incision or injection sites. Seeing a substantial amount of fluid drain from these puncture sites is common in the first one to two days following your BBL.
Hit pause on your exercise routine.
Wait a week after your BBL to resume vigorous exercise. After the first day, be as active as possible and avoid lying in bed or on the couch all day.
Don't smoke.
Nicotine increases the risk that complications will arise after Brazilian butt lift surgery. Avoid nicotine in all forms for at least two weeks before and two weeks after your procedure.
Every day is a self-care day during BBL recovery. Grab your comfiest slippers and focus on taking care of yourself. Soon, you'll be ready to shake your new booty.

56 West 45th Street, 4th floor
New York, NY 10036 3190 Riverdale Ave. Level C #4A
Bronx, NY 10463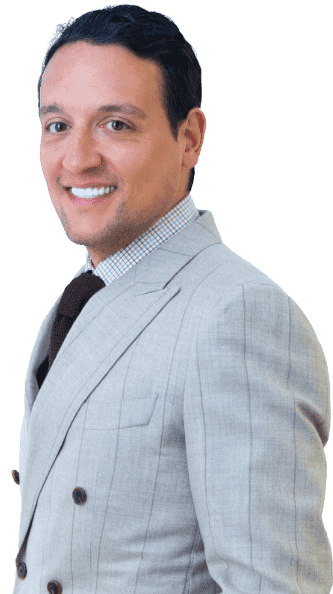 Brazilian Butt Lift Near Me: Find a Way to Achieve Your Dream Body with Millennial Plastic Surgery
When looking for effective ways of enhancing your buttocks' shape and size and achieve a more attractive and youthful appearance through Brazilian Butt Lift (BBL), it's crucial to choose a qualified specialist. A certified plastic surgeon with experience in BBL can provide the safest and most effective outcome. They possess the skills to perform the procedure while ensuring patient safety and meeting their aesthetic goals.
How to Find a Qualified Surgeon Offering BBL Near You
To find a qualified surgeon offering BBL near you, follow these steps:
Ask your primary care physician or other trusted healthcare providers for recommendations.
Search online for phrases like "bbl near me" and "bbl surgery near me."
Browse online reviews of nearby plastic surgeons to find out about their reputation and quality of care.
After trimming the number of surgeons on your list, arrange a consultation to go over your requirements and objectives. Ask about the surgeon's success and complication rates, as well as their experience with BBL.  Choose a surgeon that you trust to provide you with the best care possible and with whom you feel at ease.
Why Choose Millennial Plastic Surgery?
Our board-certified plastic surgeons are highly skilled and experienced in BBL techniques.
We offer a variety of BBL options as well as financing options to meet your individual needs and budget.
We use the latest BBL technology to ensure safe and effective results.
We are committed to providing our patients with personalized care and attention throughout the entire BBL process.
If you are considering a Brazilian butt lift, contact Millennial Plastic Surgery today to schedule a free consultation. Our experienced surgeons will discuss your goals and develop a personalized treatment plan to help you achieve the body of your dreams.
How Can I Keep My Butt Lifted?
Now that your butt is bigger and better than ever, make sure it stays that way. While resting and taking care of yourself are the most important elements of recovery from any shape cosmetic surgery, a Brazilian butt lift requires two additional recovery steps specific to bum surgery. To keep your butt lifted:
Wear your body compression garment. For the first 24 hours after your BBL, continue wearing your compression garment continuously. After that, you should wear it for 23 hours a day for the next three months. You may remove your compression garment to shower, use the restroom and wash the garment.
Stay off your butt. For three weeks following the Brazilian butt lift surgical procedure, you cant sit on your bottom. If you do, you risk the survival of the fat you relocated there. Grafted fat can move or die as a result of too much pressure, diminishing the desired effects of your BBL.
These tactics are designed to give you the best BBL care in New York City. Dr. Shokrian and his team take care of you from your first consultation to your post-op care. Millennial Plastic Surgery is home to NYC's most elite Brazilian butt lift care. From the sleek facility in Midtown Manhattan, the stellar staff goes above and beyond to help shape your results.
Read more: What Is the Difference Between a Buttock Lift and BBL?
How Much Does a Brazilian Butt Lift Cost?
In Manhattan, a Brazilian butt lift treatment starts as low as $9,999. Dr. David Shokrian customizes your BBL for you, based on your ideal results and your overall health. Your personalized treatment plan determines your exact Brazilian butt lift cost. Some factors that affect the cost of your BBL include the:
Length of operation.
Post-op care.
Location.
Length of operation.
Depending on how much fat needs to be retrieved and relocated to achieve your dream silhouette, you may incur additional expenses for materials and operating room time. Additionally, using general anesthesia adds time to your BBL versus using local anesthesia and sedation.
Post-op care.
The level of aftercare you require following your procedure affects your total Brazilian butt lift cost.
Location.
Centrally located in Midtown Manhattan, Millennial Plastic Surgery neighbors all major New York City transit lines from buses to trains. Convenience can be invaluable to those seeking or recovering from medical treatment.
In most cases, Brazilian butt lift surgery is an elective operation with the aim of upgrading your self-image. Health insurance doesn't cover elective cosmetic procedures; therefore, you need to be responsible for the total Brazilian butt lift cost. If you need financial assistance, Millennial Plastic Surgery works with you to create a payment plan or establish financing.
Read more about: Chin lipo in NYC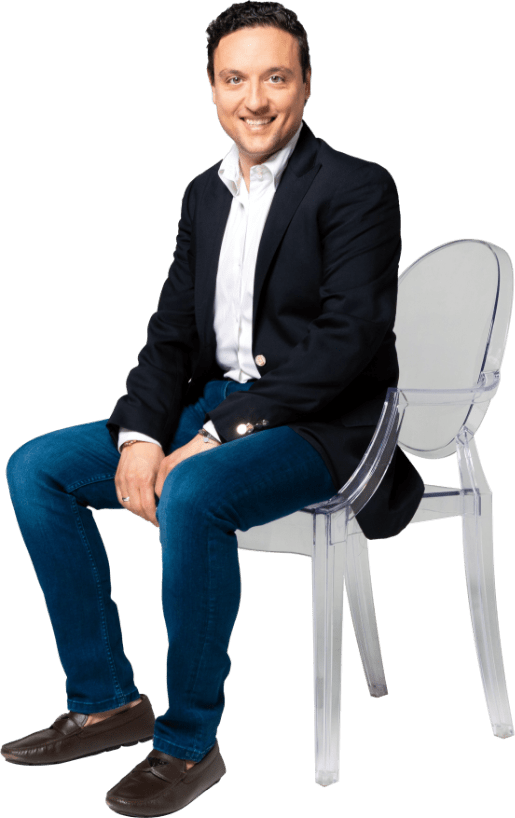 Implants vs Fat Transfer For Buttock Augmentation
Here are the advantages and disadvantages of buttock implants and fat transfer techniques:
Implants for Buttock Augmentation
Advantages
Predictable Volume: Implants provide a consistent and predictable volume increase. The size of the implant chosen will be the size increase seen.
Long-lasting: Unlike fat, which can be reabsorbed into the body over time, implants typically maintain their size.
No Need for Donor Fat: Ideal for individuals who are very slim and don't have enough body fat for a fat transfer procedure.
Less Initial Swelling: There may be less initial swelling compared to the fat transfer method.
Disadvantages
Foreign Object: The body can sometimes reject or react to foreign objects, leading to complications.
Risk of Capsular Contracture: This is when scar tissue forms around the implant, causing it to feel hard. It may require surgical correction.
Visibility and Palpability: In patients with minimal native fat, the implant edges may be seen or felt.
Risk of Implant Displacement: There's a potential for the implant to shift position over time or due to trauma.
Longer Recovery: Implants may require a more extended recovery period compared to fat transfer.
Implants offer a more dramatic and immediate change. However, they also come with a higher risk of complications, such as infection and implant rejection.
Fat Transfer for Buttock Augmentation (BBL)
Advantages
Natural Feel: Since it uses the patient's own body fat, the augmented buttocks often feel more natural than with implants.
Two-fold Benefit: Patients benefit not only from enhanced buttocks but also from liposuction in the donor area(s), giving a more contoured appearance.
No Foreign Objects: Because it uses the body's natural tissue, there's no risk of foreign body rejection.
Smaller Incisions: The procedure involves liposuction and fat injection, which requires smaller incisions than placing implants.
Adaptable Results: Fat can be injected in specific areas to achieve a desired shape.
Disadvantages
Variable Retention: Not all the transferred fat will survive. Typically, about 60-80% of the fat remains, while the rest is reabsorbed by the body.
Multiple Procedures: Depending on the desired size and how much fat is retained, some patients may need multiple sessions to achieve their desired results.
Requires Donor Fat: The patient needs to have enough body fat to be harvested. Very slim individuals might not be candidates.
Recovery Time: While recovery might be less intensive than with implants, patients still need to avoid sitting directly on their buttocks for several weeks to allow the best fat survival.
Potential for Oil Cysts: Some of the transferred fat can form oil cysts, which might require treatment.
---
Summary
Overall, fat grafting is now considered the gold standard for buttock augmentation. It produces a predictable, more natural-looking result, provides a high level of patient satisfaction, and has a higher success rate than traditional buttock implants.
Implants offer a more dramatic and immediate change. However, they also have a higher risk of complications, such as infection and implant rejection.
Fat transfer is a less invasive procedure with a shorter recovery time. However, the results may take several weeks or months to appear fully.
The History of the Brazilian Butt Lift (BBL)
The Brazilian Butt Lift (BBL) has recently gained popularity, but its roots trace back to decades ago.
Origins: The modern concept of using fat to enhance the buttocks instead of implants was developed in the late 20th century.
Brazil's Influence: Brazil, known for its cultural appreciation of curvy figures, popularized the Brazilian Butt Lift, a cosmetic surgery procedure that augments the buttocks. The country's prominence in cosmetic surgery and its famed Carnival, where shapely buttocks are celebrated, contributed to the procedure's name and popularity. Brazil, in particular Rio de Janeiro and São Paulo, became a hub for cosmetic surgeries from the 1970s onwards due to its:

Advanced plastic surgery techniques
Experienced surgeons
The cultural embrace of aesthetic enhancements

Technological Advancements: By the late 1990s and early 2000s, surgeons began to prefer fat transfer over implants for buttock augmentation, which allowed for the safer and more effective harvesting and transferring of fat.
Mainstream Popularity: In the 2010s, with the rise of celebrity culture and social media, there was a marked shift in beauty standards towards a fuller posterior. Celebrities and influencers flaunting their curves brought the BBL into the mainstream. The procedure's non-reliance on implants and use of one's fat made it a sought-after choice for those desiring a natural-looking enhancement.
Safety Concerns & Evolution: As with any cosmetic procedure, BBL has had its share of controversies, mainly concerning safety. The medical community has continuously worked on refining techniques to make the surgery safer. Continued training, research, and patient education remain at the forefront of ensuring the BBL's place in aesthetic surgery.
Published Data
Fat Grafting for BBL Statistics
The table presents statistics on the satisfaction and the side effects of Fat Grafting as documented in PubMed papers based on multiple studies.
| Statistic | Value |
| --- | --- |
| Patient satisfaction rate | 97.1% |
| Mean complication rate | 7-10% |
| Rate of serious complications | <1% |
| Average fat graft survival rate | 60-70% |
Complications/Safety of Gluteal Fat Grafting
The table presents statistics on the Complications/Safety of fat grafting for buttock augmentation as documented in the Aesthetic Surgery Education and Research Foundation Task Force, which investigated 692 surgeons who performed 198,857 gluteal fat grafting cases.
Statistic
Value
Rate of pulmonary fat emboli after gluteal fat grafting
1 in 1,030 cases (< 0.08%)
Rate of fatal pulmonary fat emboli after gluteal fat grafting
1 in 3,448 cases (< 0.03%)
Number of deaths following gluteal fat grafting in Mexico over 10 years
13
Number of deaths following gluteal fat grafting in Colombia over 15 years
9
Number of mortalities from fat embolism following fat grafting for buttock
augmentation reported by Cárdenas-Camarena et al
22
Rate of fatal complications for gluteal fat grafting
1 in 55,000
The figure of your dreams awaits you at Millennial Plastic Surgery. Whether you're interested in a Brazilian butt lift alone or a full mommy makeover, you can trust Dr. Shokrian. Contact the Manhattan team today to set up a consultation and learn how awake or traditional Brazilian Butt Lift (BBL) transforms not only your silhouette, but your self-confidence too.