Impressed with the personalized and attentive service provided.
Why Should I Get a Non-Surgical Butt Lift or Second Round BBL?
Non-surgical Brazilian butt lifts (BBLs) – also referred to as non-surgical butt lifts – and second round BBLs are two additional forms of cosmetic enhancements available for your rear end. Non-surgical butt lifts are an accessible and convenient option if you want to add volume to your butt without undergoing surgery. Second round Brazilian butt lifts repeat the surgical process of your first BBL for more dramatic results.
Butt augmentation is the most straightforward way to improve your assets. If you want to look your best for a major life event or a special occasion, cosmetic procedures quickly craft your ideal figure. You might choose to have a non-surgical butt lift or a second round BBL before your wedding, conference, vacation or big audition.
Love the way you look with a fuller, tighter butt. Whether you're preparing for an upcoming occasion, or just want to look your best every day, Dr. David Shokrian at Millennial Plastic Surgery helps New Yorkers create that perfect look from top to bottom and from front to back.
Clients' Testimonials
My first butt lift was with another doctor and I didn't have the desired results, but with millennial I had amazing results! Many doctors rejected me for another surgery. however that wasn't the case with this doctor. Very satisfied with the results!
Clients' Testimonials
I recently had a butt lift surgery and I couldn't be happier with the results. My surgeon was professional and skilled, and the recovery process was much easier than I had anticipated. The procedure has given me the confidence to wear clothing that I never thought I could before. I would highly recommend a butt lift to anyone considering it
Clients' Testimonials
I am extremely happy with my decision to get butt implants. The procedure was straightforward and the recovery was not as difficult as I expected. My new shape has given me a newfound confidence and I feel great in everything I wear.
How Can I Get a Butt Lift Without Surgery?
Injectable butt lifts are the most common alternative to surgical butt lifts. They rely on a medical fillers to revitalize collagen growth in your buttocks. Other non-surgical treatments use stitches to pull your skin tighter or involve building muscle tone with concentrated electromagnetic energy. Different methods of non-surgical butt lifts include:
Sculptra injection. Sculptra is a dermal filler made using poly-L-lactic acid (PLLA). PPLA stimulates collagen growth deep within your skin. Sculptra is biodegradable and non-toxic.
Radiesse injection. Radiesse is another dermal filler made from calcium hydroxyapatite, which encourages firmer skin.
Butt thread lift. A butt thread lift relies on a series of sutures to carefully pull the skin on your butt for a tauter look. The material in the thread used — called polydioxanone — consists of complex sugars and has a long track record as a safe and reliable material commonly used in orthopedic and cardiovascular procedures.
Emsculpt NEO. This device sends high intensity, focused electromagnetic energy to target areas of your buttocks to build muscle tone. One 30-minute Emsculpt NEO session provides the same level of muscle contraction as 20,000 squats. Emsculpt NEO is unique because it doesn't require surgery or injections.
Non-surgical butt lifts provide a tighter butt without the physical toll and inconvenience of surgery. Additionally, a non-surgical butt lift costs significantly less than surgical butt augmentation. The practical benefits of a non-surgical butt lift include:
Lower cost. At Millennial Plastic Surgery, non-surgical butt lift cost starts around $3,200, compared to a Brazilian butt lift, which starts at $9,999. Non-surgical butt lifts don't carry the same fees as surgical butt lifts either, so you don't have to pay operating room fees, pre-surgery prep fees or longer appointment times. Millennial Plastic Surgery also offers financing options.
Convenience. Injectable butt lift treatments take around 30 minutes.
More natural-looking results. Injectable butt lifts build collagen over time. This leads to a butt that looks more naturally toned and firm.
No anesthesia. Most non-surgical butt lifts don't use any form of anesthesia.
Lower risk. Non-surgical butt lifts don't carry the same level of risks associated with surgery, such as from infection or general anesthesia.
Less recovery time. You recover sooner from a non-surgical butt lift than from a Brazilian butt lift (BBL) procedure or butt implants.
In the time that it takes you to watch an episode of your favorite TV show, you could get treatment for a butt to be proud of. At less than a third of the cost of surgical butt enhancements, non-surgical alternatives mean that a butt lift is within reach. Long hospital visits and weeks of recovery are a thing of the past with non-surgical butt lifts.
How Can I Keep My Butt Looking Good?
It takes time to notice full results from a non-surgical butt lift. After an injectable butt lift, your buttocks gradually get larger and tighter over time as the fillers stimulate collagen growth. The full effects manifest over several months.
You enjoy the results of a typical non-surgical butt lift for two to three years — or four years in the most successful cases. Because the results of a non-surgical butt lift are temporary, you may opt to combine it with other methods of butt augmentation. Additional procedures designed to improve the size and/or shape of your bottom include:
More injections. It's not uncommon to elect to have multiple injection treatments, which leads to more collagen growth in your buttocks. Sometimes, Sculptra and Radiesse are used in concert with one another.
Butt implants. Your doctor surgically inserts artificial implants to create more volume in your butt. The results are immediate, but recovery takes up to a month.
Butt lift procedure. A butt lift surgery targets sagging skin or tissue on your butt to create a smoother form without adding volume.
Brazilian butt lift (BBL). A BBL is a fat transfer surgery that relocates fat from other areas of your body to your bum.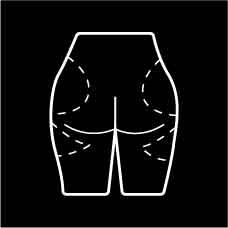 We can't wait to meet you! We offer comprehensive consultations with Dr. Shokrian, and his team both virtually and in person.
212-421-7123
How Can I Achieve the Fullest Butt Possible with a Second Round BBL?
If you want to really pump up the volume, your doctor can tailor a series of butt lift procedures to help you achieve that voluminous look you're after. Sometimes, this means combining surgical and non-surgical butt lift treatments or doubling down on surgical treatments. One way to achieve a long-lasting, big and beautiful butt is to follow up a Brazilian butt lift with a second-round Brazilian butt lift. The main points to understand about a second round BBL include the:
Procedure. A second round BBL is the same as your first BBL. Using liposuction, your doctor takes fat from another part of your body — like your love handles, hips, chest or back — before using fat grafting to inject it into your buttocks. The result is a plumper, rounder rear end.
Timing. You need to wait eight to 12 months after your first Brazilian butt lift to receive a second.
Results. A second round BBL gives you a more dramatic transformation than just one BBL. You'll notice immediate results, though.
Preserving the fullest possible butt after a second round BBL requires a little maintenance. You need to wear your compression garment to suppress swelling, as well as stay off your butt to protect the newly grafted fat. Having a second round BBL and maintaining it well gives you that more exaggerated bottom look that you're after.
Your ideal butt is a phone call away. Millennial Plastic Surgery offers the talent, expertise and compassion necessary to guide you through the exciting process of cosmetic surgery and aesthetic treatments. Contact New York City's most elite team of cosmetic surgeons for a consultation today.