Top-notch service that always exceeds expectations.
What Are Evolve and Evoke Cosmetic Treatments?
Evolve and Evoke aren't specific cosmetic treatments, but rather are the names of two different brands of aesthetic technology that basically do the same thing, but on different parts of your body. Both brands offer a range of non-invasive cosmetic treatments that use radiofrequency technology to target various areas of your body in-house medical spa
Evolve by InMode offers treatments such as body contouring, cellulite reduction, skin tightening and muscle toning, while Evoke by InMode focuses on facial remodeling and rejuvenation, including treatments for your jawline, cheeks and neck.
In Manhattan, at Millennial Plastic Surgery's in-house medical spa, Dr. David Shokrian prefers the Evolve in NYC brand and relies on other forms of rejuvenation for your face, such as:
Clients' Testimonials
I recently had a butt lift surgery and I couldn't be happier with the results. My surgeon was professional and skilled, and the recovery process was much easier than I had anticipated. The procedure has given me the confidence to wear clothing that I never thought I could before. I would highly recommend a butt lift to anyone considering it
Clients' Testimonials
I had an amazing experience here, my body and breast look absolutely flawless. LIKE PERFECTION!!!! I personally dealt with Sofia the entire time and she is and absolute DREAM! Sooo nice and over accommodating absolutely professional like she's really my new best friend. They made a very welcoming environment. I would definitely recommend anyone looking for cosmetic work, check them out for sure
Clients' Testimonials
My facelift has made me feel like a brand new person. The procedure was quick and painless, and the results have been truly remarkable. I couldn't be happier with the outcome.
What Is Evolve Plastic Surgery Body Contouring?
Evolve body contouring is a non-invasive, customizable treatment that uses radiofrequency (RF) energy to tighten and tone your skin, reduce unwanted fat and contour your body. This procedure uses a combination of three different technologies: Tite, Trim and Tone:
Tite technology uses RF energy to target your skin and tighten it, reducing the appearance of wrinkles and sagging.
Trim technology relies on RF energy to selectively target and heat fat cells, causing them to shrink and be eliminated by your body's natural processes.
Tone technology uses electrical muscle stimulation to tone and strengthen muscles in the treated area, resulting in a more defined and toned appearance.
As a non-surgical procedure, Evolve body contouring doesn't require incisions or anesthesia. It's a relatively quick and painless procedure, with most treatments lasting between 30 and 60 minutes. You can return to your normal activities immediately after the treatment because there's no downtime or recovery period.
Body contouring with Evolve in NYC is used to treat areas of your body that typically are resistant to diet and exercise, such as the abdomen, thighs, arms and buttocks. It's also effective for treating loose skin and cellulite. The number of treatments required varies, depending on your goals and the areas being treated. Most people see noticeable results after just a few treatments.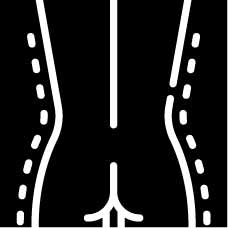 We can't wait to meet you! We offer comprehensive consultations with Dr. Shokrian, and his team both virtually and in person.
212-421-7123
How Is Evolve in NYC Administered?
After you've undergone an initial consultation just to ensure you understand the process, you may be ready to get started. You must understand that you may more than one session to see a big difference. During your interview, make sure you share with your aesthetician what parts of your body you want to start with and what bothers you the most — your core, your thighs or your arms.
Men and women both benefit greatly from these non-surgical treatments that complement your regular workouts. They give you that little extra boost to reduce fat buildup, replenish your collagen production and tighten your muscles so your well-deserved bod shows up. The process differs for each person and how you choose to proceed, but the steps basically follow the same pattern, which includes:
Getting undressed enough to expose the skin at the area you plan to have treated
Having applicators set on the areas to receive the treatment, which are held in place with belts
Feeling slightly warm, akin to a hot stone massage, as the electromagnetic RF flows through you
Having the applicators moved around to receive the pulsing energy for the tone portion of the treatment
What is EvolveX Body Sculpting vs. Coolsculpting®?
EvolveX body sculpting and CoolSculpting® are both non-invasive body-contouring treatments that aim to reduce unwanted fat in specific areas of the body. But there are differences between the two procedures in terms of how they work, the areas they can treat and their effectiveness. For example:
EvolveX body sculpting uses a combination of ultrasound and radiofrequency technology to target and destroy fat cells in specific areas of your body. It's used to treat those stubborn areas of the body that are most resistant to your efforts to get rid of excess fat, such as on your abdomen, hips, thighs and arms.
CoolSculpting uses a process called cryolipolysis to freeze and destroy fat cells. Like EvolveX body sculpting, CoolSculpting is also a non-invasive procedure, but it requires the use of a specialized applicator that suctions the targeted area of your body and cools it to a specific temperature. CoolSculpting is primarily used to treat the abdomen, flanks and thighs.
In terms of effectiveness, both EvolveX body sculpting and CoolSculpting provide significant results for the right candidate. But individual results vary, and multiple treatment sessions may be necessary to achieve the desired outcome.
Ultimately, the choice between EvolveX body sculpting and CoolSculpting depends on individual factors, such as the areas of your body being treated, your desired outcome and any pre-existing medical conditions you may have. In your initial consultation at Millennial Plastic Surgery's MedSpa, discuss your concerns and questions with Dr. Shokrian, who recommends the best treatment for your specific needs.
The team is knowledgeable, responsive, and a pleasure to work with.
Who Is a Candidate for Evolve Tite?
Evolve Tite typically is used to address mild to moderate skin laxity. Ideal candidates for Evolve Tite generally are men and women who:
Are in good overall health
Have mild to moderate skin sagging
Have realistic expectations for the outcome of the treatment
Are willing to commit to multiple treatment sessions for optimal results
Not everyone is a good candidate for this treatment, however. People with certain medical conditions, such as pacemakers or metal implants in the area you hope to get treated, may not be able to get Evolve Tite. Your experienced doctor tells you about all these exclusions and makes recommendations to most easily and safely meet your goals. Contact the experts at Millennial Plastic Surgery to find out if Evolve in NYC is the right move to achieve your ideal body right now.