Highly recommend for their exceptional service and expertise.
What Is the AccuTite Procedure?
The AccuTite procedure is a minimally invasive treatment method that uses radiofrequency technology to tighten and contour specific areas of your body. It has the same goals as body contouring surgery. AccuTite is especially useful for your face, neck and arms, with AccuTite for thighs and arms being particularly popular.
For the AccuTite procedure, you only need local anesthesia or even just a numbing cream placed directly on your skin. Tiny incisions are then made for a handheld device. The device delivers radiofrequency energy to the targeted area, heating and contracting the tissue beneath your skin's surface. When you're ready, find an experienced practitioner for AccuTite in NYC, someone like Dr. David Shokrian at Millennial Plastic Surgery in Midtown Manhattan.
Clients' Testimonials
My facelift has made me feel like a brand new person. The procedure was quick and painless, and the results have been truly remarkable. I couldn't be happier with the outcome.
Clients' Testimonials
This place was very good. The kindness and helpfulness of the staff was awesome. I loved Jess and my massages from Maribel..she was so good I wanted an 8 ounce bottle of milk and my bed after. Overall Dr. Shokrian was very honest in what he could do and what he couldn't which made my choice even easier.
Clients' Testimonials
I had my surgery done 2 weeks ago & I had the most amazing experience ever. Dr. Shokrian & the girls are very caring, they made me feel very comfortable, especially Sophia & Barbara. They answered every question I had! I'm more than happy with my results & would definitely recommend MPS to anyone interested in cosmetic surgery!
What Are The Benefits of AccuTite?
AccuTite offers a range of benefits that make it an attractive option if you're looking for a minimally invasive cosmetic alternative to surgical body or facial procedures. The benefits of AccuTite include:
Precision. The AccuTite procedure is highly precise, allowing your NYC plastic surgeon to target small and hard-to-reach areas of your face and body.
Minimally invasive. When you get AccuTite in NYC, you only need local anesthesia. There's no need for general anesthesia, which reduces the risk of complications and shortens your recovery time.
Immediate results. Unlike traditional surgical procedures, such as arm lifts or tummy tucks (abdominoplasty), AccuTite doesn't require recovery time for your body to heal. You see an immediate improvement in the treated areas after AccuTite. The full results become more apparent over the following weeks and months.
Short recovery time. The AccuTite procedure has a short recovery time, and you can return to work and normal activities within a few days. While some swelling, bruising and discomfort may occur, they're generally mild and resolve quickly.
Long-lasting results. The results of AccuTite can last for several years. You may be like one of those who experienced permanent improvement in the treated area.
Safe and effective. AccuTite is generally considered a safe, effective procedure when performed by a qualified and experienced plastic surgeon like Dr. Shokrian. The procedure's risks and complications are minimal, and the benefits can be significant to your appearance and your confidence.
Ultimately, the choice between AccuTite, injectables and fillers depends on your specific needs or goals. They're all cosmetic procedures that enhance the appearance of your face and body. There are, however, some differences between their effects and results, such as:
Injectables and fillers use substances like Botox or Radiesse to fill in wrinkles and add volume. They can be used to address a wider range of concerns, including fine lines and hollow cheeks.
Accutite in NYC lasts longer, in general than injectables or fillers.
The results of injectables and fillers are typically temporary and may require repeat treatments to maintain the desired effect.
AccuTite allows for a high level of customization, with your plastic surgeon able to adjust the amount of radiofrequency energy delivered to the treatment area.
Injectables and fillers offer some degree of customization, but are limited by the properties of the injectable substance used.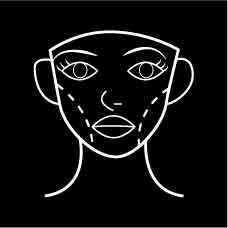 We can't wait to meet you! We offer comprehensive consultations with Dr. Shokrian, and his team both virtually and in person.
212-421-7123
Why Would I Get AccuTite?
There are several common reasons why you may want to undergo the AccuTite procedure, including to:
Tighten and contour precise areas of the body. AccuTite is particularly useful for tightening and contouring small areas of your body, such as the under-eye region, the nasolabial folds or the jowls. These areas can be difficult to target with traditional surgical procedures, and AccuTite offers a minimally invasive alternative.
Reduce the signs of aging. As you age, your skin loses elasticity and firmness, which can result in sagging, wrinkles and fine lines. AccuTite reduces the signs of aging by tightening and lifting the skin in targeted areas of your face and body.
Improve the appearance of scars. AccuTite is also used to improve the appearance of scars, including acne scars and surgical scars. The radio frequency energy delivered by the device stimulates collagen production, which helps smooth and even out your skin's texture, leaving you glowing.
Enhance body contours. AccuTite can be used to enhance body contours by reducing excess fat and tightening loose skin. AccuTite for thighs, for example, may help if you're unhappy with the appearance of your thighs or if you've lost a significant amount of weight, but your thighs remain huge.
Boost self-confidence. Ultimately, you may choose to undergo the AccuTite procedure to boost your self-confidence and feel better about your appearance. By improving the appearance of specific areas of your face and body, you can feel more confident and satisfied with your overall appearance.
AccuTite is used to address a range of concerns, including sagging skin, wrinkles and fine lines. It's a versatile non-surgical option that can be tailored to your individual needs.
What Can I Expect while Recovering from an AccuTite Procedure?
Follow your Manhattan doctor's post-procedure instructions carefully to ensure a smooth and successful recovery. They provide you with specific instructions on wound care, medication and physical activity restrictions. A general timeline of what to expect during your AccuTite recovery process includes:
Immediately after the procedure.
One to two days after the procedure.
One week after the procedure.
Two to four weeks after the procedure.
Long-term recovery
Immediately after the procedure.
You may feel some discomfort, but you can manage it with over-the-counter pain medication. Avoid touching or rubbing the treated area for at least a week.
One to two days after the procedure.
Rest and avoid strenuous physical activity for the first few days after the procedure. Applying ice packs to the treated area helps reduce swelling and discomfort.
One week after the procedure.
You can likely return to work and normal activities after a week, although you may still experience some swelling and bruising. Avoid exposure to direct sunlight and liberally apply sunscreen on the treated area when going outside.
Two to four weeks after the procedure.
Swelling and bruising should subside within a few weeks. You may still experience some numbness or tingling in the treated area, but this resolves on its own.
Long-term recovery.
You can expect to see the full results of the procedure within six to 12 months. The results of AccuTite can last for several years, although your results vary.
While the AccuTite procedure is generally considered safe and effective, you're advised to consult with a qualified, experienced cosmetic surgeon in NYC to determine if the procedure is right for you. Contact Dr. Shokrian to schedule a consultation. He provides you with detailed information on what to expect before, during and after the procedure. The AccuTite procedure, which is similar to the FaceTite and BodyTite procedures, is perfect if you're looking to improve your appearance and boost your confidence without resorting to surgery.