I couldn't be happier with the level of service provided.
What Is Juvederm®?
Juvederm® is a brand of hyaluronic acid-based dermal fillers that have been successfully used to treat facial wrinkles, lines and folds for decades. It's a safe and quick procedure that also enhances facial volume and gives your face lovely contours in all the right places.
Since hyaluronic acid is a natural substance in the body that helps to maintain hydration and elasticity in your skin, it makes sense to rely on a synthetic version of the stuff to fill in for the hydration and elasticity you lost. Juvederm is designed to mimic naturally occurring hyaluronic acid. It's injected into your skin to add volume and reduce the appearance of wrinkles and lines.
Even though it isn't a surgical procedure, you still want to make sure you're safe and healthy when you undergo any type of injectable or filler. The MedSpa at Millennial Plastic Surgery in Midtown Manhattan provides that safe environment. And because it's technically a medical center offering spa services, your practitioners and aestheticians are overseen by a renowned plastic surgeon: Dr. David Shokrian.
Clients' Testimonials
I have had several visits to Millennial Plastic surgery. I always look forward to seeing Barbara when I go there. She has the most amazing personality. She is very warm and friendly. She pays attention to detail and take the time to make sure you understand all information. Patient centered care is at the forefront with every experience with her.
Clients' Testimonials
I had my surgery done 2 weeks ago & I had the most amazing experience ever. Dr. Shokrian & the girls are very caring, they made me feel very comfortable, especially Sophia & Barbara. They answered every question I had! I'm more than happy with my results & would definitely recommend MPS to anyone interested in cosmetic surgery!
Clients' Testimonials
My facelift has made me feel like a brand new person. The procedure was quick and painless, and the results have been truly remarkable. I couldn't be happier with the outcome.
How Are Juvederm Fillers in NYC Used?
Juvederm treatment involves injecting the Juvederm gel into the desired areas of your face to achieve a more youthful appearance. It's best used to treat wrinkles and areas near the nasolabial folds. But it's also a popular option for lips, to make them fuller and more defined. It can also treat moderate scarring on your face.
The whole injection process may be done in less than 45 minutes, so it's possible to get your NYC Juvederm treatment on your lunch hour and head back to work directly afterwards. Steps involved in the process usually follow a basic pattern that includes:
Before the treatment, your NYC aesthetician cleans the treatment area.
Your doctor then applies a topical anesthetic to reduce any discomfort during the injections.
The Juvederm gel is injected into the targeted areas, using a small needle or cannula.
After the treatment, you may experience some slight swelling, redness and bruising, but these side effects are usually mild and resolve within a few days.
The results of Juvederm can last anywhere from six months to a year, depending on the specific product used, the amount injected and the individual.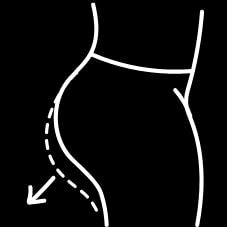 We can't wait to meet you! We offer comprehensive consultations with Dr. Shokrian, and his team both virtually and in person.
212-421-7123
Truly exceeded my expectations with their exceptional service.
What Are Nasolabial Folds?
Dr. Shokrian says that Juvederm is the go-to solution to fill nasolabial folds, which are the creases that extend from the edges of your nose to the corners of each side of your mouth. More commonly referred to as smile lines or laugh lines, these deep wrinkles are common among men and women of all races. The main causes of those deep nasolabial folds include:
Smoking
Aging
Ultraviolet sun exposure
Weight gain or loss
While Juvederm is one of the most successful forms of diminishing those laugh lines, other treatments that reduce their appearance include:
Read more: What You Should Know About Butt Injections

Who Should Avoid Juvederm?
Juvederm primarily is for people in good health with some level of skin elasticity, especially those who don't smoke and have realistic expectations. And while Juvederm in NYC is generally considered safe, certain groups of people should avoid using it or may need to take extra precautions when using it, such as if you:
Are pregnant or breastfeeding. The effects of Juvederm fillers in NYC on unborn or nursing babies are not well known, so it's best to avoid using it during pregnancy or while breastfeeding.
Are allergic to lidocaine or hyaluronic acid. Juvederm contains these two ingredients, so if you're allergic to either one, let your doctor know because it won't work for you.
Have a bleeding disorder. If you have hemophilia or a platelet disorder, you may be at increased risk of bleeding or bruising at the injection site. In fact, many cosmetic procedures may be dangerous for you, which is why you must rely on a surgeon with lots of experience to remain safe.
Take blood-thinning medications. If you're taking medications that thin your blood, such as aspirin or warfarin, you may be at increased risk of bleeding or bruising at the injection site.
Suffer with active skin infections. If you have an active skin infection, such as a cold sore or acne, you should avoid using Juvederm until the infection has cleared up.
Discuss your medical history and any medications you're taking with your Manhattan aesthetician before getting Juvederm injections. They can help you determine if Juvederm is safe for you to use and recommend any necessary precautions.
What Are the Benefits of NYC Juvederm?
This dermal filler is ideal if you're young enough to see your skin revert back to its natural shape with just a little extra help. It allows you to maintain a youthful appearance as you begin to age. Sometimes, it's just the boost your face needs to help you feel your best. Juvederm also is ideal for:
Reducing wrinkles and fine lines. Use Juvederm to fill in wrinkles and fine lines, particularly around your nose, mouth and forehead. Your insurance company may cover the procedure if it's to repair skin that incurred some scarring, such as after you recover from a burn.
Increasing facial volume. As you age, you naturally lose volume in your face, which can create a hollow, sunken appearance. Juvederm restores volume to areas like your cheeks, chin and lips without surgical augmentation.
Smoothing skin texture. Juvederm improves the texture of your skin, making it look smoother and more even, saving you money on expensive creams and lotions that too often don't work anyway.
Providing a non-surgical option. Juvederm filler in NYC is a non-surgical treatment, which means there's no need for general anesthesia or extensive recovery time.
Giving you long-lasting results. The effects of Juvederm can last for up to a year, so you can enjoy your results for an extended period.
Leaving you with minimal or no side effects. Juvederm is a safe and well-tolerated treatment. Minimal side effects, such as temporary swelling or bruising at the injection site, disappear in a day or two.
Overall, Juvederm in NYC is a convenient and effective way to improve your appearance and boost your confidence. And in Midtown Manhattan, you just need to contact Millennial Plastic Surgery for an appointment to get Juvederm treatment in style and comfort.