If you are unhappy with the small size of your butt or want a more rounded rear, you can opt for a buttock lift or a Brazilian buttock lift procedure. Both these procedures offer incredible results and a chance to enjoy the curves you have always longed for. At Millennial Plastic Surgery, Dr. David Shokrian explains the difference between a buttock lift and BBL and how both procedures work so you can gain a better understanding of what each option can accomplish. Using the most advanced technology, Dr. Shokrian customizes the procedures to suit your needs to help you achieve balanced, proportionate, shapely buttocks that complement your figure.
As we grow old, our skin loses elasticity, and it can cause the buttocks to sag. For some people, lack of exercise and long hours spent in the same posture can affect the natural shape of the bottom. The muscle mass around the butt, known as the glutes, resembles a heart shape. The mass at the top creates a curve and narrows down as it goes down to the legs. As the glutes sag, it changes appearance and seems bigger behind the legs than around the hips.
Squats, lunges, leg lifts, and glutes bridges are great exercises for maintaining your butt shape, but it may take months before you see any results, and there is no guarantee that you will get the firm booty you want. If you are experiencing loss of buttock volume or tone, surgical buttock augmentation is the best solution.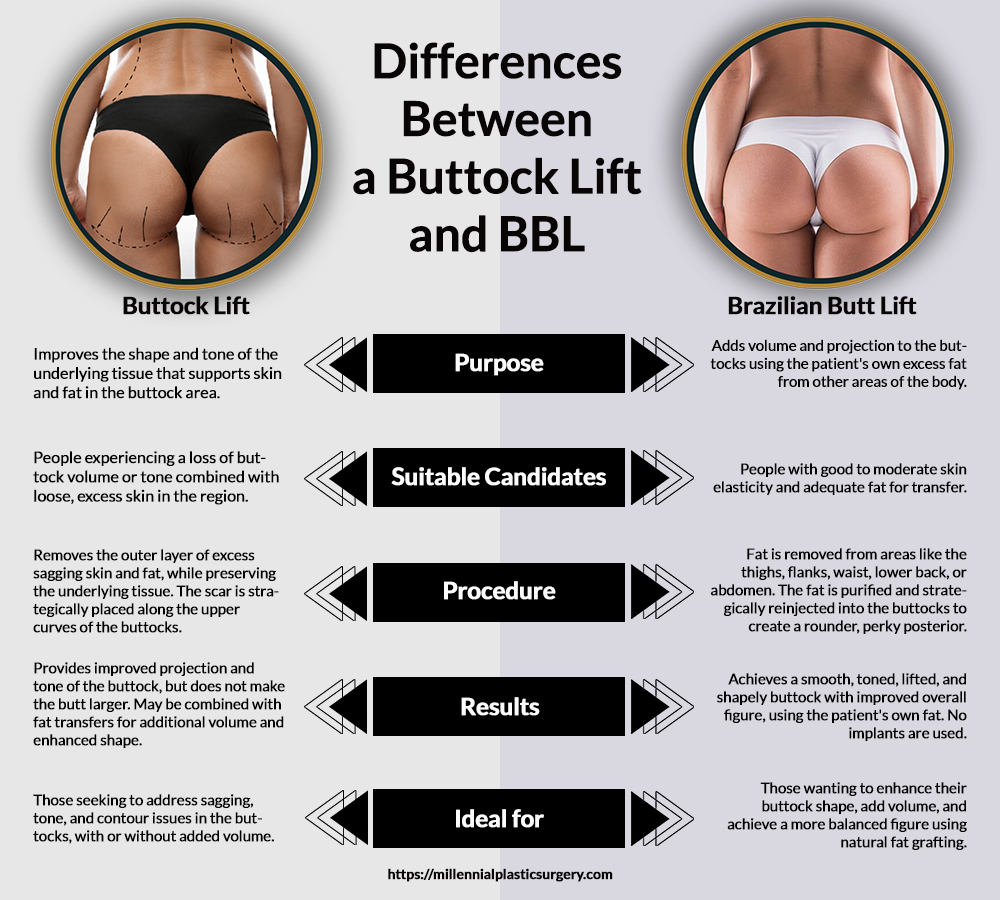 Why Get a Butt Lift?
A well-proportioned and toned body with smooth contours indicates fitness and health. However, not everyone is lucky enough to have a fit and toned body, especially people with loose, sagging skin and uneven contours. For people who want a firmer, more youthful-looking, and proportionate body, a surgical procedure may be their only hope. It is best to consult a cosmetic surgeon to determine how a butt lift surgery can help you achieve the results you seek.
Two types of buttock augmentation procedures can reshape your butt and give you a more curvaceous figure:
Buttock lift
Brazilian buttock lift
While both these procedures offer desired results, there are significant differences in the way they are performed and what they can accomplish.
Differences Between a Buttock Lift and BBL
A well-proportioned, hourglass body is what most women and even men want these days. The buttock area plays a crucial role in giving you the figure you desire. If you are opting for cosmetic enhancement or augmentation for this part of the body, you must find out what surgical procedures are available and how they can help you achieve your goal. You can opt for the Brazilian butt lift or the standard butt lift. Although the two procedures are sometimes mistaken as the same, there is a significant difference between the two.
Read on to find out more about the differences between buttock lift and Brazilian buttock lift to determine which would work best for you.
Buttock Lift
Buttock lift is a procedure that helps to improve the shape and tone of the underlying tissue that supports skin and fat in the buttock area. Also called a gluteal lift and gluteoplasty, it is more suited for people who experience a loss of buttock volume or tone combined with the development of loose, excess skin in the region. A butt lift can be considered the posterior version of a tummy tuck which lifts the butt and makes it rounder.
Aging, sun damage, pregnancy, significant fluctuations in weight, and even genetics are some of the reasons that can cause sagging and loss of tone of the buttocks. A standard buttock lift procedure brings about a smoother and more pleasing contour by removing only the outer layer of the excess sagging skin and fat. The underlying tissue is left attached and tucked down into the buttock to provide volume. The scar is strategically placed within the area along the upper curves of the buttocks, covered by a thong. It is essential to know that the traditional gluteal lift will not make a butt larger. Rather, the end result is improved projection and tone of the buttock.
For people who seek additional volume, in case their butt is either too small, uneven, or not rounded, a buttock lift surgery is often combined with fat transfers to create more projection and an enhanced shape.
Brazilian Butt Lift
It is a gluteal fat grafting procedure that uses excess fat, collected from other parts of the body to add more volume and projection to the buttock. It is a more natural alternative as the patient's own fat helps to create enhanced contour.
The removed fat from your thighs, flanks, waist, lower back, or abdomen is carefully cleansed, and filtered in preparation for reinjection. The purified fat is then strategically injected into the butt to sculpt the entire buttocks and lower back area to create a rounder, perky posterior enhanced by a narrow waist.
It is a non-invasive, cosmetic surgery procedure more suitable for people with good to moderate skin elasticity and adequate fat to perfect the shape and symmetry of their butt. This procedure helps achieve a smooth, toned, lifted, shapely and balanced butt with an overall improved figure without implants. The only incisions for a Brazilian Butt Lift are the very small incisions that the liposuction is done through.
The specialist carefully works with every patient to determine the volume of fat to be transferred, as well as the areas of the body that contain fat that will be used for the surgery. You may not be a candidate for a Brazilian butt lift if you do not have enough body fat. The specialist may perform BBL in combination with buttocks implants for patients who don't have enough body fat.
Benefits of a Brazilian Butt Lift
In addition to enhancing the shape and size of the buttocks, this procedure also reduces excess fat from other areas of the body through liposuction.
Some other benefits of BBL include:
Natural-looking, long-lasting results
Fuller and rounder rear end
Enhanced volume, shape, and firmness of the butt
Minimum visibility of the cellulite
Better asymmetry of other body parts
Reduced sagging in the buttocks
Quick and effective results that last for years
The Brazilian Butt Lift is an ideal procedure if you want to attain results most naturally, as it achieves enhancements without using implants or foreign materials. Augmentation is accomplished by utilizing your body's excess fat tissues, which create fullness and volume.
Butt Lift with Implants
Some people may also go for buttock implants, another surgical procedure to enhance and round out their posterior regions. Silicone implants are available in a wide range of sizes and shapes. The material used is firm and smooth and feels very natural. This procedure requires about two hours, and the patient is given general anesthesia before the surgeon can proceed. However, there are downsides to this choice, and many people prefer the Brazilian butt lift as its benefits go beyond its ability to give you a fuller bottom and shapelier figure.
Achieving a perfect butt and body is not a dream anymore, and you don't have to go far to find help. If you are considering buttock enhancement, visit Millennial Plastic Surgery to learn about the most popular butt lift surgeries, what they can do, and which ones will work best for you. Dr. David Shokrian is an industry leader in plastic surgery and strives to help every patient achieve the figure they desire with natural results that fit their bodies. He has years of experience and provides solutions that make you look and feel absolutely great.