Breast implants are not designed to be permanent and may need to be removed or replaced after 10 to 15 years. Physical changes over the years, movement, shifting or leakage of the implant, or hardening of the scar tissue around the implant makes it necessary to remove it. Schedule an appointment with Dr. David Shokrian at Millennial Plastic Surgery if you want to find out more about the condition of your breast implants and if you need an implant removal surgery anytime soon. Dr. Shokrian helps you understand the process, why it may be medically necessary, and how your breasts will appear after the surgery.
Breast augmentation surgery is a popular plastic surgery procedure for enhancing breast size and volume. Women consider large breasts a sign of beauty, youth, and femininity, making breast augmentation a great option to improve their overall figure and appearance. However, despite what it can do for your figure and shape, there are times when you may need or want your implants removed.
Breast implant removal surgery involves taking out or replacing the existing implants. As with any other surgery, it is essential to understand what is involved and any potential risks. Read on to find out why breast implant removal surgery may be needed and what are the risks and considerations of the procedure.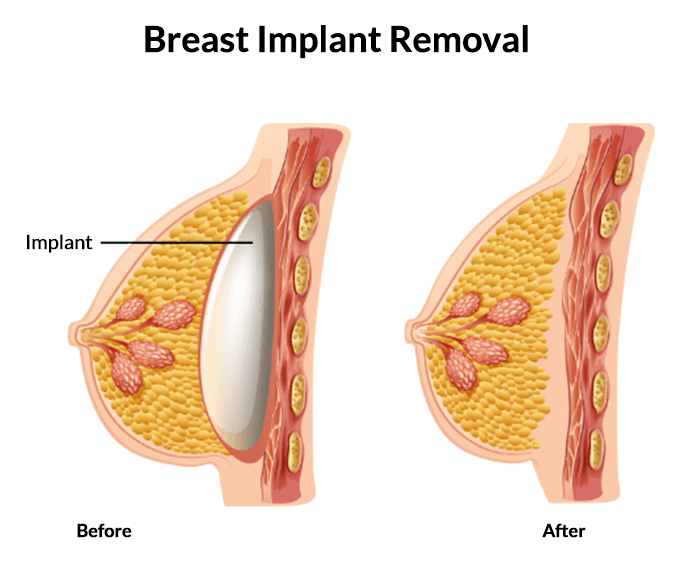 What Happens in Breast Implant Surgery?
Breast implant removal surgery takes out silicone or saline implants. You may go for this surgery because you no longer want implants, you are having complications with them, or want to have them replaced with new ones. Most women go for implant removal because the scar tissue hardens around the implant, causing a capsular contracture. It can cause pain, discomfort or make your breasts look different than they once did. During the surgery, your surgeon may also remove scar tissue or silicone from implant leaks.
Why Is Breast Implant Removal Done?
It is necessary to know that breast implants do not last a lifetime. According to the American Society of Plastic Surgeons, women with breast implants have to remove or replace the implants every 10 to 15 years. You may not have to remove them if you do not feel any complications and your plastic surgeon is satisfied with your condition.
Some women need breast implant removal because the shape of their breasts has changed since their breast augmentation. Breast appearances change due to several factors, including age, breastfeeding, pregnancy, and weight changes.
While some women choose to have a breast implant exchange, replacing the implants with a different size or shape, others opt for breast implant removal, also called an explant. It is best to consult a plastic surgeon to find out what to expect from breast implant removal surgery and if taking out your implants is the right thing for you.
What Does a Breast Implant Removal Procedure Involve?
A plastic surgeon performs breast implant removal surgery at a surgery center or a hospital. You will have to meet your surgeon ahead of time to discuss the reasons you want implants replaced or removed and the desired goals of the surgery.
Whether you are experiencing a complication with your implants, such as painful scar tissue, or want to have them removed, the process is generally the same.
Steps to remove a breast implant include:
You will be given an anesthesia
The surgeon will make an incision either along the inframammary fold, under the breast, or around the areola. In some cases, your plastic surgeon can also use the original incision from your augmentation procedure to keep the scarring minimal.
The breast implants are removed from the breast capsule, a pocket made of fibrous scar tissue the body creates around the foreign material. He may remove the capsule too.
The incisions are closed and covered as needed.
You will recover as the effects of anesthesia wear off.
The surgeon will advise you to wear compression garments you have purchased before the procedure. You will be given a prescription for medications as needed. You will have to take pain medication as the anesthesia effect wears off, and you will need someone to drive you home after the surgery for at least 24 hours or till you feel better.
Initial Recovery After Implant Removal
A surgical procedure can cause considerable pain. It is best to keep taking your pain and other medications as prescribed by the surgeon to minimize discomfort. You will have to give up your routine activities, but you must still get up from time to time, sit up and take short walks from your bedroom to the kitchen or the restroom. You can be back to work within three to four days.
The doctor will provide details instructions for changing bandages, cleaning incision sites, showering, and other post-op activities. You must avoid taking baths, swimming, or using a hot tub for two weeks following surgery or as long as your doctor recommends. Your will doctor will tell you how to minimize the risk of infections and complications and ensure you recover completely from your surgery in the least possible time.
Long-Term Recovery After Breast Implant
Soreness, tenderness, and sensitivity are commonly experienced complaints after breast implant removal surgery for around six weeks.
You can continue with your activities fairly normally after three to four days following the procedure, but it is essential to avoid these activities for at least six weeks:
Lifting over five to ten pounds
Exercising or working out rigorously
Sleeping on your stomach or side
The surgeon will call you for a post-op appointment, once the six-week recovery period is over. After examining your incision site and determining how well it has recovered, the surgeon will clear you for exercise and other activities.
For about two to three weeks after the procedure, you will be asked to wear a compression bra to allow tissues to shrink back and maintain their shape. A compression bra also helps to keep the breasts uplifted after the surgery.
What Kind of Results You Can Expect?
Every woman will experience different results after a breast implant removal surgery. The shape and condition of how your breasts will look after the explant depends on the size of your breasts before the augmentation, the size of the implants, and what kind of changes your body has gone through during the time you had them.
Weight loss or gain, pregnancy, and menopause play a key role in the shape, size, and elasticity of breast tissue and skin. Women with smaller implants will likely experience less sagging and drooping, whereas larger implants may stretch the skin. In addition, older women or women who go through significant weight and hormonal changes will have less collagen and elasticity in the skin, which means it has a lesser ability to bounce back.
If you are having a larger implant removed or are concerned with drooping and sagging breasts, a breast lift can be performed in conjunction with removal. The surgeon will remove excess skin and reshape the breast tissue, and if needed, also reposition the nipple and areola to ensure you enjoy firmer, more elevated breasts in the long run and feel more confident in your appearance.
Visit Millennial Plastic Surgery to learn more about breast implant removal surgery and to get personalized advice regarding your explant. Dr. David Shokrian carefully examines the condition of your breasts and provides an in-depth understanding of what the procedure entails and what you can expect, both in terms of appearance and recovery. He will address all your concerns and ensure you enjoy a better quality of life once the painful or uncomfortable implants are removed.