Reshaping your midsection with a tummy tuck procedure can be accomplished in several ways. Schedule an appointment with Dr. David Shokrian at Millenial Plastic Surgery to find out more about different types of tummy tuck procedures and which would work best to remove excessive skin around your midsection. Dr. Shokrian helps you figure out which tummy tuck procedure is right for your body and how it can create beautiful, natural results that give you a chance to rediscover a confident, slimmer, and youthful self.
A tummy tuck is the best solution if you are trying unsuccessfully to shed that excess skin that droops or sags in the abdominal areas. As loose skin does not always shrink back to form around a slimmer frame, a tummy tuck procedure is the only way to give yourself a trimmer and fitter appearance.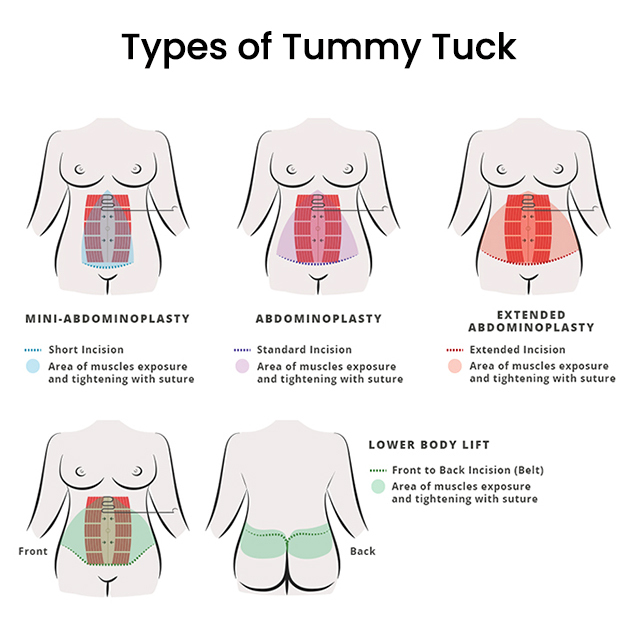 What Is A Tummy Tuck?
Also known as abdominoplasty, a tummy tuck is a plastic surgery procedure that removes excess skin and fat from the lower abdomen and tightens the rectus abdominis or the size-pack muscles that lie underneath.
The most common causes of an abdomen with loose or sagging skin are aging, hereditary conditions, pregnancy or prior surgery, and significant fluctuations in weight. This procedure helps to firm, smooth, and contour the abdomen.
The main benefits of a tummy tuck include:
A trim, contoured waistline, and firmer abdomen
Increased confidence in buying and wearing new clothes
Removal or reduction of stretch marks
Increased confidence and self-esteem with a better-looking figure
Types of Tummy Tuck Procedures
It is necessary to understand that not all tummy tucks are the same. While they are all designed to achieve a slimmer appearance, they differ in the area of concentration, procedure, and recovery time. Also, a tummy tuck can only reduce fat on the exterior of the muscle wall, and not the visceral fat located more deeply behind it. Results vary depending on the elasticity, body type, and location of fat deposits.
Different Types of Tummy Tucks
When it comes to tummy tuck surgery, every patient has different needs and goals. For this reason, surgeons recommend the type of tummy tuck procedure they believe will achieve the patient's goals and minimize any concerns about scarring and creating a natural look.
Tummy tuck types vary due to the amount of excess skin a patient may have. The excess skin that has to be removed will influence the location and length of the incision the surgeon will make. A patient undergoing an extended tummy tuck will require a larger incision than a patient undergoing a mini tummy tuck.
What Are The Different Tummy Tuck Procedure Types?
Full Tummy Tuck
A full tummy tuck is meant to improve both the upper and lower abdominal sections. The best candidates for a full tummy tuck are people with weakened abdominal muscles or excess skin around their midsection. This procedure can flatten and contour the areas above and below their belly buttons.
A full tummy tuck includes:
Making a small umbilical incision that is not externally visible, but gives the patient an innie belly button
Positioning a short, low waistline incision that can be easily hidden by the patient's underwear and swimwear
Removing the necessary skin
Tightening the abdominal muscles
Recovering From A Full Tummy Tuck
It is one of the most frequently asked questions about tummy tucks, as patients are concerned about getting back to their routine life as soon as possible. As with all surgeries, recovery time depends on the age, fitness, and general health of the patient. You will be asked to wear a compression garment around the midsection for several weeks to promote a quicker and healthier recovery. You may also need drainage tubes under your skin for a few days.
Recovery time typically takes a minimum of two weeks. The doctor will advise you to rest for at least two weeks. You can resume most activities after 3 weeks and start exercise after 6 weeks. You must avoid lifting anything that would make you strain.
Mini Tummy Tuck
As compared to a full tummy tuck, a mini tummy tuck only addresses the lower part of the abdomen, the area below the belly button. Doctors believe that people who are not happy with the pooch, loose skin, or stretch marks below their belly button are good candidates for a mini tummy tuck.
Most people who undergo a mini tummy tuck are often close to their ideal weight. However, they are frustrated by the stubborn fat between the pubic area and navel that does not seem to go away no matter how rigorously they exercise and diet, and seek a long-term solution.
A mini tummy tuck involves:
Making a small horizontal incision between the hipbones
Removal of excess skin
Tightening of the underlying muscles
A mini tummy tuck procedure does not reposition the belly button, as any excess skin, fat or muscle laxity above the belly button is not addressed. As it covers a lesser area than the full tummy tuck, a mini tummy tuck takes less recovery time. Healthy patients can heal in about 2 weeks and get back to their normal routines after a few weeks but strenuous activities should not be undertaken until at least 6 weeks following surgery.
Extended Tummy Tuck
An extended tummy tuck has all the components of a full tummy tuck, but it also improves the patient's flanks in addition. It is an effective treatment for people who have lost a substantial amount of weight and want to refine the contours of their bodies.
Ideal candidates for an extended tummy tuck often have:
Too much excess skin hanging from their upper and lower abdomen and flanks often weighing several pounds
Too much laxity in their abdominal muscles
Extended tummy tuck patients can also benefit from liposuction. Liposuction is usually performed on the hips, love handles, and flanks during the tummy tuck procedure to help patients achieve their ideal body contour.
It is essential to note that an extended tummy tuck leaves a longer incision than a full tummy tuck, as it has a larger scope. The good news is that the scar from the surgery can be hidden by clothing or swimsuits.
Recovering From an Extended Tummy Tuck
The recovery time for an extended tummy tuck is about the same as a full tummy tuck which is about two to three weeks at a minimum due to longer incisions and more extensive tucking. Also, it may take longer for the scar to fade.
Fleur-De-Lis Tummy Tuck
This type of tummy tuck gets its name from the shape of the incision made by the surgeon during the procedure. The plastic surgeon makes an incision shaped like the petals of a Fleur-De-Lis to remove excess fat and skin from the midline of the abdomen.
A Fleur-De-Lis tummy tuck is usually recommended for people who have been through dramatic weight loss and have a combination of vertical and horizontal laxity. They also have a lower roll of loose skin like people with full tummy tuck candidates, but there is additional looseness from side to side.
This tummy tuck type involves two incisions. One incision is made along the pubic bone, while the other is a vertical incision that runs along the middle of the abdomen. The extra incision allows the surgeon to tighten the patient's skin from side to side as well as up and down and improve the look of the abdomen. It is best to consult your doctor regarding this type of tummy tuck, as it can cause significant scars which are not so easy to hide.
Recovering From Fleur-De-Lis Tummy Tuck
Patients undergoing this tummy tuck type are advised to rest for 2 to 3 weeks and avoid all exercise until 6 weeks after the surgery. It is because a great deal of skin is removed during the procedure, and healing can take longer time, due to the vertical and horizontal incisions.
Drainless Tummy Tuck
Typical tummy tucks include a drain or tubing as part of the recovery process. It is because the body naturally produces liquid as a result of swelling after surgery. These drains remove the buildup of fluid between the skin and muscle following a tummy tuck procedure. It is a temporary measure to get rid of the excess liquid the body can't absorb.
To eliminate the need for drains, a drainless tummy tuck uses sutures to close down the space between the skin and muscle tissue. Surgeons use a quilting technique to secure that abdominal skin to the underlying tissue layers, creating a tighter bond and reducing the room for fluid buildup.
The liquid from swelling distributes evenly through the abdomen, making the fluid collection less noticeable. In some cases, there can still be fluid buildup after a drainless tummy tuck.
Recovering From a Drainless Tummy Tuck
Most patients undergoing drainless tummy tuck can return to work within 1 or 2 weeks, depending on the nature of their job. The recovery time for a drainless tummy tuck is generally less than that of a full tummy tuck.
Doctors recommend wearing the provided compression garments, avoiding strenuous activity, and following instructions to ensure timely healing.
Tummy Tuck With Liposuction
A tummy tuck is designed to eliminate excess skin. It does not remove fat. Surgeons often combine a tummy tuck with liposuction to contour the body by removing pockets of fat and giving your body a slimmer and toned appearance.
Combining liposuction with a tummy tuck procedure is safe and offers several benefits to patients who want to get rid of body fat, loose skin and repair muscle tissues in one go. Your surgeon may recommend tummy tuck along with some element of liposuction in their surgery or fat-to-fat grafts to reshape your figure.
Tummy tuck with liposuction can be performed on a variety of areas to remove unwanted fat and loose skin from the body. It is best to consult a board-certified and experienced plastic surgeon to understand how your tummy tuck with liposuction will take place and deliver desired results.
Non-Surgical Tummy Tucks
Many people are not so comfortable with the idea of undergoing an invasive surgical procedure to remove excess fat. Non-surgical skin tightening is an appealing prospect, as it comes with little or no downtime and long-term scarring.
People with mild or moderate loose skin on their bodies are good candidates for non-surgical skin tightening. Many treatment options provide a lifting effect with results that can last up to one year. However, it is essential to note that non-surgical tummy tucks may not produce the same results for everyone, and are not an effective option for people with excess sagging skin after significant weight loss or pregnancy.
If you have made up your mind regarding a tummy tuck procedure or want to learn more about different types of tummy tuck procedures and how they work, visit Millenial Plastic Surgery. Dr. David Shokrian is a board-certified plastic surgeon in New York with years of experience and helps you make a fully informed decision. He focuses on what you have in mind and recommends the best treatments that minimize scarring and improvie the appearance of your torso, just the way you want.