If you have excess fat or skin around the area of your belly button or a weak lower abdominal wall, a tummy tuck may be the best option to help you get back in shape. There are various types of tummy tucks, and the most appropriate procedure will depend on the amount of skin you want removed and the length of the incision the surgeon needs to make. Consult Dr. David Shokrian to learn how you may benefit from abdominoplasty and what factors influence the final price of your procedure.
Whether you are going to work or a formal gathering, a toned and smart body not only looks attractive, but gives you more confidence too. Sometimes even exercise and a healthy lifestyle are not sufficient to maintain a tight, young-looking abdomen, especially after childbirth. A tummy tuck is the best solution if you are done with a tired-looking tummy and nothing else seems to be working to get your midsection back to its shape. It can also boost your body image.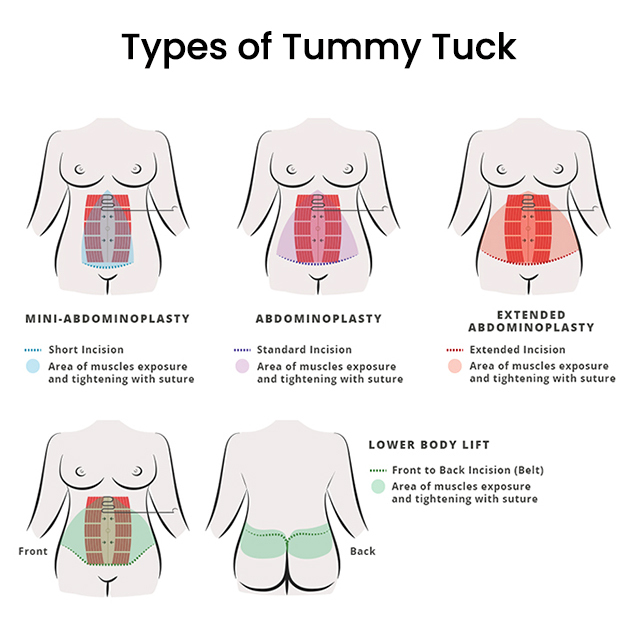 What Is a Tummy Tuck?
Also known as abdominoplasty, a tummy tuck removes excess fat and skin and restores weakened muscles to create a smoother, firmer abdominal profile. It is one of the most popular cosmetic surgeries performed in the United States, as well as in other parts of the world.
This procedure tightens the abdominal muscles and eliminates stubborn fat that results in a flat tummy. The biggest benefit of this procedure is that it improves your self-image right away, by getting rid of loose skin and fat from your middle that makes you look overweight and out of shape.
Other benefits include:
It tightens sagging skin
Removes stretch marks
Changes the shape of your belly
Fix weakened muscles
Gets rid of stubborn belly fat
Even though a tummy tuck is primarily a cosmetic procedure, it also benefits your overall health in the long run, gives you a chance to live an active life and feel better about yourself. A tummy tuck can produce dramatic, long-lasting results and can rightly be considered an investment in your future happiness and health.
Read more: Mini Tummy Tuck/Minimally Invasive Tummy Tuck
How Much Does a Tummy Tuck Cost?
Tummy tuck procedures vary significantly from person to person. The 2020 statistics from the American Society of Plastic Surgeons reveal that the average cost for a tummy tuck is $6,154. However, this is not the exact quote or full price. Along with the procedure cost, several related expenses, including operating room facilities, anesthesia, and other items, determine the total amount you pay for your surgery.
Factors That Will Affect the Cost of Your Abdominoplasty
From the day you meet with the plastic surgeon to the supplies that you will need during recovery, the expenses can add up really quickly:
Anesthesia fees – You will be paying for the anesthesia and the services of an anesthesiologist during the procedure.
Hospital or surgical facility costs – The operating room fee is based on where you have your surgery and what type of facilities you avail. Tummy tucks are usually outpatient procedures which means you can go home the same day as the procedure unless there is a complication or your doctor recommends a night's say at the hospital which may add up in the bill.
Medical tests – The doctor may ask for blood work or other diagnostic tests before your tummy tuck.
Post-surgery garments – Your doctor will recommend you wear compression garments after the surgery to help you heal faster and prevent skin sagging.
Prescriptions and medications – The doctor will prescribe medications to facilitate the healing process, keep the pain down and prevent infection. You will have to pay for these medications yourself.
Surgeon's fee – It is the bulk of the average tummy tuck cost. More experienced surgeons and surgeons in certain locations charge more.
Consultation fee – You will be paying a fee every time you meet with your plastic surgeon post-surgery. Sometimes, these fees are included in your procedure cost quote, but not always.
It is important to note that the experience level of your surgeon and the complexity of the tummy tuck procedure you are having can affect the overall cost of your treatment. You must discuss your situation, options, and potential costs with your doctor to fully understand how much you will be paying for your surgery.
Does Insurance Cover Tummy Tuck Costs?
Usually, health insurance plans do not cover tummy tuck surgery or any complications that may arise from the procedure. Insurance does not pay for a tummy tuck whether it is private, Medicaid, or Medicare, because it is a cosmetic procedure, and not a medical necessity or emergency. However, insurance may cover part of the cost if excess fat or skin is causing rashes or infections, and this surgery has been recommended by your doctor to improve your quality of life.
Many plastic surgeons offer financing plans to their patients. You can benefit from flexible financing options and pay as you go or check if your surgeon offers in-housing financing. It is best to talk to your doctor about the overall surgery cost, complete with related expenses and financing options before finalizing and moving forward.
Am I a Good Candidate for a Tummy Tuck?
Like any other procedure, a tummy may not work for everyone. To determine if a tummy tuck is right for you, consult an experienced and board-certified top-rated cosmetic surgeons in New York.
You are a good candidate for abdominoplasty if you meet the following criteria:
You are in generally good healthy
You have realistic expectations from this surgery
You are suffering from stretching of the abdominal skin and soft tissues due to significant weight loss
The surgeon will perform an in-person evaluation during an initial consultation to determine if you are a good candidate for the procedure. He will offer a personalized quote depending on your specific situation and unique needs.
Read more: Fat removal procedure
How Does Abdominoplasty Work?
It is necessary to understand that there is no one size fits all approach when it comes to a tummy tuck. There are several abdominoplasty options, and depending on the existing shape and appearance of your abdomen, as well as the complexity of your procedure, the surgeon will determine which tummy tuck will be perfect for you.
During a tummy tuck, excess skin and fat are removed from the abdomen. Connective tissue in the abdomen usually is tightened with sutures as well. The remaining skin is then repositioned to create a more toned look. You can look forward to a flatter, firmer abdominal contour proportionate with your body type and weight. You get a flatter, firmer abdominal contour that fits perfectly with your body type and weight.
Result of Tummy Tuck – Cost and Expectation
For many patients considering abdominoplasty, the biggest concern is how much a tummy tuck would cost, when they will start seeing the results, and if this high cost will get them the desired outcomes.
You will be able to observe the initial results of your tummy tuck surgery within 7 to 10 days of the procedure. Keep in mind that you may not be able to see complete results until 3-6 months, as abdominoplasty is not a minor operation, and healing takes time.
It may take longer before you start experiencing the flatter, firmer abdomen you expect to have after surgery. In the days following the procedure, your stomach will be swollen, and the incision site will be red, scabbed, and very tender. However, these symptoms eventually subside, leaving a thin scar low on the abdomen.
You will start seeing amazing, natural-looking results of your investment, within a few months, with final results appearing after six months or more. You won't have to worry about visible scars from your abdominoplasty as they will be hidden within the bikini line and gradually fade over time. Your tummy tuck will result in a flatter, firmer abdominal contour proportionate with your body type and weight.
Also, remember that the surgeon's experience and your comfort with him are just as crucial as the final cost of the surgery. It is essential to consult an expert regarding what you can realistically expect in both the recovery process and the results of the tummy tuck.
A firm, flat stomach is a sign of youth and energy. Visit Millennial Plastic Surgery to learn more about the tummy tuck procedure, how much it would cost, and how soon you can attain the contours you desire. Dr. David Shokrian is driven by his passion to do the best and ensures every patient gets what they seek. He evaluates your condition to determine if you are a candidate for a tummy tuck and provides a detailed cost estimate following your consultation. He understands what you want and recommends the best solutions to achieve your goals most successfully.