Each of us dreams of having a flat, trim tummy, but no matter how much we diet or how hard we exercise, we are stuck with a pooch that does not go away. Usually caused by desk jobs, weight loss, or pregnancy, this area of loose skin and stretched muscle can only be fixed with a tummy tuck. Visit Millenial Plastic Surgery to find out more about ways to get a trim, toned body after having children or significant weight loss. Dr. David Shokrian explains the difference between a full or mini tummy tuck and how each procedure works. He recommends the most effective and least invasive options to meet your goals and ensures you get the trim, and sculpted waistline you want.
The abdominal area often undergoes a drastic change if someone loses a lot of weight or if a woman has children. Skin that has stretched may not spring back so easily. The abdominal muscles weaken, and stubborn pockets can stay back, even after weight loss.
As one of the most transformative procedures in plastic surgery, a tummy tuck or a mini tummy tuck can do wonders for people who have tried everything to get their bodies in shape without success. Deciding between a full tummy tuck and a mini tummy tuck can be challenging. To know which one would work best for your condition and unique body needs and deliver the best results, consult an experienced and board-certified plastic surgeon.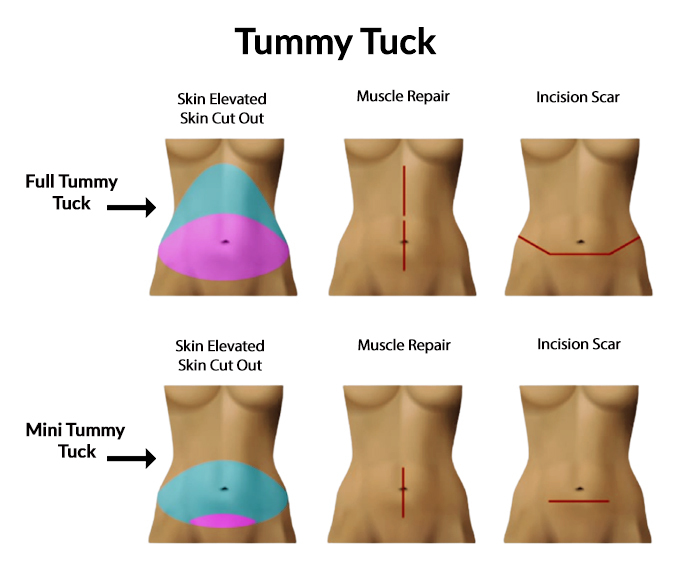 What Is a Full Tummy Tuck?
A tummy tuck helps to smooth and tone the entire front abdomen from just below the rib cage to the pubic area. Also known as abdominoplasty, it is one of the most frequently performed surgeries people opt for, especially women recovering from pregnancy or people who feel restricted in their movements and activities due to excess skin and tissue. For some people, a tummy tuck is the last resort if exercise and diet do not produce desired results.
It is a pretty straightforward procedure. It begins with an incision between the navel and pubic area and a second incision above the navel. The excess skin is removed from the belly, and the muscles are repaired and tightened. The skin is then pulled taut over the midsection, creating a smoother, slimmer shape. If needed, a new belly button is shaped or moved higher on the belly.
Tummy tuck reconnects and tightens abdominal muscles to flatten and tone the belly. If needed, liposuction can also remove bulges of fat. You can look forward to a rejuvenation of the midsection, restoring a younger and fitter appearance and a sculpted, trim waistline.
What Is a Mini Tummy Tuck?
A mini tummy tuck solely focuses on underneath the navel and targets excess skin and tissues in the lower abdomen.
This procedure involves a four to eight-inch incision along the bikini line to repair the lower muscles and remove the loose skin. Your surgeon may remove the stubborn fat with liposuction at this time during the procedure. The skin is pulled tightly over the lower abdomen, eliminating signs of a lower belly pooch. It is necessary to know that a mini tummy tuck does not bring drastic changes in the body. It is more suitable for people who are already at their ideal weight and have overall good health.
For people who prefer small incisions and shorter recovery time, a mini tummy tuck is a good option. It is also more cost-effective than a full tummy tuck. As the procedure only works on the lower abdomen, tightening muscles to make it look toned and flat is only possible in some cases.
Differences Between a Full Tummy Tuck and a Mini Tummy Tuck
Although both a full tummy tuck and a mini tummy tuck remove excess skin and tighten muscles to flatten the abdomen, there are some distinctions between the two procedures.
A full tummy tuck tightens skin and muscles over the entire abdominal area, above and below the belly button. It repairs separated muscles in the mid and upper abdomen, the muscles you strengthen with leg lifts, crunches, or sit-ups. While the incision is made very low on the abdomen, just above the pubic area and running from hip to hip, skin is pulled down to tighten the entire midsection. A full tummy tuck may also reduce the appearance of stretch marks.
On the other hand, a mini tummy tuck tightens and flattens the area below the belly button, and does not address loose skin or separated muscles in the middle or upper abdomen. The incision is typically 6 to 12 inches shorter than the incision made for a full tummy tuck.
How to Choose the Right Tummy Tuck?
After having a better understanding of the procedures, you will get a better idea of which one aligns better with your goals.  A mini tummy tuck works best for people with just a small area of concern below the navel where there is a protruding pooch. It is a less invasive procedure that is often easier to heal from, while still giving you a flatter, more toned tummy that looks great in fitted outfits and swimwear.
A full tummy tuck is the right choice for people with excess skin, sagging, or roundness, above and below the navel. It may be a long and complicated procedure but offers excellent results, and the patients can be up and around quickly. The choice, ultimately, comes down to your needs and goals for the procedure.
No matter which procedure you choose, it is essential to know that they are meant for women who are done with having children, as any future pregnancies can compromise the results. In addition, you will have to maintain a healthy diet and engage in regular exercise once you are clear to ensure you enjoy the long-term benefits of your surgery.
Can a Tummy Tuck Be Combined With Other Procedures?
It is important to note that while a tummy tuck can take care of loose skin and slack muscles, it does not remove stretch marks unless they are located on the part of the excess skin that is being removed. If you have deposits of fat along your abdomen or other areas, your surgeon may combine a tummy tuck with liposuction to achieve the results you seek.
Many women who wish to reclaim their bodies after they have had their children can go for a mommy makeover. It is a customized set of procedures to help you look your best after having babies, including a breast lift, breast augmentation, labiaplasty, or a Brazilian butt lift, depending on what you seek.
Every patient has different needs, and only an experienced and trained plastic surgeon can determine the type of tummy tuck procedure they need. If you are tired of sagging skin and stubborn fat around your middle that refuses to go away no matter how hard you try, schedule an appointment with Dr. David Shokrian to discuss your options. He focuses on your areas of concern, and the surgery outcomes you seek and ensures you choose the best option that helps you truly change your life and look and feel your best.