Breast lifts and breast reductions can help you achieve ideal body image and improve your quality of life. Schedule a consultation with Dr. David Shokrian today to discuss your options and determine which procedure can best address your physical needs and cosmetic objectives. He understands the physical and emotional pain and discomfort you experience due to large or sagging breasts and ensures you get on the path to a more comfortable and happy life with the most appropriate surgical procedure.
Over time, most women experience changes in their bodies that affect the shape and size of their breasts. These changes may not be serious or life-threatening, but they can lead to discomfort and even low self-esteem in how their bodies look. The most common concerns are sagging and drooping or large breast size that cause discomfort and even pain.
Breast reduction and breast lift procedures are excellent options for women who wish to reduce or alter the position of their breasts. They are also effective cosmetic surgeries for women who seek to refine the shape or size of their breasts. Which one you should go for depends on your personal goals and expectations, as well as the surgeon's recommendations.
Read on to know more about the differences between breast reduction and breast lift procedures, the concerns they address, and who they are right for to decide which one will suit your unique body needs best.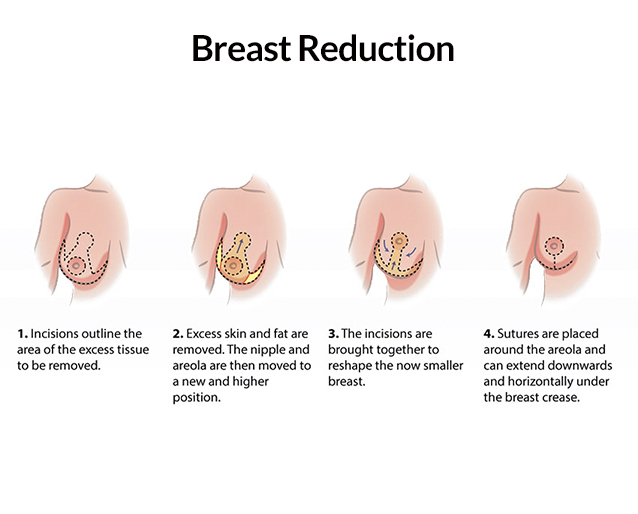 Breast Lift
Also called a mastopexy, a breast lift is all about removing excess skin on the breast, elevating the nipple and areola, and reducing the size of the areole if it is too large.
Women who opt for a breast lift struggle with the following:
Insecurity due to sagging breasts
Flat or drooping-shaped breasts
Downward pointed nipples or nipples that fall below the breast crease
Stretched-out skin due to weight fluctuation, aging, and breastfeeding
Breast unevenness
Breast lift surgery involves reconstruction of the outer tissues but the breast tissue is not lifted or removed. It reduces sagging and leads to a lifted and younger-looker figure. It also helps to restore the shape and volume that may have been lost due to age, weight loss, or breastfeeding, making the breast appear firm. There may be a change in cup size too, due to an improved fit.
Many women prefer to receive a breast lift with augmentation to enhance the overall shape and size by lifting sagging breasts while silicone implants are placed inside to increase the size.
Read more: Will I Have Breast Lift Scars After 12 Months?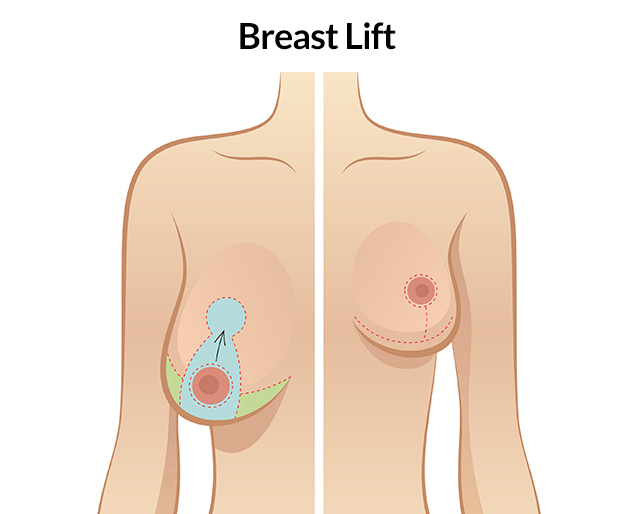 Breast Reduction
Breast reduction, also called a reduction mammaplasty, reduces the size and weight of large breasts by removing excess fat and skin as well as glandular tissue. This procedure often uses liposuction as well as the manual tissue removal technique to reduce the size of the breast. The result is smaller, lighter breasts. With this patients also can experience improved firmness, minimal to no sagging, and a more symmetrical, proportionate shape.
Women who opt for a breast reduction struggle with the following due to their breast size and weight:
Physical activity limitations
Back and neck discomfort
Poor posture
Difficulty breathing and sleeping
Chronic skin rashes
Difficulty finding clothing and proper support
For women with heavy or large breasts, this surgery can decrease or eliminate pain in the shoulder, neck, and back, giving them a chance to move freely, exercise comfortably, and wear more flattering clothes.
Difference Between a Breast Reduction and a Breast Lift
Both breast reduction and breast lift change the shape of the breast, and the process involves removing extra tissue and skin. However, the main difference between the two is that with a breast lift, the size of the breast does not change whereas a breast reduction significantly reduces the size and weight of the breasts by removing more of the internal fat and tissue. Breast reduction is all about the volume of the breasts, but a breast lift is more concerned with shape. What distinguishes both procedures is the primary reason each procedure is performed.
Women who seek breast reduction are mainly concerned with the volume and weight of their breasts. These patients often complain of severe, neck, back, and shoulder pain, as well as rashes and skin irritation, occurring underneath the breast fold. Even though breast reduction surgery focuses primarily on changing the size of the breast, it also involves repositioning the breasts into a higher, more youthful position on the chest wall with breast uplift.
Most women who go for breast reduction are in bra cup sizes DD to G and can go several sizes smaller, more proportional to their body type. On the other hand, a breast lift is a better option for women who experience breast ptosis, sagging, or drooping of breasts with the nipple falling towards the bottom third. Women who have lost a substantial amount of weight, have had several pregnancies, or are simply feeling the effects of gravity may experience breast ptosis.
Thus, a surgical breast lift focuses on changing the shape of the breast and creating a more perky appearance. The surgeon removes the excess skin, as well as a small amount of tissue, so there is a modest, overall reduction in size. It is important to note that even before going for surgery, breast lift patients use smaller bra cup sizes, as compared to breast reduction patients. Thus, the change in bra size is less intense.
Choosing Between a Breast Lift and a Breast Reduction
Thinking about your goals for your physique and physical comfort should be the primary concern when choosing between a breast lift and a breast reduction. Both procedures are one-day, outpatient procedures that also require around the same recovery time.
If your breasts are large and cause discomfort, such as back pain, it becomes difficult for you to exercise, or you are simply uncomfortable with how they look and affect your movement, a breast reduction may be the best option. After the surgery, you will notice immediate relief from the back and shoulder pain that was resulting from having large, heavy breasts. You will also find that your breasts are now proportionate to your body and symmetrical to each other.
On the other hand, if your breast shape and size have been affected by hormonal changes, breastfeeding, genetics, and age, a breast lift is what you need. A breast lift surgery can help you get a more youthful, uplifted appearance if you are not happy with the way your breasts look and downplay your overall body figure. After surgery, you will experience firmer, lifted breasts that make you feel more confident about your appearance.
Despite the differences between the two, most patients going for these procedures to achieve their specific aesthetic goals are highly satisfied with the results. As both procedures are relatively easy to recover from, it just takes 2 to 4 weeks of downtime. Even though both procedures address different issues, it is not unusual for women to take care of excess breast tissue and sagging at the same time. You can have both done at once if your surgeon recommends it. If you are considering a breast reduction or a breast lift, consult a top-rated cosmetic surgeon for a detailed discussion on which would work best for your specific body needs.
Visit Millenial Plastic Surgery to learn more about breast lifts and breast reduction procedures and how you can reduce pain and discomfort, improve self-confidence and feel better about your physical appearance. Dr. David Shokrian has helped thousands of women achieve an elevated bustline and enhanced breast contours they desire. He determines which procedure is most closely aligned with your goals and comes up with solutions that help you achieve the breast shape and size you want.