If you are tired of excess fat around your abdominal region and diet and exercise have failed to make a difference, Lipo 360 may be the solution to your problem. It is a body contouring procedure, similar to liposuction, but takes traditional liposuction a step further and helps you enjoy a leaner, smoother, and more optimally contoured abdomen, flanks, and lower back. Visit Millennial Plastic Surgery to meet Dr. David Shokrian and learn how Lipo 360 is different from traditional liposuction and if it is the best option for shaping and toning your body. Dr. Shokrian listens to what you have in mind, and focuses on your unique goals, to come up with a treatment plan that provides the most satisfying result.
Liposuction is one of the most popular cosmetic procedures in the world that offers amazing results to men and women who want to get rid of stubborn fat in different parts of their bodies. Lipo 360 is a similar body contouring procedure that takes liposuction a step forward and targets more than just one area at a time. It helps to create a more balanced, proportional appearance.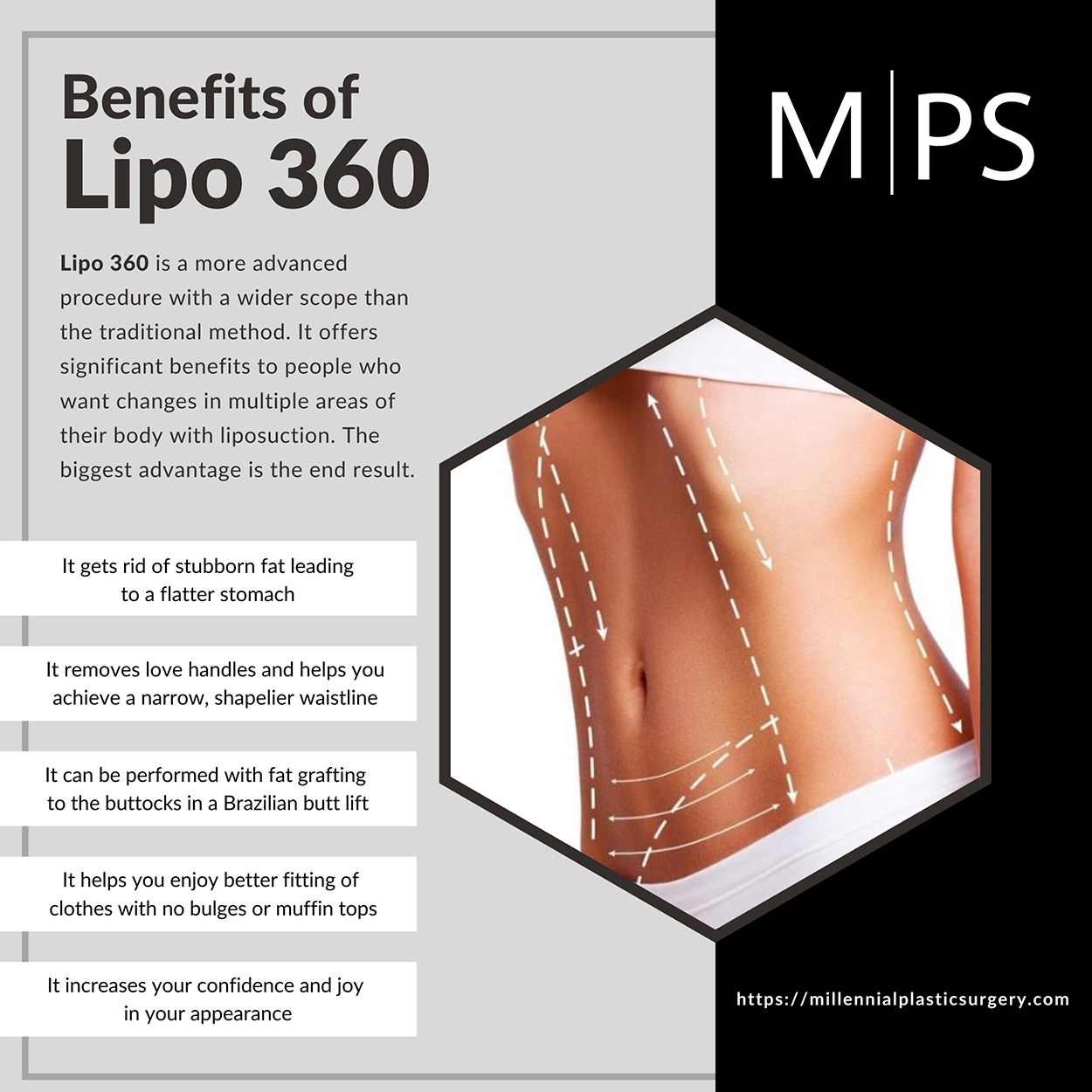 What is Lipo 360?
To understand what Lipo 360 can do, it is essential to know what liposuction can't do. While lipo is a very effective procedure and offers natural-looking body contouring results, it cannot get rid of excess skin. You may need a tummy tuck, body lift, or related cosmetic surgery if excess skin is a concern.
On the other hand, as the name suggests, Lipo 360 is an all-around approach to the typical liposuction procedure. Also known as circumferential liposuction, it uses the same techniques for removing fat as traditional lipo but addresses the entire midsection, including front, side, and back in one sitting.
The differences between Lipo 360 and other liposuction procedures highlight the benefits of each process and help you select the one that is best for you.
Lipo 360 vs. Traditional Liposuction – What Is the Difference?
Traditional liposuction removes fats from unwanted areas of the body to create a smooth contour. It focuses on only one area of the body at a time, either the abdomen, on the hips, or elsewhere on the body per procedure. For the midsection, liposuction is carried out on the abdomen, waist, or back. Traditional liposuction is highly targeted and does not extend beyond the designated area.
In contrast, Lipo 360 liposuction targets multiple regions of the midsection where stubborn fat may be a problem, such as the abdomen, the lateral and posterior waist, the hips, and the back bra roll. It is a more comprehensive procedure that combines liposuction of the entire midsection to achieve an overall curvier, contoured figure from every angle. This treatment wraps around the entire midsection without skipping distinct areas in the process.
If you are looking for the best way to eliminate old and stubborn belly fat and shape other hard-to-tone areas of body, Lipo 360 may be the best choice. Schedule a consultation with your doctor to decide if Liposuction 360 procedure will work for you.
Read more: Liposuction, Airsculpt, LaserLipo
Lipo 360 vs. Tummy Tuck
Lipo 360 and traditional liposuction focus on removing fat from the midsection or other parts of the body. Both these procedures often do not remove excess skin caused by significant fluctuations in weight.
If you have lost significant amounts of weight and now have excess skin hanging over your lower abdomen, lipo will not be able to do anything about it. If you want to remove excess skin from your lower abdomen, you will have to go through a tummy tuck procedure.
Is Lipo 360 Safe?
Technology has made revolutionary progress in the past several decades. Given the advancements made to liposuction, the safety of procedures like Lipo 360 has increased. It is a safe and effective procedure for people who seek the best way to slim down and reshape specific areas of their bodies.
However, it is necessary to note that as with all surgical procedures, liposuction is not without risks, and Lipo 360 is no different. The safety and efficiency of your procedure depends on the skill and experience of the surgeon and how well you follow and maintain the pre and post-surgery care instructions.
Remember, as Lipo 360 focuses on a large portion of the body, the procedure takes more time to complete. A longer procedure means greater physiological stress to the body. Thus, you must take extra care to ensure healthy preparation and recovery from the procedure to achieve desired results.
Benefits of Lipo 360
Lipo 360 is a more advanced procedure with a wider scope than the traditional method. It offers significant benefits to people who want changes in multiple areas of their body with liposuction. The biggest advantage is the end result.
While traditional liposuction usually focuses on removing a certain amount of fat, Lipo 360 treats the entire torso as a single unit. The more comprehensive nature of Lipo 360 allows it to focus on overall proportions. It not only helps to unify the look of all the treated areas but also gives a more even look across the entire midsection.
Additional benefits of Liposuction 360 include:
It gets rid of stubborn fat leading to a flatter stomach
It removes love handles and helps you achieve a narrow, shapelier waistline
It can be performed with fat grafting to the buttocks in a Brazilian butt lift
It helps you enjoy better fitting of clothes with no bulges or muffin tops
It increases your confidence and joy in your appearance
You will have more inclusive results where the contours of your body are improved. Many patients find that 360-degree lipo brings them much closer to the form and figure they desire.
What Makes Lipo 360 Better Than Traditional Liposuction?
To fully understand how Lipo 360 is better than traditional liposuction and what advantages it offers, it is crucial to know about the concept of liposculpting. With traditional lipo, your surgeon will mostly be concerned with extracting fat cells from the abdomen, but the overall proportion of the body remains unchanged.
During Lipo 360, your surgeon will consider the full profile and silhouette of the midsection. He will not only remove the areas of fat around the back, belly, and love handles but also reshape and recontour the fat deposits on your body. He will do it in a way that sculpts and shapes the body to provide you with the shape you want.
Also, when liposuction is performed on just one area of the body, or when multiple body parts are treated in several procedural settings or by various surgeons, transition areas can be noticed. Lipo 360 eliminates the possibility of these ill-defined transition zones, creating a smoother edge along the treated areas.
Who Is a Good Candidate for Lipo 360?
Before moving ahead with the procedure, it is necessary to understand what potential risks it poses and if you are the right fit for Lipo 360. Usually, people who are good candidates for traditional liposuction are also likely to be good candidates for Lipo 360.
You are a good candidate for Lipo 360 if:
You are at or near the ideal weight, within 30%
Have a body mass index (BMI) of less than 42
You do not want overall weight loss but seek highly targeted fat loss
You are in overall good health
The good news is that anyone wanting to get rid of excess fat for a slimmer and trimmer physique can benefit from liposuction and Lipo 360 is a reliable choice for people who seek to shape their entire midsection in one go.
At Millennial Plastic Surgery, Dr. David Shokrian understands what you seek and focuses on delivering the most pleasing aesthetic outcomes. He explains the difference between traditional liposuction and Lipo 360 and why Lipo 360 is a better choice if you crave a proportionate and slender midsection. Dr. David Shokrian utilizes the most advanced techniques for safely and permanently removing fat and ensuring you achieve your ideal body shape. You can look forward to highly satisfying results and achieving the figure you desire with his in-depth knowledge and years of experience.