Wearing a faja can help to control bruising and swelling while at the same time shaping and molding your body after cosmetic surgery. It is one of the most crucial post-surgery requirements that have a significant effect on your results. Visit Millenial Plastic Surgery to find out how wearing a faja can ensure a smooth recovery and help you achieve desired outcomes after surgery. Dr. David Shokrian explains the significance of fajas in your post-surgical period, and recommends the right-sized faja to help the body recover and increase your chances of comfort during the healing process.
A faja is a compression garment for BBL and liposuction patients that keeps swelling to a minimum and ensures that the skin tightens appropriately. Stage 1 and Stage 2 fajas will become your best friends during the recovery period as they are an essential part of healthy recovery and help you achieve your desired body shape.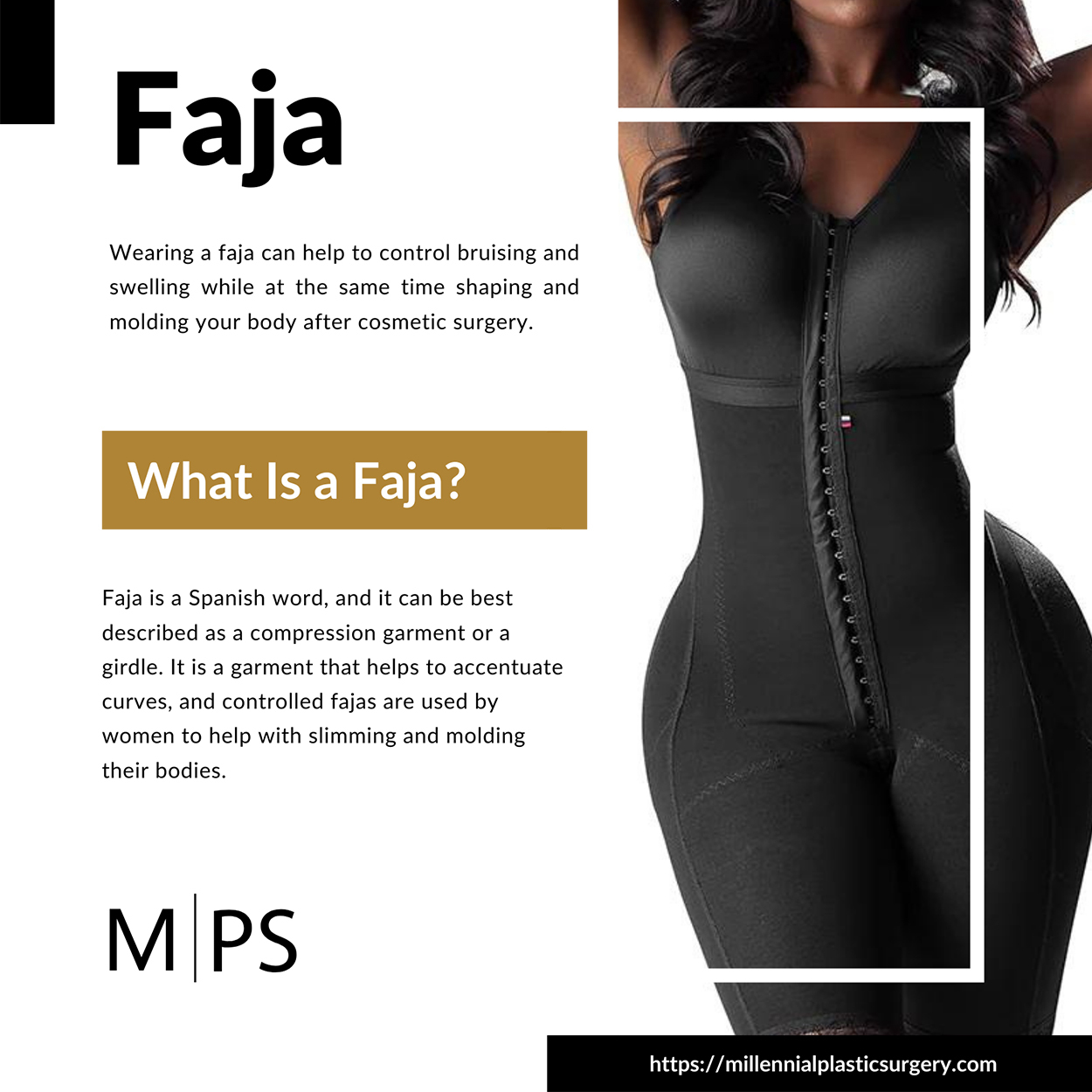 Read on to know what is a faja, when to wear and wash it and, how you can get the right fit to ensure proper healing and get the results you have worked so hard for.
What Is a Faja?
Faja is a Spanish word, and it can be best described as a compression garment or a girdle. It is a garment that helps to accentuate curves, and controlled fajas are used by women to help with slimming and molding their bodies.
For all these reasons, faja is becoming popular in the cosmetic surgery world. Your surgeon may recommend faja to ensure proper healing and achieve long-awaited results. It would not be wrong to say that your fajas will become your best friends during recovery time.
What Does a Faja Do? Why Do I Need One After Cosmetic Surgery?
As a snug-fitting garment, a faja has several benefits. It is used as a post-surgery compression garment that keeps bruising and swelling down and ensures healthy recovery after cosmetic procedure such as a liposuction or Brazilian butt lift. Wearing a compression garment can improve the contour of the treatment area and help you achieve optimal results. The support of the garment ensures your body adapts to its new streamlined shape and reduces the risk of your skin developing a lax or wrinkled appearance. It can mean smoother, tighter, and more attractive results.
Liposuction is the process of removing excess fat through SmartLipo Laser or VASER technology. It is often paired with Renuvion skin tightening for the best results. Your board certified plastic surgeon may add a BBL fat transfer to make the most of your excess fat removal process. After the liposuction or a BBL, your body will have normal fluid retention and swelling. Fajas play a crucial role in keeping this fluid retention and swelling down during recovery. Your surgeon will tell you to wear fajas to boost healing.
What Type of Fajas Can You Get?
There are many different types of fajas for every area of the body, for men, as well as women. You can get a waist trainer, which may or may not have bones, the stiff sticks on the corset, full bodysuit trimmer, and butt lifter fajas.
These fajas come in different levels of compression, Stage 1 and Stage 2, or for daily use. Some have a full panty, while others have an open crotch, a zipper, or a thong. You can also get shape wear that incorporates a bra or has an open bust. Some are strapless, while others have adjustable straps or even sleeves. You can get the best one as recommended by your surgeon to optimize post-surgery results.
Stage 1 Faja
What Is a Stage 1 Faja?
It is the faja that you will be wearing when you wake up from your cosmetic surgery procedure. It is a part of the BBL package you will purchase before or during your pre-surgery appointment. Stage 1 faja is a low-compression garment, which means it will fit loosely on the body.
It is important to remember that stage 1 faja is not meant to fit like shapewear or waist trainer. You will also find lipo foams and an abdominal board in your BBL package, along with the stage 1 faja. Lipo foams are rectangular pieces of foam inserted between your garment and the areas where fat was suctioned. They give a uniform smooth compression over the suctioned area.
An abdominal board is placed between the garment and the abdominal area to help smooth out and flatten the tummy area after surgery.
When Will You Be Sized for Your Stage 1 Faja?
The faja must be sized to determine the right fit for your unique body type. You will be sized for your stage 1 faja during the pre-surgery appointment, which is usually a day before the surgery. A trained specialist will measure your body, keeping in mind how it will transform after the procedure.
Fajas are available in small to extra-large sizes to cater to every body type. Sometimes, the faja you wake up in will be a size smaller or larger than the size you were fitted for. It is perfectly fine, as no one can predict how exactly your body will change during the procedure. The pre-surgery fitting can only give a rough estimate of what size you will receive afterward. Once the procedure has been performed, the surgeon will assess your body to determine what size will work best for your new proportions.
Why Does the Stage 1 Faja Feel Loose?
As stage 1 faja has low compression, it is meant to be loose. It should not fit like shapewear or a waist trainer. The purpose of stage 1 faja is to help the body with adequate circulation for proper draining as fluid is inserted into the body to allow for fat removal during liposuction. There has to be sufficient space between your body and the compression garment to ensure proper fluid drainage and skin healing.
You may also notice that your faja which feels snug initially begins to feel loose throughout the first few weeks of healing. It is a good sign and indicates your body is draining and working as it needs to.
Don't worry if your fajas fit in the waist but are loose around your arms and legs. The fajas are not designed to suit individual heights and body proportions. Their goal is to work on the areas affected by surgery. Thus, a stage 1 faja that fits slightly loose will not affect your surgery results at all.
Can You Wear Undergarments Under Your Stage 2 Faja?
No. You must not wear any undergarments beneath your Stage 1 faja. It is because your skin is very sensitive and thin after liposuction. Added fabric or tight clothing can create ripples and marks in your skin as it is healing.
How Often Should You Wash Your Stage 1 Faja?
It is extremely important to keep your stage 1 faja clean to prevent infections. Once you have been checked by your surgeon after the first pre-op appointment and allowed to shower, you should wash your faja. It is essential to wash your faja every other day to keep it clean and free of body fluids. Make sure when you remove the garment for the first time, proceed slowly as the skin is loose, and you may feel dizzy as the compression is released.
Like faja, lipo foams should also be washed regularly, every day or every other day to prevent infection. You can also buy multiple sets of lipo foams so there is a spare while the other sets are washing. They are not very expensive, so buying a few sets does not cost much. The abdominal board cannot be washed, but if it gets dirty you can clean it with peroxide.
What Is the Best Way to Wash Your Faja?
It is necessary to wash your faja appropriately to ensure the garment retains its elastic characteristics.
Follow these instructions on washing your faja correctly:
Wash your garment with moderate detergent in cool or cold water by hand. Wash as soon as possible to avoid blood stains.
You can also remove blood stains with a pre-soaking solution of a tablespoon of hydrogen peroxide in a gallon of water.
Use the air-dry option on the dryer or lay it flat and air or tumble dry for low knits. Avoid dry cleaning.
Do not use bleach, stain removers, and fabric softeners, as they can affect the fabric's stretch and moisture-handling qualities.
How Long Should You Wear Your Stage 1 Faja?
You should wear your stage 1 faja for about 3 weeks after the procedure. You must try and wear your faja all the time except when you have to shower and wash it but make sure to put it on right after. You can purchase two sets of fajas so you can wear the other set while the other one is washed and drying.
Your surgeon will recommend that you sleep in your faja. If possible, you should sleep in your lipo foam as well, but you must remove the abdominal board at night.
Stage 2 Faja
What Is a Stage 2 Faja?
After wearing your stage 1 faja for about 3 weeks, you will switch over to stage 2 faja. You can get this at one of your post-op appointments. The stage 2 faja is a high-compression garment and should feel much tighter than the previous stage faja. It will be the same size as your stage 1 faja, but this garment is worn without using lipo forms and an abdominal board.
How Long Should You Wear Stage 2 Faja?
Once you switch to stage 2 faja, you should continue wearing it for six months. You will have to learn to sleep with your stage 2 faja as well. You will be required to wear your faja throughout the day and night, except when you are showering or washing your garment. Until you are done with your stage 2 faja, you cannot start waist training.
Can You Wear Undergarments Under Your Stage 2 Faja?
Yes. By the time you start wearing your stage 2 faja, you can wear underwear beneath the compression garment. Keep an eye on your skin to see how it is healing, and make sure no visible marks are forming from the underwear.
How Often Should You Wash Your Stage 2 Faja?
It is very important to keep your stage 2 faja clean to prevent any infections. Try washing your faja every other day to keep it clean and free of body fluids or dust.
Does Wearing a Faja Really Help Reshape the Body?
Yes. If you have had a recent cosmetic or plastic surgery, wearing a faja can have a positive effect on your body. The skill and experience of your surgeon matter most, but complying with all post-surgery instructions, including the use of the right compression garments just as instructed by the specialist, will definitely help reshape your body and ensure desired outcomes.
Fajas, lipo foams, and abdominal boards help your body heal after surgery and cause your skin to tighten to create the final results of your procedure. Wear them as instructed by your doctor to achieve ideal results.
If you are considering a liposuction or a BBL, discuss your compression choices with your surgeon to keep the swelling down and make sure the affected skin tightens correctly. Dr. David Shokrian has been helping people achieve their ideal body images for years and knows the right ways that lead to speedy and healthy healing. You must keep wearing your fajas to ensure skin tightness and a smooth body contour after plastic surgery for as long as the specialist recommends to achieve your dream body.