Growing old can be tough, as sagging skin, wrinkles, and fine lines make you more conscious of your appearance. Morpheus8 is an excellent option to rejuvenate aging and damaged skin. It not only smooths wrinkles and tightens sagging skin on the lower face and neck but also reduce the appearance of acne scarring and skin discolorations. Schedule an appointment with Dr. David Shokrian at Millenial Plastic Surgery to discuss your concerns and to learn how you can benefit from this advanced skin-renewing treatment. He comes up with treatment plans that work in your best interest, reduce visible signs of aging and skin damage, and help you enjoy desired outcomes.
Everyone wants to have glowing, healthy-looking skin regardless of age and sex. A smooth, wrinkle-free, blemish-free, and even-toned skin not only helps you look and feel good but makes you more confident in yourself. However, fine lines, sun spots, stretch marks, and acne scars can affect your appearance and even make you seem older than you are.
Morpheus8 is an innovative, effective, safe, and minimally-invasive solution that improves aging or damaged skin with little downtime. It is a revolutionary treatment that uses microneedling with radio frequency (RF) to offer amazing, natural-looking results.
What makes Morpheus8 a successful treatment option is the ease with which radiofrequency levels can be adjusted to treat each patient's unique condition.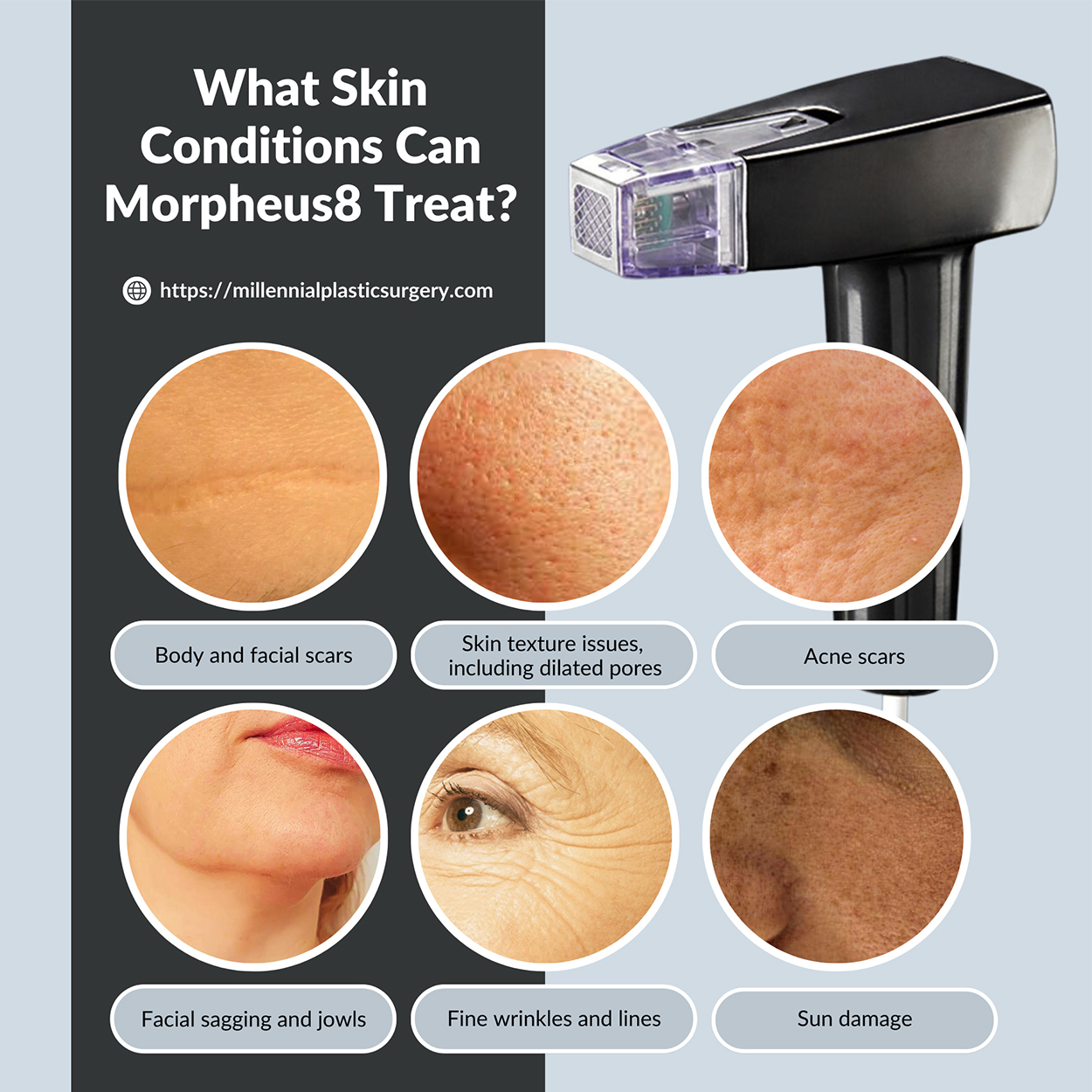 What is Morpheus8?
Morpheus8 is a non-surgical advanced needling treatment. It is a safe and effective option that utilizes radiofrequency technology to give the face, neck, and body a youthful appearance. It is a device that combines microneedling with radiofrequency technology for fractional resurfacing that stimulates collagen production.
It is the ideal treatment option for patients looking forward to improving their facial appearance and rejuvenating aging and damaged skin without undergoing laser or surgical procedures.
What Areas Can Morpheus8 Treat?
Morpheus8 can treat any areas of the face and body that exhibit wrinkles, discoloration, or acne scarring and can benefit from sub-dermal renewal. The most common areas suitable for treatment include the face and neck, as well as the abdomen, which is beneficial for tightening loose skin with underlying fatty tissue. Morpheus8 can also help patients who have cystic acne or acne scars.
As it targets the deeper layers of the skin, the building blocks will reorganize themselves in a natural anti-aging process. The best thing about Morpheus8 is there is little or no damage to the dermis, and you can look forward to an extremely uniform effect. Morpheus8 can also be used on all skin types. Its unique properties allow even darker tones to be treated with little risk of post-inflammatory hyperpigmentation.
What Is Microneedling? Why Morpheus8 Is Different From Other Methods?
Traditional microneedling treatments or collagen induction therapy (CIT) use tiny needles to pierce the skin and create small channels that the body heals by creating new collagen. However, RF microneedling with Morpheus8 applies radio frequency-generated heat to your skin, tightening and contouring the underlying fat, making it a much more powerful and results-driven procedure.
The Morpheus8 is approved by the FDA as a Subdermal Adipose Remodeling Device. At its lower settings, it can improve skin texture by dilating pores, smoothing the skin, erasing scars, and tightening to give you a more youthful look. At its highest settings, Morpheus8 sculpts the fat under the skin to renew deeper layers of the skin.
Fractionated RF energy is a scientifically proven method to reduce wrinkles and rebuild collagen and fat. It is minimally invasive, using a matrix of micro pins that help you attain a rejuvenated look by repairing damaged skin with almost no downtime. Also, the results of treatment improve, day by day, as your body produces greater quantities of skin-firming and volumizing collagen.
How Does Morpheus8 Work?
Morpheus8 combines radio frequency technology, microneedling, and fractional treatments to address a range of skincare problems. Radiofrequency technology gently heats facial skin to help restore and resurface connective tissues.
The procedure begins by numbing the skin with a topical numbing cream medication. The skin is then cleansed with an antibacterial formula followed by the Morpheus8 procedure on the affected part of the body, which takes approximately 20-30 minutes. Tiny needles penetrate the skin and heat the tissue to stimulate the production of collagen. Collagen is broken down during Morpheus8 treatment reforms, and connective tissues become much tighter and stronger. The face is lifted, and volume is added to hollow areas.
What makes Morpheus8 different from other cosmetic treatments is the depth the needles penetrate the skin. It is the only treatment that molds fat under the skin to obtain optimal results. Contouring and refining the subdermal layers enable a more detailed approach to sculpting the face naturally.
Many people who undergo this treatment start to see immediate results, but optimum rejuvenation and anti-aging requires at least three treatment sessions, spaced 4 weeks apart.
What Skin Conditions Can Morpheus8 Treat?
RF microneedling treatment using the Morpheus8 device can benefit people from different age groups. This innovative treatment can help to treat various skin conditions and reduce the appearance of:
Body and facial scars
Skin texture issues, including dilated pores
Acne scars
Facial sagging and jowls
Fine wrinkles and lines
Sun damage
It is essential to remember every individual has a different skin type, and it may react differently to Morpheus8 treatment. Your doctor will recommend the best treatment or procedure focusing on your health history, anatomy, and aesthetic goals.
What Happens After A Morpheus8 Treatment?
It is the fun part. After the Morpheus8 treatment, your skin will be refreshed, revitalized, and enhanced. Within several weeks, new layers of collage will begin to plump and volumize depleted skin contours and firm up your complexion so it appears fresh, more youthful, and smooth.
The overall tone and texture of your skin will be superior to what you had when you started the treatment, and a subtle lift with minimized skin laxity will begin to appear. You should undergo a series of treatments with Morpheus8 to experience its full, comprehensive benefits. Discuss with your surgeon how many sessions or how much time you will need to enjoy seeing ideal results.
Healing From Morpheus8 Treatment
Who Is An Ideal Candidate For Morpheus8?
You can benefit from Morpheus8 if you are looking forward to reducing the signs of aging without undergoing invasive treatments.
You are a good candidate for Morpheus8 if:
You are in generally good health
You are over 18 years of age
You want to smooth lines and creases and smooth uneven textures
You want to minimize the long-term effects of the sun on your face and body
This treatment is often performed with lipoplasty and other procedures that use radiofrequency to tighten the skin and reduce fat in the face, chin, and neck to provide optimal results.
Read more about: Сhin Fat Removal Surgery
Visit Millennial Plastic Surgery in New York City to learn more about how Morpheus8 can help with wrinkles and lines, loss of facial fat volume in the midface, aging in the neck, acne, and acne scarring, and other cosmetic concerns over the face and body. Dr. David Shokrian focuses on providing the results you seek with non-invasive surgery. He ensures the time and type of treatment you receive are based on your aesthetic goals, and that you enjoy a remarkable improvement in skin quality, tone, texture, and tightness in the shortest possible time.