Responsive, reliable, and always delivers on time.
What Is a Non-Surgical Tummy Tuck?
There's more than one way to tighten up your abs and remove excess fat and loose skin. A popular option is to skip surgery and undergo a no-surgery tummy tuck that may or may not require any incisions. Some non-surgical tummy tuck procedures are what's considered minimally invasive and require just tiny incisions, while other non-invasive procedures are done strictly from outside your skin.
When body contouring is top of your mind, regardless of the reason, consider all the alternatives to achieving the silhouette you desire. And if your main concern is your abdomen, then it's nice to know you have options. The expert cosmetic surgeon at Millennial Plastic Surgery aims to provide you with the body you want in the style you prefer. Various options for reducing the bulge in your midsection in addition to non-surgical tummy tucks include:
Clients' Testimonials
I did 360 liposuction, BBL and tummy tuck, before my surgery I was concerned about the pain because people usually do this kind of procedure separately, but I was amazing how great I feel next day, the doctor offered me an additional pain relief through the surgery ( spiral), which works really good, I was able to do light activities right next day like cooking, and walk without no problem.
Clients' Testimonials
I couldn't be happier with my tummy tuck procedure done here! Dr. Shokrian and his team, especially Cassie, made me feel comfortable and confident throughout the entire process. They answered all my questions and listened to my concerns. The facility is beautiful and clean, and they followed all safety protocols. The results of my tummy tuck exceeded my expectations, and I can't thank them enough!
Clients' Testimonials
Sophia helped me tremendously if it wasn't for her , I probably would have never gone through with my surgery! She made me feel so comfortable and like she genuinely cared for me ! I love my results so far and dr Shokrian is AMAZING with his work. I can finally say I'm happy and confident with myself. Thanks to everyone there but especially SOPHIA .
Why Get a No-Surgery Tummy Tuck?
There are almost as many reasons to choose various types of body contouring as there are people who turn to plastic surgery in the first place. Your reasons are personal and totally respected at Millennial Plastic Surgery. While your Manhattan doctor weighs in with recommendations about how he thinks you can best achieve your goals, ultimately, the decision to go with a non-invasive tummy tuck is up to you. Common reasons include:
Shorter recovery time
No scars or incisions to cover up
Little or no tolerance for general anesthesia
Reduced risk of bleeding or infection
Natural-looking results
No need for a full tummy tuck
Whether you just have a fear of surgery, especially when it's an elective procedure, or you don't really have enough flabby, excess skin to warrant a full tummy tuck, this may be the option best suited to you. When you're young enough so that your skin still has a lot of elasticity, non-surgical tummy tucks make an ideal alternative.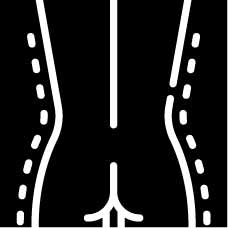 We can't wait to meet you! We offer comprehensive consultations with Dr. Shokrian, and his team both virtually and in person.
212-421-7123
How Does a Non-Surgical Tummy Tuck Differ from Abdominoplasty Surgery?
Abdominoplasty is the technical term for a surgical tummy tuck that may be required if you have extensive sagging around your abdomen after significant weight loss, abdominal liposuction, pregnancy or other reasons. An abdominoplasty is an outpatient procedure that requires:
General anesthesia
Large incisions with fat and excess skin removed from the area stretching from your belly button to your pubis
Tissue tightened with permanent stitches
Drainage tubes left in for a few days
Wearing support garments for up to six weeks
Limited activity for six to eight weeks
While the results from a tummy tuck are permanent as long as you maintain your ideal weight, results from a no-surgery tummy tuck can be equally impressive as long as you keep your weight stable. Various types of non-surgical tummy tucks differ from traditional surgical procedures in that they rely on:
No or very minor incisions that heal within days
The use of heat, radiofrequency waves, lasers or water to remove or shrink fat
Only local anesthesia and maybe a twilight dose to relax you
Procedures that last as little as an hour or less
Minimal downtime, usually just days
No or few activity restrictions
New, advanced techniques that are being continually improved
Machines that are calibrated to reduce risks
Immediate results that improve even more over time
What Are the Different Kinds of Non-Surgical Tummy Tucks?
Following an extensive interview so that your New York City doctor understands your medical history, your lifestyle and your goals for your appearance and health, Dr. Shokrian makes recommendations about which type of tummy tuck ultimately will serve your best interests. And even when you both decide that a non-surgical tummy tuck is your choice to help you achieve your goals, you have even more options.
At this Manhattan practice, the doctor looks at you as a whole person instead of just a body that needs work. A no-surgery tummy tuck may be presented in a number of ways, such as:
BodyTite. This procedure is ideal for both women and men who've experienced significant weight loss. A special machine melts fat away from inside and outside of your abdominal region with thermal energy. You're given local anesthesia and a sedative to relax. Your top plastic surgeon in NYC makes a tiny one-to-two-millimeter incision. To get to your desired look, you only need one treatment lasting from one to four hours. This radiofrequency technology removes fat without creating saggy skin.
Lipo 360. No stitches are required after the tiny incisions are made all the way around your mid-section, thus the 360 reference. This is primarily done to suck out the excess fat in your tummy, but it can leave sagging skin, which is why it's best reserved for younger people with minimal fat to remove. About 10 pounds of fat can be removed with this procedure and you can be back at your normal level of activity within a few days.
Aqualipo. As the name implies, this procedure relies on water to flush out the fat from your abdomen. It's a gentle procedure that also requires a barely noticeable incision that doesn't even need stitches. It's a great way to accentuate any underlying muscles, so it's ideal if you want to show off a six-pack that's buried underneath a bit too much fat. You can get back to your normal activities the same day.
Non-invasive tummy tuck. If you're not overweight and just want tighter abs, then you may make a great candidate for cold energy or ultrasound fat removal. There's no downtime and no incisions. An ultrasound transducer sends energy that destroys fat cells, which are absorbed in your body and eliminated. Cryolipolysis, sometimes called fat freezing, basically is a controlled form of frostbite that destroys fat without harming your skin. Like ultrasound, fat is absorbed in the body and eliminated.
How Much Is a Non-Surgical Tummy Tuck?
Prices vary widely and depend a lot on how much time your doctor spends on each procedure and how much fat you need removed. Sometimes, your insurance company covers some or all of a non-surgical tummy tuck if it's found to be medically necessary following an illness or injury. The cost of liposuction ranges widely too, but usually runs less than $2,000.
Body contouring is an investment in your self-confidence and public image. Contact Millennial Plastic Surgery to learn about the many options available for a non-invasive tummy tuck. This is one way to reward yourself after successfully losing all that weight, working out and building your muscles. Show off that six or eight pack by removing the last vestiges of fat that just won't leave without a little help.