Most people know about a regular breast lift but have you heard of an internal bra breast lift? It is a fairly new technique in the field of cosmetic surgery and is special, as it gives breasts the same support as a push-up bra. Call Millennial Plastic Surgery for expert opinion on what this technique can do for you. Dr. David Shokrian is an experienced and board-certified top-rated plastic surgeon and specializes in coming up with the best solutions to lift sagging breasts. He explains how the internal bra works and offers a more specific idea of the results to set realistic expectations and ensure you get desired results.
The term internal bra is becoming popular in the breast augmentation industry. It uses techniques that strengthen the lower pole of the breast. It reinforces the inframammary fold and strengthens the lower portion of the breast, offering a more supportive foundation for a breast implant.
Women who seek more fullness and perkiness in their breasts can benefit from the specialized internal bra technique. It can correct sagging and droopiness of the breasts by acting as extra support for the implants to improve the shape, size, and overall appearance of the breasts, helping to achieve a younger-looking figure.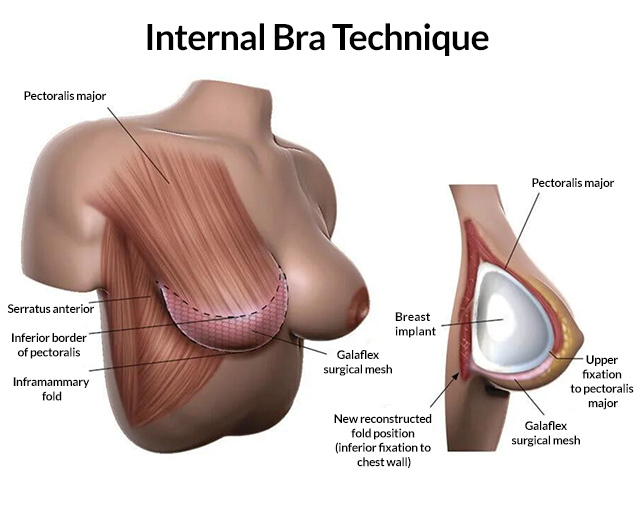 What Is the Internal Bra Technique?
The internal bra technique involves placing a scaffold composed of biocompatible material along the lower portion of the breast. This material adds support, just like a bra would, except the support is within the breast itself. The scaffold is absorbed by the body over time and replaced by natural, supportive collagen.
The surgeon may combine the internal bra technique with a breast augmentation, breast lift, or a breast lift with augmentation to provide desired results. The internal bra can be placed after an implant to ensure your breasts hold the implant and heal the right way. It can also be used with a breast lift to support the newly lifted tissues as the body heals.
The most common technique used for an internal bra is additional suturing. Sutures create a more secure and stable breast fold where the incision is. A rare option, usually for more severe cases, is the use of a surgical mesh. This mesh creates greater internal support for the breast implant. The internal bra technique works on breast lift or reduction patients if they are suitable candidates to prevent drooping breasts.
How the Internal Bra Works
The internal bra works just like a push-up bra. The only difference is that here it is using your own tissues to provide support to the breasts. Just like the cup of a push-up bra boosts the breasts to treat sagging, the internal bra creates better breast support internally.
It is ideal for women who want higher, fuller breasts but lack the elasticity in their breast skin to support long-lasting results. When a woman's own tissue has some weakness due to weight loss, post-pregnancy changes, prior surgery, or age, additional soft tissue support helps to achieve optimal cleavage and higher breast position.
The surgeon creates soft tissue reinforcement with a flexible and durable scaffold that integrates into the natural breast tissue. These scaffolds encourage natural tissue growth that will eventually reabsorb the scaffold for 12 to 18 months, leaving behind tissue with a firm and youthful breast silhouette. The internal bra can also re-engineer a woman's natural breast tissue to achieve results that breast augmentation and lift alone cannot achieve.
The internal bra technique is combined with a limited scar periareolar lift or a full breast lift to tighten any loose skin on the breast. Depending on your case, surgery can take anywhere from 3 to 5 hours. As it is an outpatient surgery, you can return home once the procedure is over.
Who Is a Good Candidate for an Internal Bra?
Women who want to go for breast surgery but are worried about less resilient skin can be a candidate for the internal bra. It is important to note that you must have a BMI of 40 or less before you go for breast augmentation or breast lift.
You are a good candidate for an internal bra if:
You have experienced weight gain or loss
You have lost breast volume after pregnancy and breastfeeding
You are experiencing loss of elasticity and reduced breast volume
You have had a breast augmentation, and your implants have shifted
You have had a breast lift and see that the breasts have started to droop
You have experienced one or a few of the above
Women seeking long-term results from breast augmentation and a little extra support can opt for the internal bra technique. Your surgeon will determine your need for an internal bra and help you enjoy the best results.
How Much Does an Internal Bra Cost?
The cost of an internal bra varies, depending on each individual. Many women prefer to combine the internal bra with breast augmentation or some other procedure. It can increase the procedure cost.
The total cost will include facility fees, anesthesia costs, medication, and prescription costs as well as your pre- and post-op appointments. It is important to note that an internal bra is not covered by insurance as it is not a medical necessity. Many surgeons offer financing plans to help their patients and make the surgery more affordable.
Call Millennial Plastic Surgery today to schedule a consultation with Dr. David Shokrian to find out how the internal bra technique works and if it can help you. Dr. Shokrian strives to help you get the best results from your breast augmentation procedure and maintain them for a long time. With internal bra technique, he creates beautiful results, prevents breast implants from drifting, and gives you a chance to look your best. His expertise in breast augmentation, combined with cutting-edge techniques, makes him the top choice for women seeking ideal body image in New York.