Liposuction or fat reduction procedures is a cosmetic procedure that has become immensely popular over the years for its numerous benefits. It removes unwanted body fat and helps you achieve improved body contours, as well as enhanced self-image. Schedule an appointment with Dr. David Shokrian at Millennial Plastic Surgery for a complete evaluation to learn how liposuction can give your appearance that extra advantage to achieve jaw-dropping results and how much it would cost. Dr. Shokrian discusses the estimated costs of attaining the goals you have in mind and fulfills your cosmetic needs the best way. He ensures you achieve jaw-dropping results at prices that will not break the bank.
Stubborn areas of fat that do not budge no matter how hard you try can be very frustrating. Liposuction is the only way to eliminate this unwanted fat that refuses to budge despite an increase in the workout or adopting a healthier lifestyle. It is a safe and effective surgical procedure that has become very popular as it removes fat beneath the skin, leaving behind slim and shaped contours.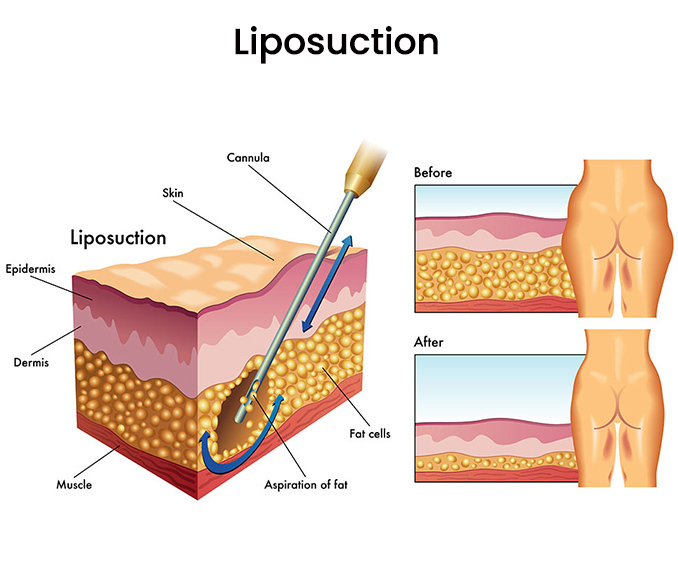 What Is Liposuction?
As the name suggests, a liposuction procedure breaks up and sucks out the fat. It is a process that slims and reshapes specific parts of the body by getting rid of excess deposits of fat, which in turn, improves the proportion and contours of your body. Liposuction is used on different body parts, including ankles, calves, neck, chin, cheeks, chest area, inner knee, back, upper arms, waist, abdomen, buttocks, hips, and thighs.
It is important to note that it is not a weight-loss solution and does not firm or tighten skin. Liposuction can be combined with other plastic surgery procedures if needed, such as a abdominoplasty (tummy tuck), breast reduction, or a facelift for more effective results.
Knowing what liposuction can do to give you a smarter body with enhanced curves, the first question that comes to your mind is how much this procedure would cost.
The Average Cost of Liposuction
As every patient is different, the price also varies. According to the American Society of Plastic Surgeons for 2019, the average cost of liposuction ranges between $3,500 – 3,600. It includes surgical fees and non-surgical fees. However, it is essential to understand that this is just an average estimate, there is no fixed price for liposuction.
Costs can range from $1,000 to more than $20,000 depending on the area of treatment and the surgeon's skill and reputation. It is affected by several aspects regarding the patient's condition and other medical expenses. The three most important factors that influence pricing include:
Surgeon Expertise and Experience
Highly skilled, experienced, and reputable plastic surgeons with a long record of successful liposuctions charge more for their services. Their higher rates are due to their expertise and satisfactory results. They charge more consultation fees than other plastic surgeons.
Size of Patient and Body Part
The size of the patient and the amount of fat that has to be removed also play a crucial role in determining the liposuction surgery cost.  A lengthier body part usually takes a longer operating time and effort, which increases the cost, especially if a large amount of fat has to be extracted.
The Complexity of the Procedure
Not all liposuction surgeries are the same or have the same level of difficulty. Some cases are a real challenge for the surgeon, and it can increase the liposuction cost.
Liposuction on an area that has already been treated before is often more complex. This is due to the scar tissue that forms under the skin after the former procedure. Thus, a complex liposuction case is more costly than a simple one.
Additional factors that influence final liposuction cost include:
Number of areas treated
Fees for the facility, anesthesiologist, and supplies
Prescription costs for medication
Post-surgery garments
Medical tests
Consultation fee
Liposuction offers great value, as compared to any other cosmetic surgery procedure, even if it costs more. When planning liposuction, it is essential to discuss all the fees with the plastic surgeon to determine the total cost of the procedure.
Cost of Liposuction Based on the Treated Area
The doctor can perform liposuction on multiple areas of the body. As each body part is different in shape and size, the liposuction cost can also vary. It is because the complexity of the procedure and the amount of fat extracted varies depending on the body part.
It is best to consult a plastic surgeon to get a more specific idea of how much you may end up paying for your liposuction. It is because the costs vary tremendously depending on the procedure, the unique needs of the patient, and its complexity.
Is Liposuction Covered by Insurance?
No. Insurance usually does not cover liposuction since it is a cosmetic procedure and is not a medical necessity. However, it is essential to note that the definition of medical necessity varies by insurance provider and health plan.
At times, liposuction is performed to treat specific conditions, such as lipoma removal or heart issues due to high triglyceride levels. In these cases, insurance might cover some of the surgery expenses. Some liposuction is approved for people seeking breast reconstruction, gender reaffirming surgery, skin removal after massive weight loss, and lipedema.
Contact your insurance company to check out if your liposuction can be covered. Plastic surgeons also offer financing plans to their patients to help them pay for their procedures. You can take advantage of the flexible financing options and pay as you go to achieve your ideal body image.
Liposuction Costs and Results
Fortunately, liposuction results are permanent and recovery time is relatively short. You may not see immediate results because of swelling, but over time, you will notice the outcome of the procedure. You can look forward to a great boost in your self-confidence as unwanted fat is removed. It may cost more, but it is a worthy investment that pays off in the long run. It gives you a chance to enjoy long-term results by permanently removing the troublesome fat cells and improving your overall looks and health.
It is also necessary to understand that liposuction is not a quick-fix process. It works best for people who are already working towards a healthier lifestyle with a balanced diet and exercise but cannot seem to get rid of stubborn fat. However, it is a much better option than other cosmetic procedures that use synthetic implants.
Remember, when performed safely by an experienced and board-certified best cosmetic surgeon NYC, liposuction can be an investment in yourself with innumerable returns.
If you want know how liposuction can help you achieve a tighter, more toned, and contoured body appearance, visit Millennial Plastic Surgery for expert advice. Dr. David Shokrian is a highly trained and experienced plastic surgeon and fulfills your expectations most satisfactorily to provide outstanding results. He answers all your questions regarding the procedure and its cost, explaining in detail the factors that influence pricing and how you can benefit from this procedure using easy financing options. He helps you feel confident in your skin and enjoy a happy life with the well-proportioned body you always wanted.