If you have lost breast fullness following pregnancy, weight loss, or disproportionately shaped breasts, breast implants are ideal for increasing volume and enjoying a beautiful, more attractive figure. Visit Millennial Plastic Surgery to learn about breast implants, the differences between gummy bear implants and regular implants, and how they can help you achieve fuller, rounded breasts.  Dr. David Shokrian has helped thousands of women achieve large, firmer, and more contoured breasts safely and effectively. He explains in detail the benefits of each type of implant to help you decide which would work best for you, keeping in mind your cosmetic and appearance goals.
Breakthroughs in the cosmetic industry have made life exciting for women as they provide a chance to help them look younger and more beautiful. A gummy bear breast implant is a unique silicone breast implant as it can form with the breast, offering natural results after a breast augmentation.
If you are considering breast augmentation surgery, you will have to decide on the type of implant you want. If you are leaning towards silicone implants, you can choose from regular and gummy bear silicone breast implants for their natural look and feel.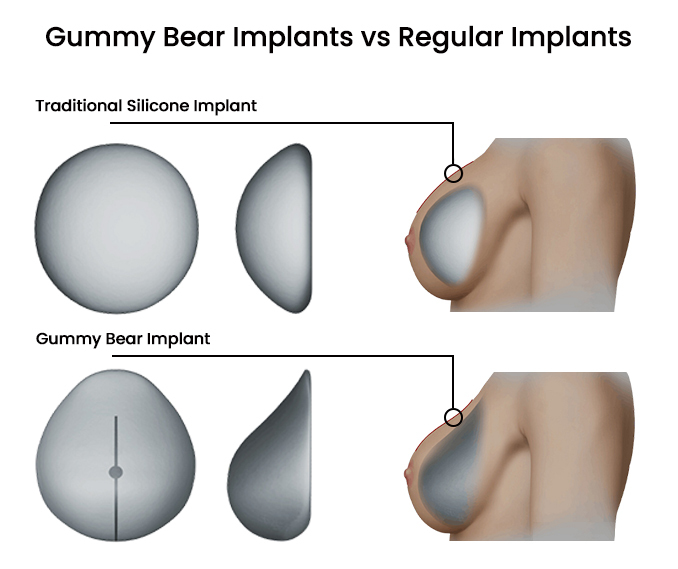 What Are Gummy Bear Implants?
Gummy bear is a non-scientific term for silicone implants filled with dense and highly cohesive gel. These are form stable silicone implants, just like gummy bears, as they hold their shape even when the implant shell is broken.
The inside gel is thick rather than liquid, so it does not leak out of the shell. As they hold their form, gummy bear implants are made to a shape, either round or teardrop, narrow at the top and broader at the base, which makes them feel more natural and soft, ideal for adding volume to the breasts.
The medical term for the Gummy Bear implant is "cohesive silicone gel breast implant". However, as this implant retains its shape even when it is cut in half, just like a gummy bear candy, it got the name.
Read on to learn more about the gummy bear implants and to find out if you are a good candidate to obtain these natural-looking breast implants for a more curvaceous figure.
What Are Traditional Silicone Implants?
Traditional silicone implants are also filled with a cohesive gel but are softer than gummy bear implants. Their softness helps to achieve the natural bounce and texture of actual breast tissues, more closely than the gummy bear implants. However, they are not as form-stable. They also carry a higher risk of gel leaking out if the shell breaks.
Pros and Cons of Gummy Bear Implants
The primary difference between regular implants and gummy bear implants lies in the silicone particles that are cross-linked, giving it a more solid foundation and keeping it completely together. It helps them better form into a teardrop shape, which makes them look like natural-looking breasts.
In addition to maintaining their shape, there are other benefits of going for gummy bear implants:
They look and feel more natural than other types of breast implants
They have a much lower leak rate than other implants on the market
Studies reveal they have lower rates of capsular contractures than other implants.
However, all these benefits do not mean that gummy bear implants are not without disadvantages.
Some drawbacks of these types of implants include:
They can be a little too firm for some women
The incision for gummy bear implants can be a little larger
They still carry the same potential risks associated with other implants, such as capsular contracture, asymmetry, infection, etc.
Both gummy bear implants and regular implants have their unique advantages and disadvantages. It is best to consult an experienced and board-certified plastic surgeon to discuss your cosmetic expectations and to learn about the ideal breast implant option for your unique needs.
Gummy Bear Implants vs. Regular Implants
At first glance, these two implants seem to be similar, but there are different in notable ways. The primary difference between gummy bear implants and traditional silicone implants lies in the consistency of the gel contained within the shell. The consistency of the cohesive gel in gummy bear implants is thicker and more form-stable, which ensures there is no chance of it leaking out of the shell.
Gummy bear implants are slightly harder than traditional silicone implants due to the higher density of their cohesive gel. No matter what happens, the gummy bear implants will remain firm, feel more natural to the touch and retain their original shape. Even though traditional silicone implants have more bounce, the difference is not significant.
It is important to note that both the gummy and regular breast implants are softer to the touch than saline implants. Gummy bear implants offer a better advantage to women undergoing breast reconstruction surgery. They do not depend on existing breast tissue.
Also, they are safer than traditional silicone implants, and there is little or no chance of the silicon leaking into the breast tissue, in case the implant shell is ruptured. This risk has been controlled with stronger implant shells. Traditional silicone implants use stronger shells, with minimal risk of rupturing, which makes them safe too, but they are more likely to leak out than gummy bears.
However, it is essential to note that the surgery required to place gummy bear implants requires slightly longer incisions in the skin than traditional silicone or saline implants.
Cost of the Gummy Bear vs. Traditional Silicone
The cost of gummy bear implant surgery is usually higher than for traditional silicone implants. The average cost of a gummy bear implant is around $6,000. Additional expenses include the surgeon's fee, anesthesiologist and anesthesia fee, facility charges, as well as post-operative home care you will require following the surgery.
Breast implants are not covered by insurance as they are not considered a medical necessity. However, some doctors offer financing options to make it easy for their patients to pay for their procedure. You must discuss the potential costs with your doctor before planning a procedure to fully understand how much money you need to pay for your surgery.
How Long the Breast Implants Last?
Breast implants do not last forever. Some implants may last for 20 or 30 years, but most women need to replace or remove implants after 10 years, with screenings and MRIs every 2-3 years. Make sure to ask your surgeon how long your implants are expected to last when planning a procedure.
While the risk of rupture and leakage from gummy bear implants is lower than from regular implants, it is harder to detect if it occurs. You must have your implants checked with an MRI to detect silent leakage or shell rupture if it occurs to prevent complications. With better care and periodic checkups, you can enjoy the benefits of implants for a longer time.
Breast implants have come a long way in the past few decades, and now you can look forward to enhancing your breast profile without worrying about imperfections. Dr. David Shokrian specializes in breast augmentation procedures and explains in detail the differences as well as the benefits of gummy bear implants and regular implants. He recommends the ideal breast implant option to suit your unique body needs and cosmetic goals and ensures you enjoy the body image you have always dreamed of.