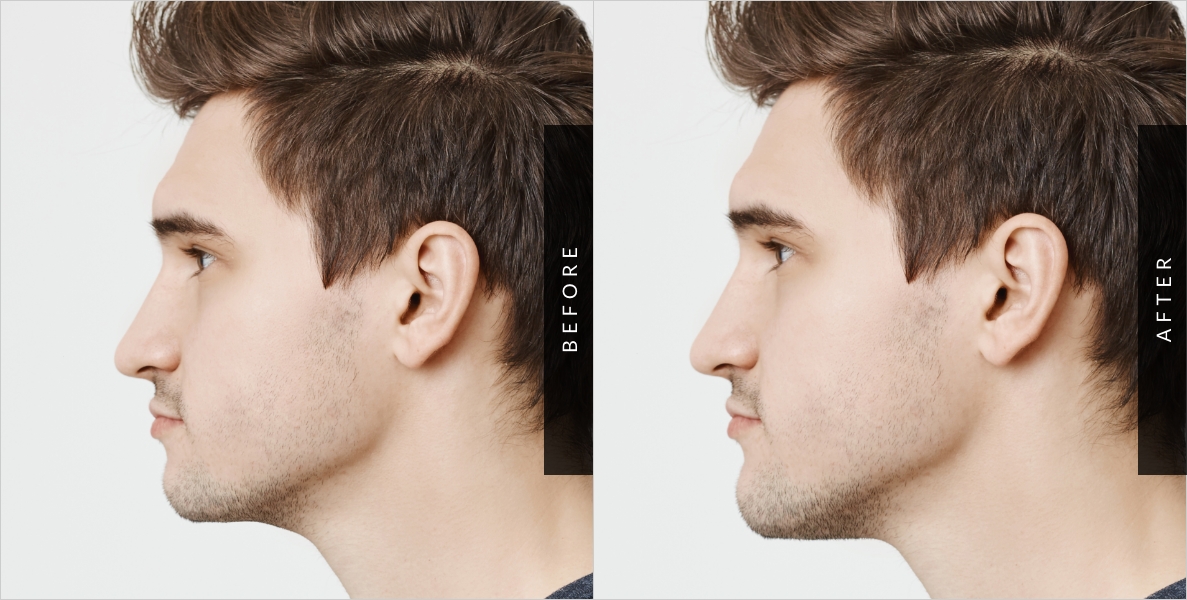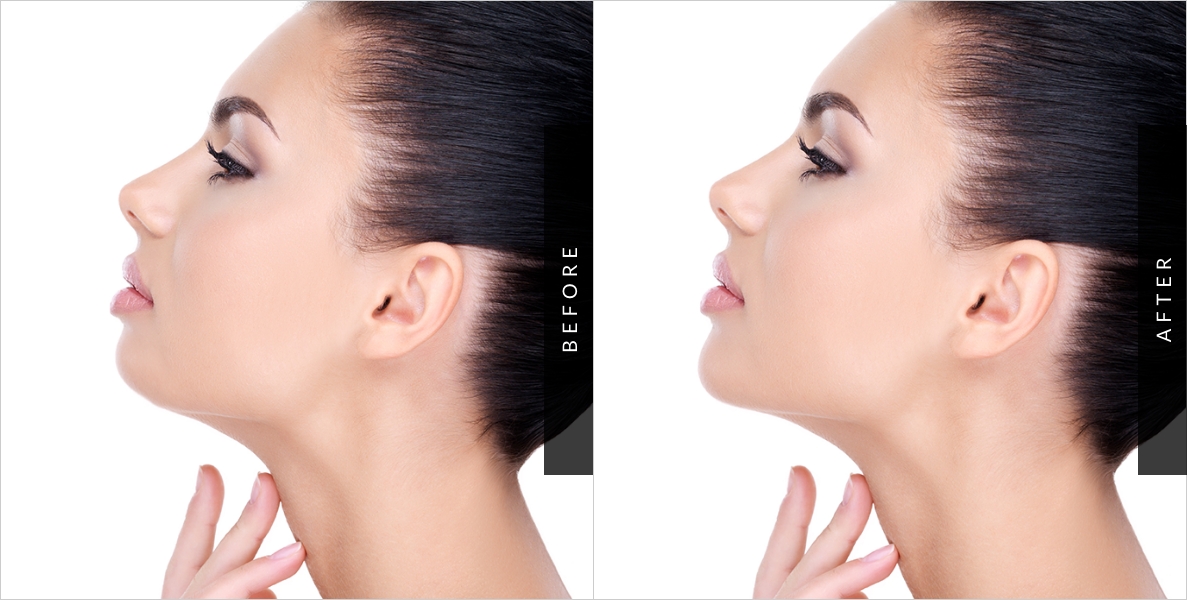 The team is knowledgeable, responsive, and a pleasure to work with.
Is a Chin Implant Right for Me?
As a man, if you ever dreamed of the perfect profile — you know, the one you thought was only meant for movie stars, with a jawline that exudes strength and confidence — you can now get it for yourself. It's that chiseled look that turns heads and says you've arrived without needing to say a word. And for you ladies who find yourself avoiding the mirror, no longer recognizing the person in the reflection, wondering if it's possible to recapture the lost definition between your chin and your neckline, a chin implant surgeon can fix that.
So chin up! It's time to make your dreams a reality with help from the best chin implant surgeon in New York at Millennial Plastic Surgery. Dr. David Shokrian is a highly motivated surgeon driven by the pursuit of excellence. The skills and talent he brings to rejuvenating your face include:
A positive attitude to every situation
Identifying opportunities and solutions
Creativity and resilience
Creating and restoring beauty
Finding the inner beauty in everyone
Dr. Shokrian develops open, personal relationships with you to fully understand your unique aesthetic goals. His patient-focused approach involves active listening, effective communication and performing awake surgeries with local anesthesia, which results in fewer complications, shorter downtimes and less pain.
Clients' Testimonials
I had my surgery done 2 weeks ago & I had the most amazing experience ever. Dr. Shokrian & the girls are very caring, they made me feel very comfortable, especially Sophia & Barbara. They answered every question I had! I'm more than happy with my results & would definitely recommend MPS to anyone interested in cosmetic surgery!
Clients' Testimonials
My facelift has made me feel like a brand new person. The procedure was quick and painless, and the results have been truly remarkable. I couldn't be happier with the outcome.
Clients' Testimonials
This place was very good. The kindness and helpfulness of the staff was awesome. I loved Jess and my massages from Maribel..she was so good I wanted an 8 ounce bottle of milk and my bed after. Overall Dr. Shokrian was very honest in what he could do and what he couldn't which made my choice even easier.
What Is a Chin Implant?
A chin implant is a small, solid insert made of silicone, Gore-Tex or other materials. It's designed to be inserted into your chin area. The implant is typically shaped like a small half-moon or triangle, and it's available in various sizes and shapes to achieve the desired aesthetic outcome. A chin implant can:
Refine the overall shape and contour of your face
Enhance your chin's size and shape
Improve the balance of your facial features
Create a more defined and youthful appearance
Correct any asymmetry in your chin
Reduce the appearance of a receding chin or a weak jawline
It's worth noting that the goal of chin implant surgery, also referred to as mentoplasty or chin augmentation, is to create a natural-looking result that enhances the overall appearance of your face. Your Manhattan surgeon chooses an implant that's proportionate to your facial features and creates a result that looks balanced and aesthetically pleasing.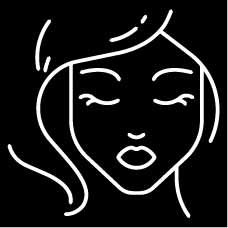 We can't wait to meet you! We offer comprehensive consultations with Dr. Shokrian, and his team both virtually and in person.
212-421-7123
Why Consider Getting a Chin Implant?
Chin implant surgery is ideal for women who wish to reduce or eliminate the dreaded double chin and have a more defined, youthful jawline that enhances the lower part of your face. Coupled with a mini facelift or mini neck lift, the work of the best chin implant surgeon can instill confidence. With anew chin profile, you know you're putting your best face forward every day or for special occasions, such as:
An approaching vacation
Preparing for wedding photos
An upcoming class reunion
A big job opportunity
A part in show
Similarly, for men, a male chin implant may result in a boost in your image and self-esteem, with added benefits of a chin implant surgery that may include:
Improved facial balance and proportion. A well-proportioned chin enhances the appearance of your entire face by creating a more harmonious balance between your facial features.
A more defined jawline. Chin implant surgery improves the definition of your jawline, which provides a more youthful and attractive appearance.
Correction of facial asymmetry. A chin implant corrects any asymmetry on your lower face, which improves facial symmetry and your overall appearance.
Increased confidence. Many people report feeling more confident and self-assured after undergoing chin implant surgery.
Permanent results. Chin implants are designed to be a long-term solution, supplying permanent improvement to the appearance of your chin and jawline.
Impressed with the personalized and attentive service provided.
How Can I Prepare for Chin Implant Surgery?
Preparing for chin implant surgery involves several steps to ensure a smooth and successful procedure. Tips to help you prepare for your surgery include:
Discussing your goals. Communicating your aesthetic goals with your surgeon during the consultation helps Dr. Shokrian understand your expectations and develop a personalized treatment plan. At this point, your NYC surgeon also ensures that your expectations are realistic.
Stopping smoking. Smoking interferes with the healing process and increases the risk of complications. It's recommended to stop smoking for at least two weeks before and two weeks after the procedure.
Avoiding certain medications. Some medications, such as aspirin and non-steroidal anti-inflammatory drugs, increase the risk of bleeding during and after surgery.
Arranging for a ride home. Chin implant surgery is typically performed on an outpatient basis, but you need someone to drive you home after the procedure.
Planning for recovery. You need to rest and avoid strenuous activity for several weeks after surgery. Arrange for someone to help you with daily tasks, such as cooking and cleaning, during this time.
By following these steps and your surgeon's specific pre-operative instructions, you improve the outcome and can expect a successful chin implant surgery. Commit yourself to your results.

56 West 45th Street, 4th floor
New York, NY 10036 3190 Riverdale Ave. Level C #4A
Bronx, NY 10463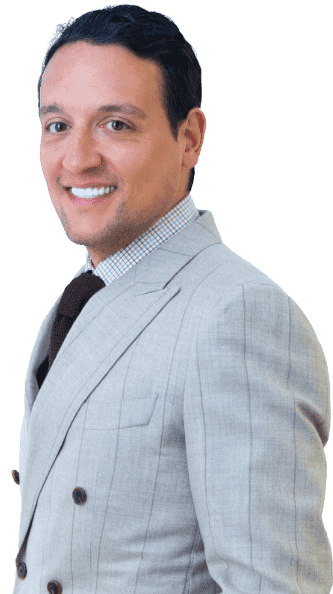 What Happens during Chin Implant Surgery?
Overall, chin implant surgery is a relatively simple procedure that usually takes less than an hour to perform. Discuss the procedure with your surgeon before deciding to do it so you can relax without wondering what's going on. During chin implant surgery, the steps that generally occur include:
Anesthesia.
Incision.
Placement of implant.
Closure.
Recovery.
Anesthesia.
You're given either general anesthesia or local anesthesia with sedation to ensure you're comfortable and don't feel any pain during the procedure.
Incision.
Your Midtown Manhattan surgeon makes a small incision either inside your mouth or under your chin to create a pocket for the implant.
Placement of implant.
The implant, typically made of silicone, is then inserted into the pocket your surgeon created.
Closure.
The incision is closed using sutures or surgical adhesive.
Recovery.
You're checked as you wake up from the anesthesia. After a short time in the recovery room, your surgeon discharges you from the surgical center.
Note that a chin implant is a surgical procedure and like any surgery, it carries risks, such as a reaction to anesthesia or bleeding. These risks and potential complications are greatly reduced, however, when you rely on a New York City expert like Dr. Shokrian.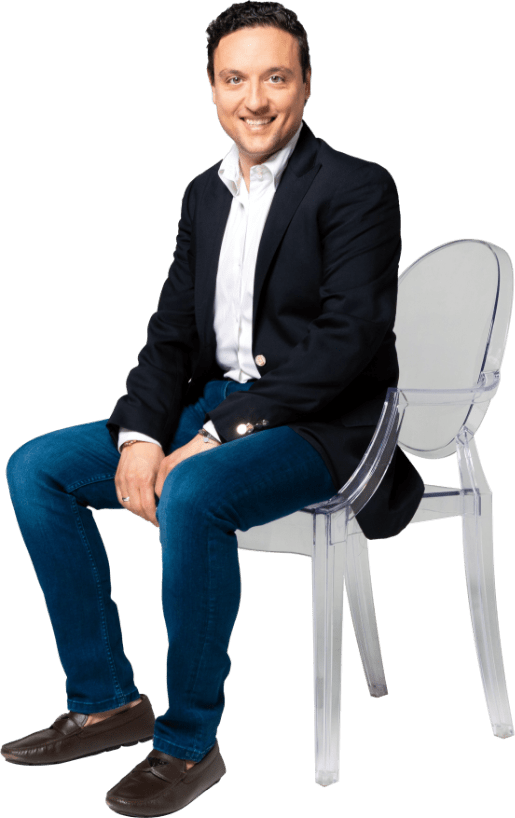 What Happens after Chin Implant Surgery?
After the procedure, a dressing or bandage is placed over the implant to protect the area. You're given a list of instructions to ensure the best outcomes, which may include:
Sleeping face up, with your head elevated, for about two weeks after surgery to control inflammation
Consuming only a liquid diet for two days after your procedure
Avoiding strenuous activity for three to four weeks
The implant may feel firm or slightly hard to the touch. As your body adjusts over time, it begins to feel more natural and comfortable. Although it's normal to experience moderate pain, swelling and bruising in the jaw area immediately after the procedure, these symptoms are temporary, and you can manage them with over-the-counter pain medications.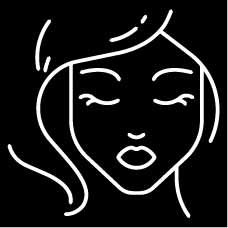 We can't wait to meet you! We offer comprehensive consultations with Dr. Shokrian, and his team both virtually and in person.
212-421-7123
Can I Combine Chin Implant Surgery with Other Procedures?
A chin implant balances out the proportions of your face and improves the appearance of a weak or receding chin, but other facial features may still bother you. Rhinoplasty, for example, improves the shape and size of your nose to create a more harmonious facial profile.
A face lift and neck lift surgery address sagging skin and muscle in your lower face and neck, while liposuction of the chin and neck area removes excess fat and creates a more defined jawline. Other procedures commonly combined with chin implant surgery include:
Dr. Shokrian is a board certified plastic surgeon who has extensive experience in performing these and many other cosmetic procedures. Since most female and male chin implant procedures are cosmetic, insurance rarely covers them. When chin implants are inserted as a part of reconstruction after a surgery or trauma, however, there's a good chance your insurance carrier covers much, if not all of the costs. Contact the team at Millennial Plastic Surgery to determine the most appropriate treatment plan for your unique situation.