Always goes above and beyond to ensure client satisfaction.
What Is Rhinoplasty?
Rhinoplasty, also known as a nose job, is a surgery designed to reshape your nose. With more than 350,000 rhinoplasty surgeries done per year in the U.S., it's one of the most common cosmetic surgery procedures. Getting one is a personal decision based primarily on how you feel about yourself. If you don't like your nose because you believe it's too crooked, big, bulbous or otherwise mishappen, the perception contributes to a lower self-esteem in both men and women.
Rhinoplasty is a safe plastic surgery used to reshape your nose to your liking. It's common, it heals well and when it's done right, no one can tell that you've had the procedure. Dr. David Shokrian at Millennial Plastic Surgery is Manhattan's best rhinoplasty surgeon.
You don't have to feel solemn, embarrassed or intimidated throughout the process. Millennial Plastic Surgery cultivates an easy-going atmosphere from start to finish so you don't have to feel afraid just to ask about your options to become a better you. Your initial consultation is free with the friendly, but professional staff who help you feel at home while you ask for what you really want.
Why Should I Get a Rhinoplasty?
There's an old saying that you have to put your best foot forward, but the first thing people actually notice about you is your face. And your nose sits right smack in the middle of your face. You may be self-effacing about your nose, giving it affectionate names like beak or snout to cover up your embarrassment. You may have been the object of ridicule as a kid and continue to carry feelings of inadequacy into adulthood.
You don't have to change your identity. You don't want to redo everything, just tweak things slightly so that you can feel like your best self and not wonder how you're being seen. Of the many reasons there are for getting a rhinoplasty, the most common include:
Making a big nose more petite or sleek
Repairing a sagging or bulbous nose
Providing better facial symmetry
Straightening out crooked noses
Adjusting flared or dropped nostrils
Making your nasal bridge skinnier
Boosting your confidence
Improving your social life
Creating a nose that looks a little more like how you feel on the inside
The specifics of what a nose job can do are almost limitless because everyone has different needs, different noses and different desired adjustments. Whether you'd like to feel more at ease while socializing, boost your confidence while doing work presentations or attract a little more attention from the opposite sex, rhinoplasty surgeries can help you tidy things up a bit and look better so you feel more at ease in your skin.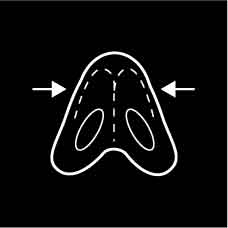 We can't wait to meet you! We offer comprehensive consultations with Dr. Shokrian, and his team both virtually and in person.
212-421-7123
How Does Rhinoplasty Work?
After your consultation with Dr. Shokrian at Millennial Plastic Surgery, you're scheduled for a full evaluation. Dr. Shokrian is kind and competent and puts you at ease. He goes through a thorough assessment that includes:
Delving into your medical and family history
Uncovering any medical complications that may interfere with rhinoplasty surgery
Understanding your goals to figure out the best way to get you the results you want
Providing you with Information about how different procedures work and what sorts of outcome you'd get from each one
Dr. Shokrian likes to create a team or partnership so that it's you and him versus whatever flaws you want to correct. Rest assured that by the day of your surgery, he's already made a game plan and mentally rehearsed what needs to be done for you. After you're put under anesthesia, the surgery can begin. Most surgeries take between one and four hours, depending on the extent of the work that needs to be done. Surgical techniques include:
Removing bone or cartilage
Straightening out bone or cartilage
Tightening skin
Reshaping nostrils
Adding or extending bone or cartilage
There are two main approaches to nose jobs:
Closed rhinoplasty in NYC means that all the incisions are done inside your nostrils so there's no visible scarring. Normally, this is used for more minimal procedures. Closed rhinoplasties are good in some cases because they're less invasive, but they make it harder for your surgeon to access the underlying structure of your nose.
Open rhinoplasties give better access for more extensive surgeries, during which your rhinoplasty surgeon makes a small incision on your columella, which is the piece of skin connecting your nostrils on the underside of your nose. Even though this procedure is a little more intensive, it allows better access to reshape your nasal structure. Scarring is minimal and eventually you end up with a pale and barely visible white line on the part of your nose that faces downward.
Clients' Testimonials
Throughout the process, Dr. Shokrian and her staff were incredibly supportive and made me feel comfortable every step of the way. They were always available to answer any questions I had, and their professionalism and expertise put me at ease during the surgery and recovery process.
Clients' Testimonials
The results of the rhinoplasty are absolutely amazing. Dr. Shokrian has a true gift for creating beautiful, natural-looking noses that perfectly complement a person's face. I am so pleased with how my new nose looks and feels, and I have received countless compliments on the results.
Clients' Testimonials
Overall, I cannot recommend Dr. Shokrian and her team enough. Their level of care, professionalism, and expertise is truly unparalleled, and I am grateful to have had the opportunity to work with such a talented surgeon. Thank you, Dr. Shokrian, for helping me achieve the nose of my dreams!
What Can I Expect after a Rhinoplasty?
When your procedure is finished and you wake up, you'll probably spend about an hour resting as you come out of the anesthesia. Dr. Shokrian may give you a numbing injection to minimize pain. You can expect mild to moderate discomfort for about a week after your procedure. It's best if you arrange to take the week off from work or any obligations.
You'll wear a cast on your nose for that first week. After about two weeks, you can go back to your normal range of activities, except for anything unusually strenuous or intensive like extreme sports. Your recovery timeline may include:
Bleeding that's expected for about 24 hours
Resting for about one week and sleeping with your head elevated to minimize bleeding
Bracing your nose in a cast for about a week to maintain its new shape
Restricting heavy activity for several weeks
Bruising and swelling for a few weeks — normally, the worst of it happens on the third day
Breathing affected with congestion may occur for a few weeks
Feeling swollen, like your nose is bigger than usual for several weeks — this is normal and fades over time
Seeing results right off the bat, but the final results take a full year as your nose settles into its new shape
Scarring that fades dramatically after about 12 months if you had an open procedure
You're able to see your new nose take shape over time as the changes settle into your facial structure. The recovery timeline may be different from person to person. Pain after a nose job is usually mild, requiring only over-the-counter painkillers. In some cases, you may need something stronger prescribed for a few days.
Pain isn't a cause for alarm, as everyone's different, so you may have a different reaction to rhinoplasty. Nose jobs are actually one of the safest procedures, but Dr. Shokrian reviews possible risks with you beforehand. One of the good things about nose jobs is that the changes are permanent. Other procedures may have to be revitalized or boosted after ten years or so, but with a rhinoplasty, you're set for life.
What Else Do I Need to Know Before I Get a Rhinoplasty?
Your rhinoplasty cost depends on what kind of work you need done. Cosmetic surgeries aren't usually covered by insurance, but it's worth giving your insurance a call to see what they can do. In some cases, rhinoplasty can correct structural issues that improve your health, such as allowing you to breathe easier. This may allow for some insurance coverage, although functional surgery is in a different category called septoplasty.
Talk to the staff at Millennial Plastic Surgery; they can walk you through financial options that may be available to you. The rhinoplasty cost by the best rhinoplasty surgeon in Manhattan may start as low as $2,500 for some basic tweaks, but it can run up to $15,000 or more for really extensive makeovers.
To make the most of your new nose, consider other cosmetic procedures that you could have done at the same time, minimizing the total costs for things like anesthesia and surgical room fees. Get a full range of plastic surgery services for your face at Millennial Plastic Surgery, including:
Contact Millennial Plastic Surgery for consultation and to make an appointment with the best rhinoplasty surgeon in NYC. Learn what rhinoplasty costs and what the investment may mean to you going forward. Discover your options to finally achieve the look and confidence you're ready to embrace — for whatever reason, as long as it makes you happy and secure.