Laser harnesses the power of light and heat to improve skin tone, texture, and coloration. It uses light and heat energy to cause controlled damage to the skin's surface. With so many effective lasers available to address skin concerns, including sun spots, age spots, wrinkles, rosacea, redness, acne scars, and even acne, it becomes difficult to determine which one is the right fit for your skin. Call Millenial Plastic Surgery to schedule an appointment with Dr. David Shokrian to find out more about laser treatments for the face and how they improve your skin's appearance. With extensive training and knowledge in face laser procedures and years of experience, Dr. Shokrian helps you get closer to getting beautiful and radiant skin.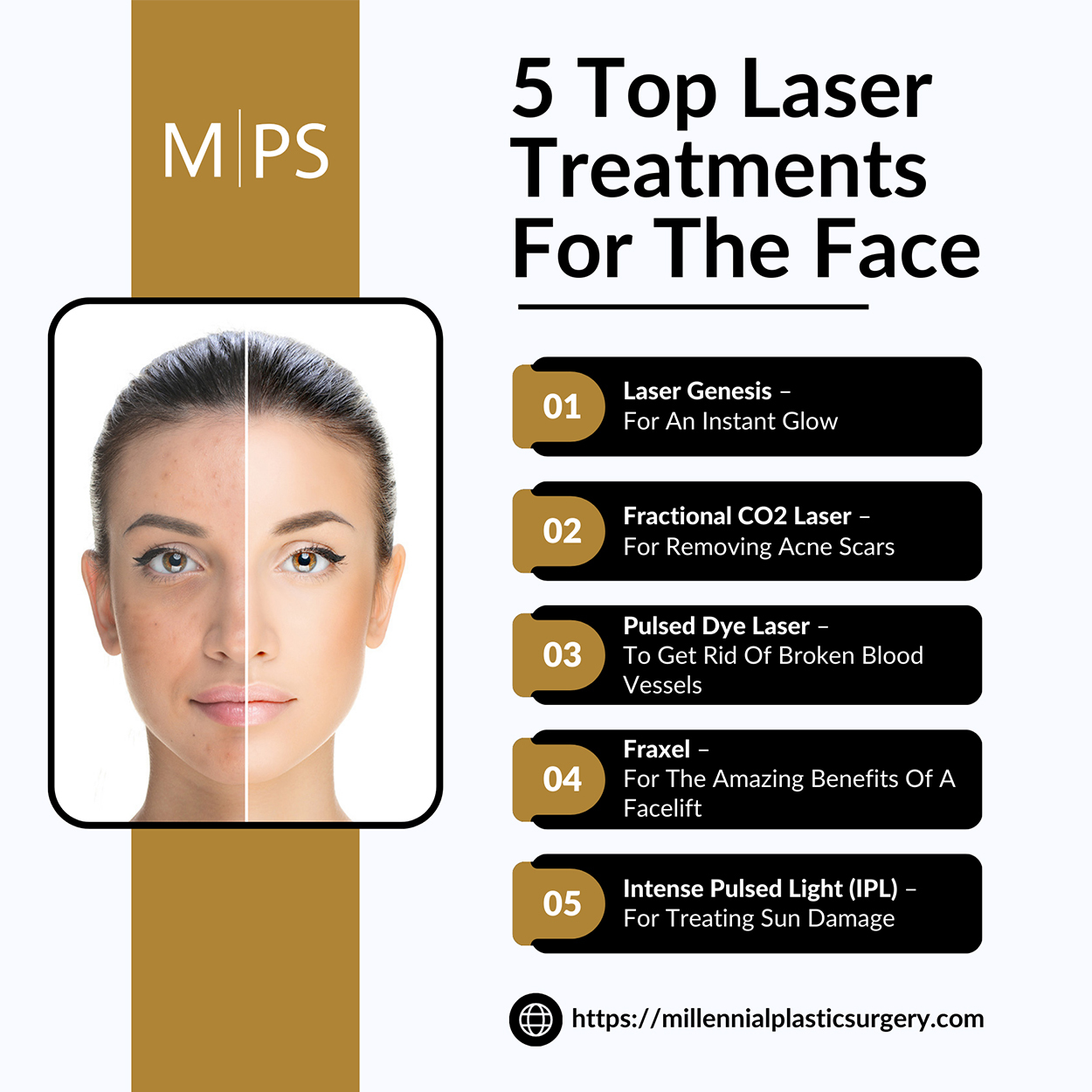 What Is A Laser Facial Procedure?
Laser is undoubtedly the best treatment for skin care. It permeates through the layers of skin to boost collagen production and elastic growth. As you age, collagen production starts to decline, and combined with other factors, leads to various skin issues like sagging, wrinkles, and fine lines that affect your looks.
The more collagen your skin produces, the better your skin looks and feels.
How Do Laser Treatments Work?
The intensely focused light supports old, damaged skin on a cellular level. It heats and damages the deeper layers of the skin, but this damage is beneficial. Lasers help the body react, forcing the skin systems into ultra-healing mode. When skin cells are damaged by the laser, your body responds by producing rejuvenating collagen and creating new skin.
Laser therapy works to improve your skin texture and the overall appearance of any skin type. You will see that your skin is smoother, brighter, and firmer as your recovery time comes to an end. With so many laser treatments to help you achieve glowing skin, it can be tough to choose the right one. Consult your best-in-class plastic surgeon to find out which treatment will suit you best and deliver the results you have in mind.
Discussed here are the top types of laser treatments for the face.
Laser Genesis – For An Instant Glow
It is known as the ideal lunchtime cosmetic procedure as it takes about 15 minutes. You can leave the clinic looking better than you did when you walked in within a few minutes. Also called a super facial, it uses a 1064 nm wavelength to gently heat the dermis, which is the inner layer of the two main layers of the skin. It helps to get rid of any diffuse redness, which makes it the best treatment for people suffering from rosacea.
Laser genesis also helps to increase collagen production, the essential protein responsible for skin elasticity, or stretchiness, and keeps the skin from sagging. With better collagen production, you can look forward to minimized fine lines and wrinkles and a more beautiful, glowing complexion. The best thing about this procedure is that there is no downtime, and you can get back to your routine life as you walk out.
Fractional CO2 Laser – For Removing Acne Scars
This treatment is ideal for patients suffering from nasty acne. Pimples never come alone, they are accompanied by complexion-destroying scars that leave their marks and are hard to conceal too. Not only this, they can distract others from your other attributes, making them focus on these unsightly marks. A fractional CO2 laser is best for deep acne scars that are pitted and impossible to cover up with makeup, along with deep wrinkles and other skin irregularities.
This laser treatment for the face pokes very tiny holes into the deepest layer of the skin to regenerate collagen growth and fill in the areas of tissue loss due to acne scars. As it promotes collagen production, you can look forward to smoother, tighter, and firmer skin. It may take up to two weeks to recover from this treatment.
Pulsed Dye Laser – To Get Rid Of Broken Blood Vessels
It is the most effective way to get rid of broken blood vessels and broken capillaries from your face. PDL uses a concentrated beam of light that targets blood vessels in the skin. The light is converted into heat and destroys broken and damaged blood vessels while leaving the surrounding skin untouched.
You can look forward to decreased redness, reduced pigmentation, lesser broken capillaries, and a rejuvenated, even skin tone and appearance with a vascular laser. It uses yellow light to gently heat the skin layers beneath the epidermis to reach the blood vessels, which is very safe. The best thing about this treatment is that it does not require pain management and has zero downtime.
Fraxel – For The Amazing Benefits Of A Facelift
Fraxel laser is considered one of the best laser treatments for the face that targets aging and sun-damaged skin and rejuvenates complexion powerfully. It penetrates deep into the skin to expedite the body's remodeling of collagen and helps to get rid of wrinkles, crow's feet, sun damage, and overall skin regeneration. As the laser treats a fraction of tissue at a time, it leaves the surrounding tissue intact, which promotes rapid healing.
The treatment resurfaces your skin by stimulating the growth of new, healthy skin cells from the inside out, improving tone, texture, and radiance for scarred or damaged skin.There is a little downtime for Fraxel, and you may end up as if you have been sunburned, but within a short period, your skin appears several years younger, tighter, and refreshed. It is the right choice for people who want to look young without dramatic changes.
Intense Pulsed Light (IPL) – For Treating Sun Damage
IPL is not a laser technology, but it uses the power of light to rejuvenate your skin and make it look young and fresh. Brown spots from too much exposure to the sun can ruin a good complexion and leave jagged marks of pigmentation where the sun had damaged your skin.
IPL is referred to as a photo rejuvenation process in which the specialist uses a broad spectrum of light wavelengths to target the melanin in the dark spots and treat these problem areas. After a few days, the damaged skin flakes off, revealing a perfectly even and gorgeous complexion. As the skin is not damaged during this process, IPL has almost zero recovery time. You can look forward to reducing redness, hyperpigmentation, and fine lines to enjoy even skin tones.
In facial laser treatment, layers of skin are removed with precision. The new skin cells that form during healing give the skin a tighter, younger-looking surface. Sunspots, age spots, rosacea, and other skin issues are treated without going through invasive procedures and extended downtime. You must consult an experienced cosmetic surgeon to find out which type of laser facial treatment will work best for you and help you achieve the desired results.
Read more about our procedures:
Visit Millennial Plastic Surgery to learn about the types of laser skin resurfacing procedures that help you get rid of wrinkles, fine lines, and scars and achieve a more youthful look. Dr. David Shokrian is a skin care specialist and advises you on what type of laser treatment for the face will help you achieve the skin tone, texture, and coloration you desire. He assesses the extent of skin damage you are suffering, determines your skin goals, and recommends the safest and most effective laser treatment based on your skin type to ensure you enjoy the best outcomes.